DENVER -- A rally that began as a march organized by the Hillary-supporter PUMA (Party Unity My Ass) group ended partly as a gathering of 100 or so around celebrity L.A. lawyer Gloria Allred, a California delegate. Chants of "roll call, roll call" and "Who do we want? Hillary!" punctuated Allred's stirring speech. In Hillary-style hair cut and white pants suit, Allred -- who recently appeared with Jessica Gibson in the Rob Lowe harassment lawsuit and whose clients have included Paula Jones and the Nicole Brown Simpson family -- told the crowd that she was a "Hillary delegate" from California, that she was nevertheless not allowed to speak to her fellow California delegates at a meeting earlier in the day and that the California Hillary delegates in attendance "were not permitted" to meet with one another. She said she wore a gag at the meeting to demonstrate that she and the Hillary contingent had been effectively silenced.
The PUMA march reportedly broke up when police divided the marchers. Allred stepped up onto raised ground and began speaking under a tree, acknowledging that the Democratic party had two strong leaders in Hillary Clinton and, she said, "Barack Obonnor" before correcting herself "--Obama."
If you were at the California delegation this morning, you saw me with a gag in my mouth. That is because I was not permitted to either speak to the California delegation, even though I am a Hillary delegate, nor were the Hillary delegates permitted to have a meeting with each other. So all I can tell you is we are proud Hillary delegates and we will not betray our voters and we will not betray Hillary... and even if Hillary releases us, which she may do, we are accountable to our voters and, in accordance with their wishes, we will vote for Hillary... We don't want the DNC to play any games. There has always been a roll call vote... just because there is a woman, there better not be any different treatment...
Video by OffTheBus Correspondent Dawn Teo. This post was updated this morning with reporting by Dawn Teo.
---
For more Huffington Post coverage from the Democratic National Convention, visit our Politics @ the DNC page, our Democratic Convention Big News Page, and our HuffPost bloggers' Twitter feed, live from Denver.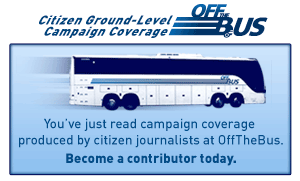 SUBSCRIBE TO & FOLLOW THE MORNING EMAIL
Start your workday the right way with the news that matters most. Learn more