For tech-savvy teens fond of text messaging and Facebook, the Magic Marker-scrawled protest sign -- "DON'T MUTE THE YOUTH" -- was decidedly old school.
But there it was Saturday, taped to a door inside the offices of Youth Communication Chicago (Y.C.C.) , where a dozen teen writers rallied and held a press conference to bring attention to their ailing citywide newspaper, New Expression.
After 32 years of publishing the bimonthly teen newspaper, Y.C.C. has suspended operations and may have to shutter its doors unless the non-profit can raise $160,000 by year's end.
That would mean the demise of New Expression, founded in 1976 by Ann Christine Heintz, a Chicago Catholic schoolteacher and nun who believed that youth must be heard without the restraint and censorship of high school papers.
It would also halt other mass media vehicles that Y.C.C. has provided for nearly 4,000 teens: a weekly call-in show on CAN-TV produced by teens; a business publication called Teens Mean Business that promotes financial literacy; and "Journalism in the Community," which produces newsletters at 32 schools and youth centers across the city, many in neighborhoods where young people lack opportunities.
"It's the economy, and the squeeze on nonprofits, and the crisis in the newspaper industry -- it's a perfect storm," Y.C.C. executive director Phil Constello said of the organization's financial uncertainty in an interview with Newstips.org.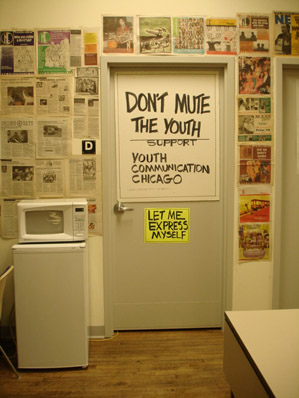 As one might imagine, the teen writers and staff have not taken kindly to the news. Hence Saturday's rally and press conference.
One by one, as a reporter from the Chicago Sun-Times and a WGN-TV cameraman captured their words, the teens testified from behind a makeshift podium about the impact that New Expression has made in their lives.
"It's a blessing to have a place where I can come and write," shared Robin Wonsley, a 17-year-old senior at DuSable High School. "In the city of Chicago, you don't have that many opportunities to express yourself."
"Don't let New Expression go because it's a great voice for everyone who might be silenced otherwise," said Sutherland Elementary 8th-grader Hollie Davis.
"New Expression has really influenced me," added Deontae Moore, a sophomore at Urban Prep Academy for Young Men in Englewood. "I now have a passion for writing."
As an alumnus of L.A. Youth , a sister publication to New Expression, (and, in the interest of full disclosure, a Y.C.C. board member), I listened to the teens' stories and experienced what Oprah might call a "full-circle moment."
In 1992, when I was 17 and in need of a summer job, my mother flung a copy of L.A. Youth at me and said, "Make yourself useful."
As I flipped through the publication, I stumbled across an ad soliciting teen writers. To escape my mother's nagging, I decided to volunteer and hopped on a bus to the newspaper's offices.
From the moment I arrived at L.A. Youth, I was made to feel important. I was treated as a person whose views and opinions mattered. I did not feel "immature" or "naïve," too young to understand the world around me. Time and time again then-editorial advisor Libby Hartigan would turn to me and say, "What do you think about this? How do you feel about this topic?" The validation was empowering.
Growing up in gang-infested neighborhoods of South Los Angeles, I'd never met a professional journalist or knew of anyone who made a living putting words in their proper place. L.A. Youth opened up a whole new world for me.
Now here I was 16 years later -- after stints as a professional journalist at the Los Angeles Times, The Baltimore Sun, and the Chicago Tribune -- once again standing in solidarity with teens who believe in the power of journalism to spark literacy and leadership.
My story is by no means unique. Many Y.C.C. alums have gone on to college and rewarding careers, including Ava Thompson Greenwell and Charles Whitaker, both of whom now teach at the Medill School of Journalism at Northwestern University; Russell Pryor an accountant with Dolins, Dolins & Sorinsky, Ltd; and Baaba Grant, a 2008 participant, who now attends college at Dartmouth.
Harvey Porchia, an assignment editor at CLTV, said that working for New Expression "helped me get to where I am today. It taught me responsibility, how to meet deadlines and to stay focused. It also gave me some management training at a very young age."
Indeed, in its heyday, the teen paper scooped both the Chicago Sun-Times and the Tribune with an expose of a teen pornography ring, an investigation of the cocaine trade in the city's high schools and a report on students' easy access to liquor and guns.
A former Tribune colleague jokingly asked me, "Why shouldn't a teen paper fail like every other paper in the world?"
What he doesn't understand is that New Expression is more than a newspaper. In a city where youth too often gain notice when they get shot or shoot someone, it provides a creative platform to be heard in the world without a bullet.
With Y.C.C. on the brink of closure, Chicago risks losing more than its oldest teen newspaper; it risks losing an avenue for young people to find their place in the world.
Why should we fail to preserve that?

FOLLOW HUFFPOST