Savannah is a historically rich city that's also kind of hip. Sure, there's an old-school vibe you get when you travel around town (Civil War memorabilia and classic homes help), but there's also kind of a freshness to it all, as well. Two personalities in town personify that notion of old meets new. Marsha Thompson runs Mrs. Wilkes' Dining Room, a classy dining experience that personifies Southern hospitality, while Stratton Leopold owns and operates Leopold's Ice Cream -- a quirky ice-cream-meets-movie-memorabilia shop. I spoke with both of these class acts on a recent visit to the Georgian city and found them fascinating and fun.
The heat index says it'll feel like it's over 110 degrees today in Savannah. It doesn't matter. People continue to line up outside of Mrs. Wilkes' Dining Room at 107 West Jones Street in anticipation of the eatery opening. This happens all the time, locals tell me. It has for decades. The Dining Room opens at 11 a.m. and closes promptly at 2 p.m., so everyone and their mother wants to secure seating at what I'd dub the best slice of Savannah life you can get in, well, Savannah.
Mrs. Wilkes' Dining Room is as authentic as you can get when it comes to good ol' Southern cooking. You sit at a table of 10, with complete strangers (think Japanese hibachi-style), and you're greeted with tabletops filled with platters of the best fried chicken you'll ever eat, the best biscuits ever and everything from cornbread to sweet potato soufflé. The establishment was founded by Sema Wilkes in 1943, who quickly turned a boarding house in the historic downtown area of the city into a comfortable lodging and dining experience. Rather than expand on this, I'll just have Wilkes' granddaughter Marsha Thompson explain. Watch below:
Stratton Leopold is producing a film called "Parker," based on the Donald Westlake novel "Flashfire," in New Orleans. "Ray" director Taylor Hackford is at the helm, and Jennifer Lopez and Jason Statham star. As exciting as that is for Leopold, who has produced countless films including "Mission: Impossible 3," he'd rather talk ice cream flavors. The Savannah-born-and-bred movie mogul owns Leopold's Ice Cream, taking over the reigns from his father, who had him work behind the soda fountain as early as age 6. But, there's more to the store and the story.
Leopold's Ice Cream was founded in 1919 by the brotherhood of George, Peter and Basil Leopold. The brothers, all from Greece, worked on flavor concoctions and VeriBest™ ice cream. They opened their own ice cream parlor on the corner of Gwinnett and Habersham. Johnny Mercer, Savannah's favorite son and famed lyricist, was a regular and inspired the "Tutti-Frutti" flavor. The original shop closed in 1969 but was resurrected thanks to Stratton Leopold, the youngest of Peter Leopold's children, in August 2004 on Broughton Street. But there was a twist: while some of the original fixtures were used to bring the store back to life (the original soda fountain is among them), Stratton and his wife Mary gave the store a modern spin. A successful movie producer, Stratton Leopold brought some of his movie memorabilia (props and posters) into the store to add some new to the old-fashioned feel. Academy-Award-nominated set designer Dan Lomino brought the store to life.
I caught up with Stratton earlier this month and asked him about the shop, which started some 92 years ago.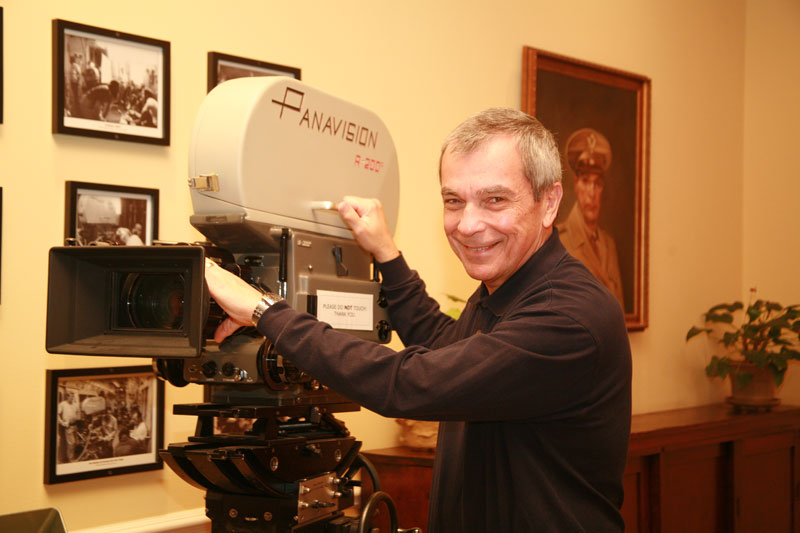 Jon Chattman: When did you decide to add some of your cinematic flavors, so to speak, to the shop itself?
Stratton Leopold: My wife felt that the cinema was the continuation of the American Dream that my parents had, and frankly, she also wanted a few things out of the house. It also encompasses my two career paths, but I must admit, as I did recently on "The View," that ice cream is my first love.
JC: What's more challenging: making movies or making ice cream?
SL: Both are challenging and require passion, planning and persistence. Ice cream gives you instant gratification, when you see a child with ice cream all over their face and the most wonderful smile, or an older customer that remembers my dad and uncles and the look of sublime satisfaction when they have the same ice cream of their youth. Very gratifying.
JC: How do you concoct those flavors?
SL: Most of the flavors were carefully developed by my dad and uncles 92 years ago. It is my job as steward of our family legacy to stay true to those recipes.
JC: What's your favorite flavor of ice cream?
SL: It varies. I will stick to a flavor for a while and then gravitate to another of our flavors. I really love our ice cream. Our "Tutti Frutti" has been a favorite with Savannahians since 1919.
JC: Your job, I'd imagine, takes you away from the shop often. How much involved are you with the store when you're making movies?
SL: Just as I am right now, I am very involved. When I am making a film, the production comes first. But I always find time to speak with wife Mary at the shop and with our managers. Besides, any new flavor thoughts (usually special orders for customers) have to have my approval.
JC: Have any of your "celeb" friends stopped by the shop?
SL: Quite a few do. Ben Affleck and Jennifer Garner are in quite a bit. John Travolta was in a little while ago. As was Jim Caviezel and Liev Schreiber. If they are filming near Savannah, we welcome them. I also ship to the locations where I am filming. I enjoy scooping the ice cream for cast and crew.
JC: What's the best feedback you've received about your store?
SL: We receive many compliments for our customer service. But most of the compliments and awards are for the ice cream. It is my dad's recipe; I can't claim credit for it. We just follow the guidelines he laid down many decades ago and will never change it. We were recently humbled by being chosen one of the 10 best ice creams in the world by the Toronto Sun and Virtual Traveler! We will be able to ship our ice cream to customers very soon.
JC: What's in store for the future?
SL: Our Leopold's Ice Cream is being recognized worldwide as a super premium authentic ice cream. This Savannah tradition goes back to 1919 and, after 92 years, is still in the family. Most immediately we are moving forward with our plans to be able to ship our ice cream to all who have inquired about shipping, and to those looking for an authentic, natural blast from the past. My dad's chocolate fudge and chocolate sauce, too!
This Blogger's Books and Other Items from...
SUBSCRIBE TO & FOLLOW THE MORNING EMAIL
The Morning Email helps you start your workday with everything you need to know: breaking news, entertainment and a dash of fun. Learn more