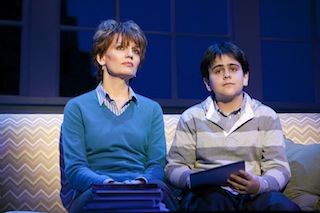 Beth Leavel with co-star Matthew Gumley
No one will ever accuse Beth Leavel of being a cotton-headed ninnymuggins. The veteran stage actress has always enjoyed the holiday season, and these days, her love for theatre and Christmas are colliding. Leavel plays Emily Hobbs in Elf the Musical, which is currently playing at the Al Hirschfeld Theatre in New York City through Jan. 2.
Elf is of course an adaptation of the 2001 holiday classic, which starred Will Ferrell as Buddy, a human raised by elves in the North Pole who sets off to find his biological dad after discovering he is in fact not a real elf. The show follows a similar story, and Leavel stars as Buddy's would-be stepmom Emily Hobbs.
For Leavel, the show offered her an opportunity to star in a stage adaptation of a film she really enjoyed, and an opportunity to serve up Christmas spirit daily for nearly two months (Elf opened Nov. 14). It's also somewhat of a departure for the actress, who's arguably best known for creating the title character in The Drowsy Chaperone. That show earned her a Tony nod, but Leavel's stage credits also include the original and revival of 42nd St., Crazy For You, and Young Frankenstein. I chatted with her recently, and talked about it all.
You have a lot of spirit in ElfAre you a fan of the Christmas craze?
Big, big fan of Christmas. Huge part of my life now and growing up.
Were you a fan of the film? Did that play into you joining the cast?
I am a huge fan of the film and it is actually one of the three Christmas movies we watch ever year. The others being Scrooge and It's a Wonderful Life.
Nice! What was your approach to the Emily Hobbs character, which Mary Steenburgen created on screen?
My approach to this role was to successfully tell the story the writers wanted. In an original musical this can be such a delightful process. The writers are writing lines for your comedy timing and the music is written in keys that sound the best in your voice. I loved Mary Steenburgen in the film, but doing a live musical and a film are very, very different. [You] can't edit in a live show and don't have the advantage of different camera angles. Each show is unique and a shared experience with the audience on that particular night.
What's the best gift you ever received?
I was so lonely when I first moved to NYC from North Carolina and my parents sent me a plane ticket home for Christmas!
Nice gift! What's your take on films being made into Broadway shows? It seems to be a trend lately - unlike in years past where it was shows being reinvented in movies.
The film-to-musicals success rate has run the gamut. I feel Elf is one of those films that scream to have song and dances added to it... It works both as a movie and a musical. Wouldn't we all love to see more musicals made into films? There are rumors of The Drowsy Chaperone being produced. Wouldn't that be delightful?
Of course..Do you remember your first opening night on Broadway? What was it like? Paint me the picture.
My first opening night on Broadway was spent alone... I went into the Broadway company of 42nd St. from the national tour where I was playing Anytime Annie. The show had been running for about three years... so it was my own personal little celebration. My first original company opening night was in Crazy for You and that was one of the most exciting nights of my life. A dream come true kind of evening where the show was a huge success, the reviews were amazing, and the energy at that party was hard to contain. Wow. I sat a Sardis' with my family and my agents and we all read the reviews at the table. How theatrical!

That sounds pretty awesome. What's next after Elf?
I am working on recording my first CD - very exciting - and a couple of possibilities for new shows. You just never know in this business.
Lastly, who makes your naughty list for 2010?
My dog Louie, who just peed on the floor because I am late taking him for a walk... sigh. Ain't show business glamorous?
SUBSCRIBE TO & FOLLOW THE MORNING EMAIL
The Morning Email helps you start your workday with everything you need to know: breaking news, entertainment and a dash of fun. Learn more