Before he threw his last pitch on Sept. 25, 2007 in a Red Sox uniform, pitching ace Curt Schilling already had an idea what his next career would be. Unlike other baseball greats who never got too far off the diamond, he had no desire to head back into the dugout as a coach or manager. Instead, he wanted to use his mathematical mind for another longtime passion of his: creating kick-ass video games.
Long before "Moneyball," Schilling was known throughout the game as a "stats guy." The "gamer" had excelled for every team he played on and won three World Series Championships including the breaking-the-so-called-curse Boston Red Sox of 2004 and 2007 because he played the law of averages and percentages by breaking down every pitch, every at-bat, and every game. "I was a Sabermetrics guy before people knew what it meant," he explained in an interview late last month.
In his baseball career, Schilling had software written just for him so he could jot stats down, and dissect their meaning. With that said, it should come as no surprise that the former pitcher has been an avid gamer for decades -- especially role-playing games (RPG) that challenged his beautiful mind. Following his retirement from Major League Baseball, Schilling's 38 Studios absorbed Big Huge Games, and this week they've unleashed their first epic game which I can tell you is not a baseball game as you might think nor a fighting game entitled "Bloody Sock of Fury."
"Kingdoms of Amalur: Reckoning" is an open world RPG from the creative minds of R.A. Salvatore, Todd McFarlane, and Ken Rolston that incorporates combat, and epic storytelling. It's the kind of game Schilling would've played had he not created it. "There's no other game in the world like this. I'm absolutely biased, but I can say that honestly," he said.
After overseeing its development for five years, Schilling could hardly contain himself when chatting about the game which hit consoles this week. "I'm having so much fun," said the self-professed nerd. "I think we've actually reversed the meaning of nerd. If you look at the generation now, if you don't have an iPad, iPhone, or console... if you can't Google, download music from iTunes or watch movies on Netflix, you're a nerd."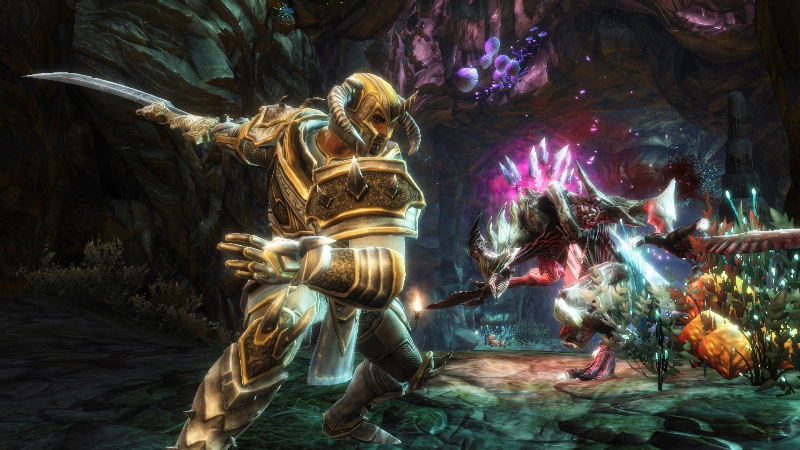 Q. Let's just get this out of the way. You're done with baseball altogether, right?
A. I don't have any desire to coach. I don't miss anything. I have no desire to go back on the field. I work with ESPN (as an analyst) almost exclusively because of the awesome people that work there. I love working with that group of people.
Q. When people hear the Curt Schilling has a video game coming out, logic would suggest it'd be a baseball game.
A. That's true, but I've never ever considered it as an option. I did that as a living, but I'm not a fan of the arcade-type of baseball games. When someone can come up with a baseball game that's as complicated and as difficult as the real game, then I'd try it. I love baseball simulation and general manager simulations, but that's it.
Q. ...So the fantasy world was more in your wheelhouse?
A. I've been an avid gamer for 30 years. I started out as a board gamer. I loved [Dungeons & Dragons]. I loved to read, and loved to play, and got into computer gaming pretty much exclusively. Military history, in particular, is a passion of mine and fantasy games were the holy grail. I loved Warcraft. My favorite game of all time is Wizardry, which launched in 1980. It was the first non-text game on an Apple. It hooked me for life.
Q. And Reckoning follows that RPG approach...
A. You have to understand the reason this company was founded was to create the next generation of entertainment experience. I invested a lot of capital in this company because I believe in it. When you look at the business decision at the time, it was incredibly risky. But, we realized with the onslaught of [video on demand], iPad and Netflix, people can watch movies anywhere. People can watch sports on their phone. We knew gaming is the same way. It has to entertain people without having them sit in front of a PC or console. With the MMO as the center of the universe, we can hopefully bring millions of players. I believe in my heart of hearts, and I'm obviously biased, that this is a contender for game of the year. It's a God of War meets Oblivion hybrid. We've taken the combat and quests and put them in one. These two worlds have never existed to the depths that they do in this game. We're not the first to try it, but in my heart of hearts, I've never played a game like this.
I think I know a good game, and can tell a good one from a bad one. We're gamers who want to make awesome games for gamers.
Q. I get the vibe you don't do anything half-assed, Curt. I remember when you approved the trade to the Red Sox in 2004 you said you'd bring a championship to the city for the first time in 86 years. You clearly had no doubts you would, right?
A. Oh yeah. I believed that with every ounce of my being. Five years ago, it was the same thing. I want to be the best in the world. For better or worse, people say I always talk too much. But, I'm passionate about the things I do. We have 400 people in our company now and we're not over yet. In this company, I'm pushing kids to be the best. I know we're going to be multibillion dollar company. I don't ever doubt my ability to do something I set out to do. I don't know any other way. One of the real tragedies in the world is that people misconstrue losing for failure. Losing happens every day. I've had losses every day. The only way you fail at anything is to quit.
Q. So do you think you'll be doing videogames for the rest of your life, or will you master it, and move on like you did baseball?
A. I'll move on. I want to change the world. I want (wife) Shonda and I to open the Schilling Center of ALS Research. I'm very proud of what Shonda and I have done for ALS and Skin Cancer. I want us to change the world and that takes Bill Gates money. Why not us?
SUBSCRIBE TO & FOLLOW ENTERTAINMENT
HuffPost Entertainment is your one-stop shop for celebrity news, hilarious late-night bits, industry and awards coverage and more — sent right to your inbox six days a week. Learn more