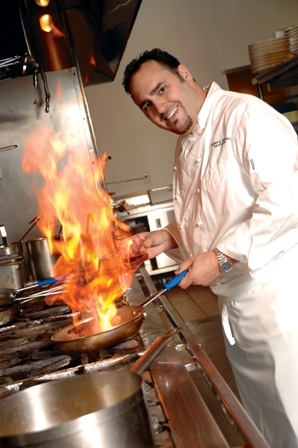 Barry Dakake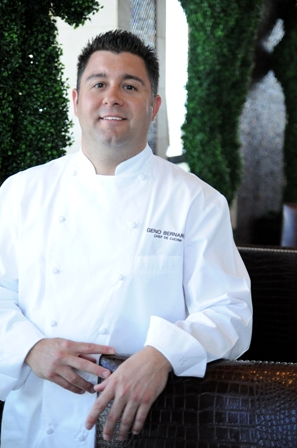 Geno Bernardo
This dish would make a wonderful buddy comedy one day: two East Coast boys grow up in similar food friendly homes, go to different culinary schools in the same state, and finally meet when one ends up working for the same renowned Las Vegas hotel as the other. Producers take note: this is Step Brothers without the crass. This one's got heart, food and class.
Barry Dakake and Geno Bernardo are executive chefs respectively at N9NE Steakhouse and Nove Italiano located within the Palms Casino Resort's "Fantasy Tower." Dakake is approaching his tenth anniversary at N9NE, while Bernardo has been at Nove since its inception six years ago. Before I get to the pair, here's a rundown on how their paths eventually crossed each other's.
Dakake, was born in Providence, RI, and instantly played with his food. Growing up with a Syrian grandmother and father and an Italian, he fed off their love of food and working with his restaurant owner uncle sealed the deal. He received an Associates Degree in Culinary Arts from Rhode Island School of Design in 1990, and worked with mentor Chef Charlie Palmer at Aureole in New York. Palmer eventually brought him out to help open the Aureole in Vegas, and Charlie Palmer Steak.
Michael Morton and Scott DeGraff, owners of the N9NE Group, approached Dakake soon after to join the N9NE kitchen, working with consulting Chef Michael Kornick (an inspiration to both chefs) and there you have it.
Bernardo's story plays out similarly. Born in New York and raised in New Jersey, he soaked in the foods of his northern Italian mother and Sicilian father, and began cooking as a teen. He attended culinary school at Johnson & Wales University in Providence, R.I. and went on to work at diverse respected institutions including Boston's Fellini's Italian Restaurant, San Diego's Sushi on the Rock, and the Providence Oyster Bar. The latter restaurant in Ron Burgundy country is where Bernardo became an executive chef for the first time. After working there, he joined the N9NE Group to develop Nove Italiano soon after.
I spoke with both "celebrity chefs" (their restaurants get a host of celebs on a nightly basis from Rihanna to Joe Montana) earlier this week and found them to be extremely approachable, down-to-earth gentlemen grateful to be living their dream and working so close to each other. "We're brothers," they both collectively said a thousand times during the interview. Read on...
Don't you find it a crazy coincidence that your lives have been so similar to one another's yet you never met before The Palms?
BD: It's pretty cool, and I think it's really special. When you put two chefs together, there could be some egos but Geno's my brother. We hit it off from day one, and we have the utmost mutual respect for each other unconditionally.
GB: It's crazy. The weird thing is Barry is from Rhode Island. I grew up in New Jersey, but I went to college and lived in Rhode Island. The circle of friends I met was his. When I came out [to Vegas] we were talking, and we probably met each other but it never clicked. We're like brothers now. We've got each other's back.
Do you actually dine in each other's restaurants?
GB: He's my biggest fan and I'm his biggest fan. What he's accomplished are my goals. When I came here, he was the face of the Palms. He's got such a successful restaurant. It just makes me proud. There's no competition. We want to see each other grow and receive accolades.
BD: There's absolutely no competition. We crave each other's food, and we always trade. We go behind the scenes -- we go in the back and we'll make pasta together or he'll come downstairs and I'll cook a steak.
Do you share similar approaches or philosophies in your kitchen?
BD: I love cooking with the finest ingredients available to me. I love cooking fish. Working with fish is one of the beautiful things God has given us. There's so much you can do with it. I love working with naturally raised veal, and beef... In my kitchen, it's very important to be hands on, but you have to be taught. You can't just show someone this is how you make something. You have to hold them accountable, but practice makes perfect.
You can't say I want things x, y and z. You have to physically show them so you know in your mind you personally show them. When you do, they become part of you; they look forward to working with you, and they're hypnotized with it.
GB: I search every day to get the best product, and teach each young chef to prepare the best product. At the end of the day, I'm here for the guests to be happy, and come back. Some days are stressful, but it's the simple philosophy: cook something enjoyable and they'll go "wow" all the time.
You seem so close, but are you guys married to your kitchen?
GB: I'm single, but I have a girlfriend. I'm here a lot, but it's not in a bad way. When you have some success, you want to ride the wave. This isn't work anymore. It just brings a smile.
BD: I'm married to a lovely woman, Denise. It's funny we just had a huge debate about me going to New York to visit my sick cousin, and meet up with old time chefs. It's hard, but my wife has been my biggest fan from day one. She's accepted what I do and, of course, knows I work very hard. It gets hard but that's when you throw in the 10-day Caribbean trip. We're married 16 years, and I've been with her 19. The most important things are my wife, my job, and my two dogs.
Are there any benefits being from the East Coast, and working on the West Coast?
BD: There's always a benefit. At one time, you lived in Las Vegas and it was very hard to get what you want, but you make connections on the East Coast, and everything blows up. A lot of good chefs use their connections. Being on the East Coast and knowing about fish, that's a plus. You can work with peers on the West Coast and teach them about the East Coast, and they teach you.
GB: Vegas is a very good spot for chefs at our level. It's amazing what we get overnighted to us, but I guess a disadvantage is that we're in a desert so we don't see produce like New York, Boston, or Chicago. All of our fish is flown in next day air. That's where the challenge is. We don't have as any markets as say Los Angeles or San Francisco. You can't just walk around the corner and go to the produce guy, or have a fish monger 15 minutes away. But over the years, we started a farm in Pahrump. We try to grow as much as I can.
Any advice for good living in Vegas?
BD: Anywhere, anything, anytime. This is the place. But, I say it all the time. If you want to make it in this town -- stay out of the strip clubs, don't gamble, and stay drug free. If you do that, you'll make it here.
GB: You get a lot for your money out here. If I lived in New York, it'd take me so long to buy a house and have the toys I have. Things seem so easier here. Life does. Don't get me wrong, Barry and I have seen a lot of people caught up with the trip. You'll go right down the toilet and the city will suck you up. If you have to have goals and an agenda, and if you do, you'll have so much opportunity.
How do you stay so grounded considering you're in arguably the craziest city in the world in major destination spots within it?
GB: I was always searching for an ideal place where I could call home. I'm going on six years. I'm blessed I'm here. Everyday, I'm proud. I don't search for anything. When people come to me, and say they've opened up a new restaurant or have a new concept, I deny it every single time. I don't wake up and say "I got to go to work." I wake up and say "I can't wait to work with my staff, be in my kitchen, and make it better."
BD: When I was promoted to chef, I knew I'd always remain humble. I do what I'm here to do: a job. I never let my head get bigger than me. Life's about being happy and doing the right thing for people you work for, and making it happen.
Lastly, I have to ask. I know you guys actually have a fun competition going. Any time a celebrity dines with you -- which is extremely often -- you have them sign your kitchen office door...
BD: It started out as serious, but it's not a competition anymore. I put a challenge over to Geno awhile back but he let's anybody sign now. It's unbelievable. He'll be like "Barry, see who I've got and it'll be Miss Rhode Island 1997." He does have some pretty cool names though. He has a few I'm jealous of: Kevin McHale from the Boston Celtics, and Jimmy Walker. I'm not saying J.J. Walker is A-list but I'd put him on my door because Good Timeswas one of my favorites.
GB: Hes got the "A-door." I do it to spoof on him. Like 'Guess who I got?' I'll let anybody sign. I get a kick out of it.
SUBSCRIBE TO & FOLLOW THE MORNING EMAIL
The Morning Email helps you start your workday with everything you need to know: breaking news, entertainment and a dash of fun. Learn more