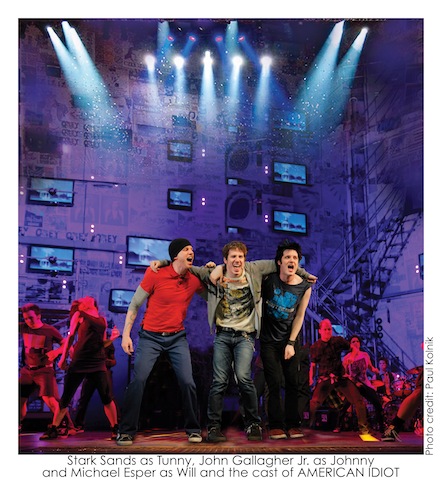 Green Day's growth as a band continues to astonish me. If you told me over a decade ago, back when I was wearing plaid and moshing in the pit with my best friend Steve, that the Berkeley, CA punk trio would become the most influential band of my generation, I'd probably laugh in your face. Yes, I loved the band (Steve and I once dyed our hair green before a show) but quite honestly, even I thought they were flash-in-the-pan material. I've never felt so good about being so wrong.
For me, the band began proving they were more than one-trick punk ponies with their terribly underrated 2000 album Warning. Those thoughts accelerated in 2004 (sadly the same year in which Steve passed away), when Billy Joe Armstrong, Tre Cool, and Mike Dirnt released American Idiot, an instant classic punk rock opera that's arguably the best rock album made in the 2000s. Following that Grammy Award winning landmark disc, the band came out with 21st Century Breakdown last year, reinforcing their importance in rock music history with an equally if not more prophetic rock opera.
Thanks to the new groundbreaking material, sharing their music with my closest friend and those many college "green" days, the band holds a special place for me. I say all of this because, heading into the Broadway musical adaptation of American Idiot, which opened tonight (April 20), I've never been more excited to see a show. With all the self-induced hype, Idiot had a lot to live up to. In so many ways, it did, and yet, it didn't. In the end, the shortcomings don't matter as much as you'd think because the show rocks.

American Idiot roars right out of the gate with televisions flashing images of George W. Bush, post-9/11 news reports, and other noise we watch in this TMZ era before an energetic cast bolt on stage singing and dancing with and to the title track. From there, the show paints a story (an abstract one at that) about Johnny (John Gallagher, Jr.) a self-professed "Jesus of Suburbia," who's sick of the world, doesn't know which direction to go in, and rounds up his friends Tunny (Stark Sands) and Will (Michael Esper) to leave suburban life in search of a better one in the big city (cue Holiday.)
Life doesn't exactly play out that way. Will, a stoner who gets more mileage out of a couch and bong then most of you did in your frat days, never makes the trip because he's knocked up his girlfriend. As for Tunny, he leaves Johnny and the bright lights behind to join the army. With his buds far away, Johnny finds a new friend in addiction. He gets hooked on drugs (enter drug pusher messiah St. Jimmy, overplayed by a Marilyn Manson-goes-punk Tony Vincent), and on a girl, Whatsername (Passing Strange's Rebecca Naomi Jones). When those two addictions clash, he's left with nothing and returns to suburbia with nothing to show for his journey. He's not alone.
American Idiot had the potential to be this generation's Hair, a musical that truly reflects the times in which we live in. Unfortunately, last year's revival of Hair -- it seems -- is this generation's Hair, so far anyway. (One could argue for Spring Awakening.) In other words, the "Idiot" album resonated far more than this show does for this generation.
The main problem with the show is it works on two levels, but is only truly effective on one of them. As a concert, American Idiot rocks for 95 minutes with an electrifying cast that reinforce the thunderous beauty and importance in Green Day's music off that album as well as others (the show features some Idiot B-sides and some tunes off 21st Century Breakdown). As a Broadway show, however, it's lacking a solid story. While most of the numbers work, the lack of dialogue leads to some confusion and some songs seeming -- at first any way -- out of place or out of context. "An Extraordinary Girl," for example, is a wonderfully produced cirque dream sequence an injured-Tunny has but it sort of comes out of nowhere.
Michael Mayer, who directed the far superior Spring Awakening, has said he purposely didn't include a lot of dialogue because he wanted Green Day's words to speak for it, but I'm convinced cutting out a song or two (especially one of the B-sides or "Know Your Enemy" off of 21st Century Breakdown) could have helped add context to the story, and explained some of the motivation behind the characters. Instead, we get fragments of a bigger picture. Take the character of St. Jimmy, for example, who distracts from the show. Most of the time, I was trying to figure out if he was an actual character or simply a metaphor for drug use. I'm still not sure, but maybe that's just me.
Yes, the shortcomings are very transparent, but the show is good theatre in a pure spectacle kind of way. It really does rock with a killer set list (Tom Kitt, who won a Tony for Next to Normal, ensures the band's music fits in a Broadway environment), and probably the most energetic and talented cast currently on Broadway.

Gallagher, who deservedly won a Tony for his supporting role of Moritz in Spring Awakening, easily transitions to Broadway lead status and is likely to nab another nomination this June. As Johnny, he keeps the material moving, and more than capably sings Green Day - channeling his inner Armstrong to an outstanding effect. Jones flexes her vocal muscles and truly floors us in a breakthrough performance that mostly calls for her to run around in her underwear. Sands, Esper and Christina Sajous, as the unfortunately poorly conceived Extraordinary Girl also standout.
From the scenic design by Christine Jones (another Spring Awakening alum) to the video design by Darrel Maloney, the look and feel are very punk rock. (Fittingly as you exit the St. James Theatre you're encouraged to graffiti on the hall walls. Kick ass.) Choreographer Steven Hogget should also be credited for leading the cast. While some sequences are hit or miss, one that truly works is "Last Night on Earth," a slow burning sequence in which Johnny and Whatsername make love to each other while dancing with drug tubing. Yes, you heard that right.
So, it's heavily flawed but it's punk rock and who cares. Your parents might hate American Idiot (my father called it "noise" yet fell asleep), but the fact that you have a creative team and cast who are all trying to say something, is well, saying something. American Idiot is aimed at the iPod crowd, goes for the jugular, tries awfully damn hard to succeed, and almost does.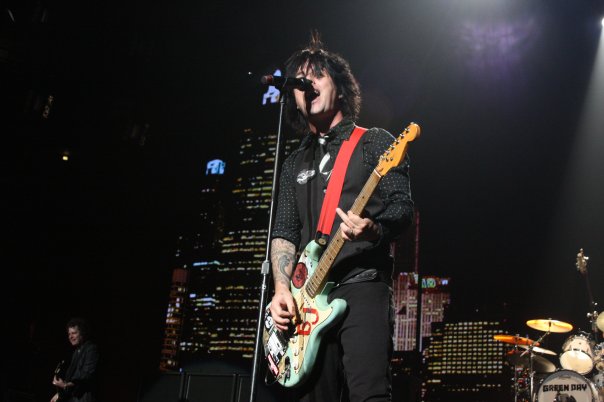 Billy Joe Armstrong, July 2009: Madison Square Garden Photo/Jon Chattman

SUBSCRIBE TO & FOLLOW ENTERTAINMENT
HuffPost Entertainment is your one-stop shop for celebrity news, hilarious late-night bits, industry and awards coverage and more — sent right to your inbox six days a week. Learn more