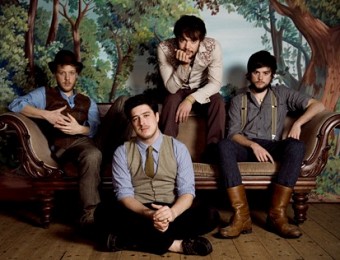 "I don't wanna think, I wanna feel... How do I feel?"
That's a great line from a forgotten Pearl Jam tune "Hail, Hail," which I live and struggle with every day. I dwell on the past, and think about the future way too much. Living and feeling the present tense somehow gets harder and harder to focus on as the years go by. Every now and then, however, I break from my tired tradition. One example of this was when I first heard Mumford & Sons' debut album "Sigh No More" in February. It moved me, which - trust me - is hard to do. That feeling was repeated when the English folk band performed the first of two sold out shows at Terminal 5 in New York City last night.
It's hard not to be moved and enamored by the music of this buzzed band, whose members (frontman Marcus Mumford, Ben Lovett, Winston Marshall, and Ted Dwane) are all in their twenties but act and perform like old souls. It's also hard to believe M&S hail from the streets of London when they are so clearly influenced by country music masters. Each member sings and plays a host of instruments atypical for the alt-nation they've been embraced by (from the banjo and dobro to the mandolin and string bass - members alternated between these during the concert), and they perform their songs with such gusto, precision, appreciation and energy that you just listen or stare in amazement while singing along.
Their craftsmanship is matched by lyrics that tell stories, evoke themes of today and yesteryear, and cut to the bone. This all sounds like smoke, but it's not... as evidenced first hand by the sold-out crowd at Terminal 5. Segue much?
Packed to the gills with an audience ranging from college kids to gray-haired hipsters, the audience ate up the band's dynamic presence on stage as they performed crowd-pleasers like "White Blank Page," "Winter Winds," and breakout single "Little Lion Man." Especially impressive was how the crowd reacted to a trio of new songs they debuted that night. Most times, a new band trying out new material would generally lead to a procession to the beer or bathroom line. Not here. The newer stuff was just as good as the, well, sort of old stuff.
While the performances of each song was pitch perfect, there were a few drawbacks of the night. The trendy nightclub vibe that Terminal 5 has to offer works for bands like Far East Movement or even Jimmy Eat World, but in some ways, it didn't for Mumford. Certain songs are slow burners, and during the climb to overdrive, one sensed the crowd was getting a bit restless at times - talking loudly and perusing the bar line instead of devoting their full attention to the song.
Similarly, Marcus Mumford and some of the other band members' banter was drowned out at times by the noise between songs. In the audience's defense, they spoke in low tone and took a little longer than most to thrust forward from song to song.
Overall, I felt perhaps M&S were better suited for a larger venue in the vein of Radio City Music Hall, but that's just me. And it didn't matter ultimately. The band played for 1 1/2 hours, and how many bands out there with one album can say they played for the same amount of time? Not many.
As a matter of fact, before the band ended the night with a rousing version of "The Cave," they performed a tune with opening acts/friends Cadillac Sky and King Charles, and it was crystal clear they didn't want the fun to end. Neither did I.
SUBSCRIBE TO & FOLLOW THE MORNING EMAIL
The Morning Email helps you start your workday with everything you need to know: breaking news, entertainment and a dash of fun. Learn more