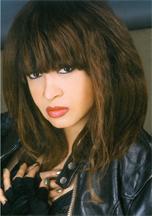 It wouldn't be the holiday season without hearing Ronnie Spector Christmas songs rocking around your radio dial. The singer, who inspired countless artists today with her perfect rock and soul vocals, is doing a small holiday tour performing her festive hits as well as classic tunes, and songs off her latest album The Last of the Rock Stars. I spoke with the icon and former Ronette frontwoman in the business about the holidays, the impact her music has had, but sadly, not Eddie Money. Feliz Navidad.
Do you ever get sick of the holiday season?
I never ever get sick of Christmas. I was in love with Santa when I was a little girl. I would be standing in line with my mom at Macy's and waiting and waiting, and then all of a sudden as the line moved up I would get a glimpse of Santa, and I would freak. I just couldn't wait to sit on his lap. And I love the lights and colors around the holidays. People are nicer, too.

Amen to that. Is your show all Christmas or a combination of hits and holiday tunes?
My Christmas show has all my hits, plus a few songs I recorded first that went on to be hits for other people. And I sing all my Christmas hits, and a few of my Christmas favorites, but it's not Andy Williams.
That's a good thing. What's your favorite holiday song to sing?
I love Frankie Lymon's "It's Christmas Once Again." I just recorded my own version of it. I had been singing it for about 15 years.
What's your favorite holiday song to listen to?
I like "Gee Whiz it's Christmas" and "The Christmas Song."

What current artists are you listening to?
I am not listening to any current projects. I am touring around, doing interviews, getting everything together for my shows. I love making music, not so much listening to it except when I am driving.
OK, what contemporary artist do you respect the most?
If I had to mention anyone right off the top of my head, I would have to say Taylor Swift.

What do you make of Lady Gaga?
I think that is a question you should ask me in two years from now.
OK, what do you make of the song "Radio Gaga?"
I am goo goo for gaga.
Are you surprised with how timeless your tunes have been?
Yes I am. Recording back in the 60's I never thought I would be in Stop & Shop 40 years later picking up a few items and they would be playing my songs in the store. I still get a kick out of it to this day. When I was at the movies a while back and the closing credits were rolling and they played one of my songs, I leaned over to the lady next to me and said 'That's me singing', and she looked at me like I was crazy.

Lastly, what is a typical audience like for you?
It's a mixed audience, the hardcore Ronette's fans from the 60's. Fans that knew me from touring and recording with Springsteen and the 'E' Street Band and Southside Johnny in the 70's, punk kids that love my style, and my work with Joey Ramone. I have always had a gay following since the days we started out down in the West Village at the Cafe Wha and the Bazaar. And the young girls and boys that discover me either through their parents or the other bands they listen to who mention me as an influence, like the Raveonettes or the Yeah Yeah Yeahs. You will always find a bunch of mothers who bring their teenage daughters to see me. I like that a lot.
SUBSCRIBE TO & FOLLOW ENTERTAINMENT
HuffPost Entertainment is your one-stop shop for celebrity news, hilarious late-night bits, industry and awards coverage and more — sent right to your inbox six days a week. Learn more