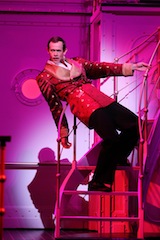 Adam Godley in Roundabout Theatre Company's production of Anything Goes.
Photo credit: John Marcus
Ever since he debuted as a child actor in the London production of White Devil opposite Glenda Jackson, Adam Godley has put together an impressive stage career. Most recently, the actor appeared in New York in the acclaimed Private Lives, and in the recent Josh Harnett-led Rain Man stage show in the West End. While he's acted his ass off on stage, one thing that had eluded the Englishman up until last week was singing and dancing on the Broadway stage.
In Anything Goes, the acclaimed Sutton Foster/Joel Grey revival of the classic Cole Porter musical currently playing at the Stephen Sondheim Theatre, Godley portrays the hilarious, and, yes, singing and dancing Lord Evelyn Oakleigh opposite Broadway royalty Sutton Foster and Joel Grey. I caught up with the scene-stealer just hours before the show's April 5th opening night performance (rave reviews would follow the morning after), and asked him why this show seemed right for testing those vocal chops and dancing shoes for the first time. I also asked him about another role that he's constantly recognized for even though it's rather brief. In the modern holiday classic Love Actually, the actor played a small role as a teacher leading a school Christmas production and gets stopped all the time by fans of the film, but more on that later. Read on...
You premiere tonight... how are your nerves?
I'm trying not to think about it. [Laughs] Well, in the UK, the first night is also press night. All of the press comes out so it's sort of a nightmare. There's slightly less pressure in a way. It's more of a celebration than a trial by fire.
You have a musical number in this show. Why did you wait so long to make your singing and dancing debut on Broadway?
It's not my comfort zone. There's an incredible amount of talented singers and dancers out there. I guess I always thought I'd leave it to people who knew what they were doing. I thought with [Anything Goes] I might be able to get away with it.
You picked a good time for the debut -- you're starring with some elite Broadway performers...
Of course. There's an amazing pedigree and history of musical theater between [Sutton Foster and Joel Grey]. It's been amazing working with people like that. To do that dance with Sutton, who's so gracious when I've stepped on her feet during rehearsal, there's no better partner in which to dance my first step.
You've enjoyed many film roles in addition to theatre, but I suspect theatre is your true love, right?
I've grown up in the theatre so it's very much part of my personal heritage. It's completely different working in film and television. It's a different approach to work. Spending four, five... seven weeks in a room for a rehearsal of a play, you can pull it apart and explore. With most film and television, you don't have that luxury. Theatre, you're creating it in the moment and honing it the night after.
Keeping with that, is it safe to assume if I watch your performance tonight and then again four months from now, it'll be different?
I hope if you saw it tomorrow, it would be a different performance. The beauty and luxury of doing it every night, for me, is what is attractive. You can keep it alive by changing it every night in subtle ways. The audience reaction is different, the line by the other actor is placed differently, and you throw it back differently.
Moving to something completely different... You have a minor turn in Love Actually, but I suspect you get noticed for it all the time. Is that right? I know I watch it every December.
I do. It's weird you say that. It's one of the things I get noticed for the most. It has become a classic. It's a wonderful film with such an enormous heart. It's gratifying that it's touched so many people.
Getting back to tonight... you're just hours away from singing and dancing on Broadway for the first time. Excited?
I'm looking forward to it. It's celebrating the work. Everybody has worked so hard on it for such a long time. We've tooled it, polished it, and tried to make it something you'd want to come and pay your money for. It's the best time possible.
SUBSCRIBE TO & FOLLOW THE MORNING EMAIL
The Morning Email helps you start your workday with everything you need to know: breaking news, entertainment and a dash of fun. Learn more