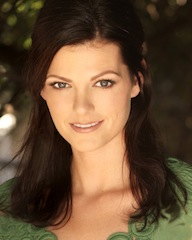 Miss America turned Broadway actress Kate Shindle isn't exactly mad as a hatter that her most recent Broadway show Wonderland -- a continuation of the Alice in Wonderland story -- didn't get a chance on Broadway, but she's definitely disappointed. "Given time, I think it would've found its audience," the Ohio native said earlier this week. "In hindsight, it probably would have helped to push the show back to the summer instead of opening in the middle of the awards-season chaos."
The Frank Wildhorn venture closed last month after playing its 33rd performance, and was completely shut out of the Tony Awards. That said, the actress, who has appeared on the Great White Way in Cabaret and Legally Blonde, notes the show had its loyal followers and she's extremely proud of the work she did. "The people who loved that show -- and there were more than a few -- really loved it. Intelligent, educated friends of mine said without hesitation that it was going to run for a long time, and that as soon and prom/graduation/first communion season was over, the families would be coming out of the woodwork," she explained.
I spoke with Shindle some more about Wonderland.
Do you think Wonderland got a fair chance on Broadway? It didn't seem that way.
The enthusiasm for the show among a lot of people I respect had very little in common with what the reviewers had to say. I've been doing this for a while now, and I have never seen such vitriol heaped upon a single show. It wasn't perfect. We all knew that, but a theatrical review is not supposed to be someone's opinion or grudge or place to vent. It's supposed to be an objective critique of the work. It would be very hard for someone to argue that we were objectively critiqued. My costumes got more reviews than my performance.
You appeared as the Mad Hatter in Wonderland recently. What was your approach to the role? I know Johnny Depp's performance couldn't have been an influence, right?
You'd be surprised. Johnny and I compete for roles all the time. If i lose one more damn job to Johnny Depp... I had tons of influences. I was a sponge for about six months. I actually got more useful information from Johnny Depp as Jack Sparrow than from his Mad Hatter... not because it wasn't great, but because that performance wouldn't have meshed with the script for this version of the story.
I [also] went back to improv class, [and] had this massive playlist of probably 200 songs on my iPod -- everything from Gnarls Barkley's "Crazy" to Jim Morrison singing "The End" to "Eleanor Rigby" and about 20 early Louis Armstrong recordings, because our composer wanted the act one Hatter song to sound like Armstrong's trumpet. He was very specific: not Miles Davis's trumpet, Louis Armstrong's trumpet. So I really dove in head first, or hat first if you prefer.
Mad Hatter was much different than previous incarnations...
This hatter wasn't just a character Alice meets along her journey; she was, in fact, a manifestation of Alice's dark side. The id to Alice's ego. I lined up my performance as an inverse of Alice's narrative -- when Alice is weak and plagued by demons, the Hatter is powerful. As Alice gets stronger, the Hatter weakens.
Do you have another show lined up? What's next for you?
I've gotten a number of offers since Wonderland closed, which is terrific. I needed a little break, so I haven't jumped at anything just yet. I want to make sure the next project is something meaningful to me and not just something I do to keep busy. Plus I'm in the process of selling a book, so I'll probably spend most of the summer writing that. A bunch of different people are asking me to do some recording, and I have a couple of passion projects that I want to catch up on -- in particular, a musical in which I play Greta Garbo. I'm more than a little obsessed with Garbo.
Nice! When you're not performing, you write -- what does writing give you that performing doesn't?
Quite simply, it allows me to be creative without having to wait for someone to give me the opportunity. The art of acting is not passive, but the business of it certainly can be. I love to write. I wish I'd saved all those tortured notebooks of poetry from middle school.
You've been on Broadway for some time now. Do you remember your first opening night?
My first Broadway show was Jekyll and Hyde, and my opening night was an otherwise ordinary Tuesday for everyone else in that long-running show. The first time I went on, it was like crack -- I was barely rehearsed, I had two hours' notice and I hadn't done the costume changes or any of the stunts. It was like being shot out of a cannon, but it was a dream come true nonetheless. After the show, the director came out on stage and stopped the curtain call to give this star-is-born speech. The producers over at Cabaret started bringing me in, and I auditioned my way up the food chain.
Lastly, a recent trend on Broadway is for musical acts to have their songs reinterpreted into a show. What band wouldn't this be appropriate to do? Danzig? Milli Vanilli?
I love The Doors, and I cringe at the thought of a bad Doors musical. Then again, the Hair revival was pretty amazing a couple of years ago, so it gives me hope that maybe, just maybe, there could be a good Doors musical. But, I'm terrified of the bad one... great big Broadway vibrato and the "Alabama Song" tap number.

SUBSCRIBE TO & FOLLOW THE MORNING EMAIL
The Morning Email helps you start your workday with everything you need to know: breaking news, entertainment and a dash of fun. Learn more