Martin Burt, Chief Executive Office of both Fundación Paraguaya in Paraguay and Teach a Man to Fish, which operates globally, has been named the 2011 Opportunity Collaboration Achievement Award recipient.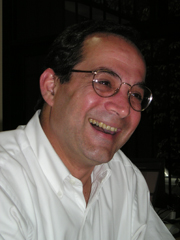 Presented every World Poverty Day on the final evening of the annual Opportunity Collaboration in Ixtapa, Mexico, the Achievement Award is given to an individual or institution with a "demonstrated a commitment to collaboration and resource sharing in the service of ending global poverty." I am the Opportunity Collaboration's Founder and CEO, and enormously pleased and proud to make this announcement.
For over 25 years, Martin Burt has been a pioneer in applying microfinance, microfranchise, youth entrepreneurship and financial literacy to address chronic poverty in Paraguay and around the world. Fundación Paraguaya, which he founded, was the first microfinance institution in Paraguay.
In 1995, he converted a bankrupt boys' agricultural school into a financially self-sufficient, co-ed school. A pioneer in sustainable agricultural education, Burt's model produces 100 percent employability for poor rural youth through a practical, market-oriented education taught in financially self-sufficient schools. Students find jobs upon graduation in farming, create their own small businesses or matriculate to college.
Describing his successful formula, Burt explains, "If you treat poor people with dignity, they will get out of poverty. We apply that to education. We turn a poor, 15-year old rural adolescent girl into a rural entrepreneur by the time she is 18, a person who can get a good job in the private sector or make her own job."
He is also co-founder of Teach a Man to Fish, a London-based global network with 2000 members in 119 countries that promotes "education that pays for itself." It has established self-sufficient schools, mostly in rural areas, with 50 partner organizations in 27 countries. An amazing example of collaboration and sharing knowledge.
Burt has served as Paraguay's Vice Minister of Commerce and Mayor of Asunción, Paraguay. He is the recipient of numerous honors and awards including the Inter-American Development Bank's Microfinance Award for Excellence in Social Responsibility, the Skoll Foundation's Outstanding Social Entrepreneur Award, the Atlas Foundation's Templeton Freedom Award, the World Innovation Summit for Education Award, UNESCO's Orbis Guaraniticus Medal & Best Practice Award and Brigham Young University's Social Innovation Award.
Prior Achievement Award Recipients include Shari Berenbach, Chief Executive Officer, Calvert Foundation, and Mary Houghton, Founder and Chief Executive Officer, Shorebank Corporation.
To my friend and colleague, to a warrior for economic justice, Congratulations and Felicidades!