The SEC has ruled the landscape of college football for seven years by producing seven straight national champions. And while the Alabamas, LSUs and Georgias of the world continue their impressive runs, it is the Pac-12 that may just be the best conference in college football today.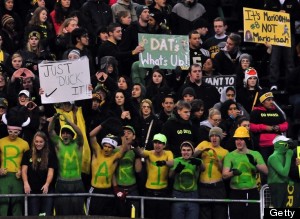 The Oregon Ducks have led the charge for the Pac-12 football rebirth. (Getty Images)
Over the past few years, while stalwarts Oregon and Stanford have dominated and USC has floundered, other proud programs like Washington, UCLA and Arizona State have lured in quality recruiting classes and head coaches. The Huskies feature Steve Sarkisian, the Bruins Jim Mora Jr., and the Sun Devils have the fiery Todd Graham. And don't forget Washington State, which has the unmistakable Air-Raid king, Mike Leach.
On a national level, we romance the SEC because no other league has been able to match its pure talent and physicality for nearly a decade. Nick Saban is the poster child, but there are also other respected characters like Les Miles and South Carolina lead man Steve Spurrier. The talent level (think Johnny Manziel, Trent Richardson, Mark Ingram and Jarvis Jones, to name a few), is consistently elite. And to be fair, there probably isn't another conference in America with the coaching firepower of the SEC.
This however, brings us back to the Pac-12. The league completed September as the only conference in the FBS with two teams -- No. 2 Oregon and No. 5 Stanford -- ranked among the top five of the USA Today Sports Coaches Poll. In addition, UCLA, Washington and ASU are also in the top 25, giving the league five total ranked teams. That makes the Pac-12 second to -- you guessed it -- the SEC. Washington head coach Steve Sarkisian has led the No. 15 UW Huskies back on to the national radar. (AP)
To put it simply, money might be the top factor. A masterful license-right agreement signed by commissioner Larry Scott with both ESPN and Fox in 2011 is expected to generate $30 million per school, every year, for the 12-year duration of the deal. As a result, we've noticed massive facility upgrades, and not merely to Nike-powered Oregon either. Husky Stadium in Seattle went through a $280 million overhaul, while Utah, ASU and Stanford have also updated facilities. Colorado has plans to do the same.
More money leads to better facilities, which leads to better recruiting classes and ultimately, more wins. Of course, that's all fine and dandy -- but until somebody from the Pac-12 breaks through and actually wins a national title (USC was the last to do it in 2004), the perception that the SEC still rules college football will not be broken. That may be true, but what is also true is that the Pac-12 has dramatically improved and ascended to the top in a very short period of time -- and a title is inevitably on its way.
Perhaps former Arkansas and Ole Miss coach Houston Nutt, a current CBS Sports college football analyst, said it best to USA Today: "I think they've gone to another level. As I watch the [Pac-12] games, I know there's just been a tremendous jump the last three, four years."
Email me at jordan.schultz@huffingtonpost.com or ask me questions about anything sports-related at @Schultz_Report. Also, be sure and catch my NBC Sports Radio show, Kup and Schultz, which airs Sunday mornings from 9-12 ET, right here.
SUBSCRIBE AND FOLLOW
Get top stories and blog posts emailed to me each day. Newsletters may offer personalized content or advertisements.
Learn more