Grimaldi's in Brooklyn is one of the oldest and most iconic New York pizzerias. The Brooklyn location is known for it's long lines and coal oven pies. It's always packed and even Michelle Obama is a fan. The other day I was craving their pizza but didn't want to trek to Brooklyn so I went with my digital to their brand new location in the Limelight Marketplace. The Limelight Marketplace at 656 Avenue of the Americas is a collection of kiosks and food stalls. Some of the shops include Hunter boots, The Cupcake Stop, Soapolgy, Le Sportsac, Booksmart and Petrossian. It's cool to check out because it's located in a 163-year-old church that was converted into a nightclub before it became Limelight Marketplace.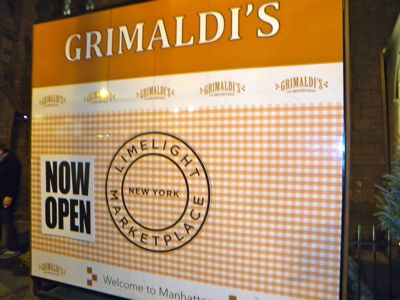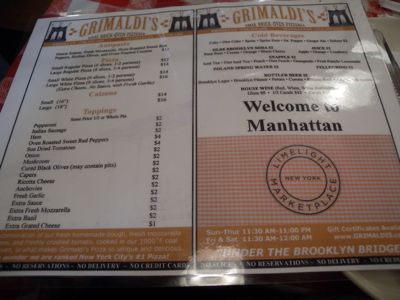 Grimaldi's is located on the first floor right next to a few stalls selling desserts like the Cupcake Stop and Mari's. It's a cozier space than the Brooklyn location and the place to sit is upfront near the ovens. It's so much fun to watch the pizza's being made and coming out of the oven.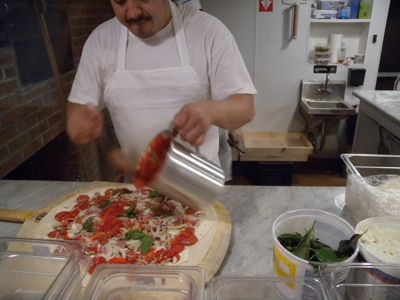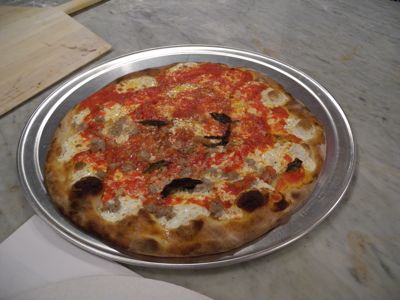 The service at Grimaldi's is as efficient as can be and even if there is a wait it will go quickly. The pizza at Grimaldi's tastes just as good as at their Brooklyn location and you really can't go wrong with any of them. Also, like the Brooklyn location they are cash only. It's important that the pizza be great because it's all they really serve. They come in small ($12) or large ($14) sizes with additional toppings being $2 each. The small is just the right size for two very hungry people. Their white pie with no sauce is my pizza of choice. It's just so fragrant and garlicky. Usually white pies can be too greasy but the version at Grimaldi's is crispy and light. If you are skeptical about it get a half white pie and half traditional. They are very accommodating with pizza requests.
You should buy some treats before you go to Grimaldi's because they don't serve desserts and the marketplace closes early. One of my peeves with the Limelight is their hours. They close at 9:00 during the week and at 8:00 on Sunday night. It would be so nice to be able to shop after Grimaldi's but instead it feels like a ghost town at 8:00 pm. The next time you are craving pizza Grimaldi's is worth visiting but you should go for on the early side so you can shop after.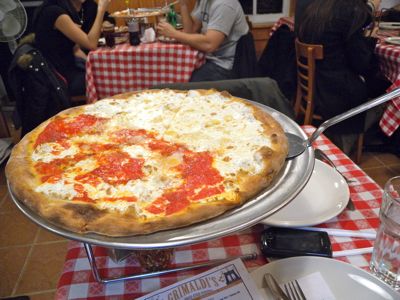 SUBSCRIBE TO & FOLLOW THE MORNING EMAIL
The Morning Email helps you start your workday with everything you need to know: breaking news, entertainment and a dash of fun. Learn more