Everyone has been through some kind of hardship especially these days. Between the recession and the usual bad news if you haven't had to deal with it I'm sure you know friends and family who have. It's so easy in tough times to become distracted and just accept that things are not going to get better. Certain people have a gift of drawing strength from challenges and channeling them into something positive that others can learn from. Suzan Colon and Francesco Clark who happen to be best friends both recently published books about doing just that. Suzan Colon's book Cherries in Winter: My Family's Recipe for Hope in Hard Times is the most relevant food book I have read in a while. You will read it in one sitting and then you will keep it in your kitchen for the recipes. When Suzan lost her job in the magazine industry she used her time to explore her grandmother's recipes from the Depression. It's amazing to me that while so much has changed Suzan can connect with her grandmother by cooking and baking treats like scrumptious butter cookies.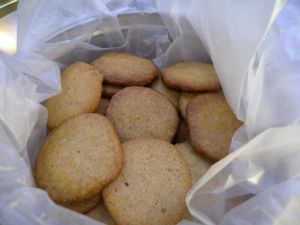 The best way to connect with anyone in the past or the present is through food. Reading about her grandmother's life along with Suzan's current situation just puts things into perspective. Even if you don't cook the best way to bond with someone is by having a meal with them. When people are at the table they are all sitting and at the same level. This is so meaningful and even more salient for someone like Francesco who is in a wheelchair.
Suzan first met Francesco Clark when they were working together at a magazine. In Walking Papers: The Accident that Changed My Life, and the Business that Got Me Back on My Feet Francesco writes about how he created Clark's Botanicals. A few years back he dove into a pool unaware that it was shallow and was seriously injured and paralyzed from the neck down. Doctors told him he would never be able to speak above a whisper let alone breathe without a ventilator. Suzan, who practices yoga, taught Francesco how to breathe and meditate and before long he was breathing on his own.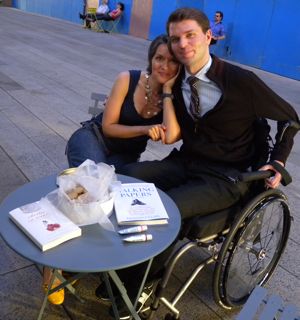 It's been a few years since the accident and besides doing five hours of physical therapy each day and being a spokesperson for the Christopher Reeve Foundation; he is the head of the thriving skin care company Clark's Botanicals. After his accident Francesco noticed that he was unable to sweat out toxins from his skin, so with the help of his father who is a doctor he came out with a line of botanical skin care products. It's mind blowing to me to see everything that Francesco has accomplished and that fact that everything he does tells his story and promotes stem cell research just makes it even more purposeful and inspiring.
SUBSCRIBE TO & FOLLOW THE MORNING EMAIL
The Morning Email helps you start your workday with everything you need to know: breaking news, entertainment and a dash of fun. Learn more