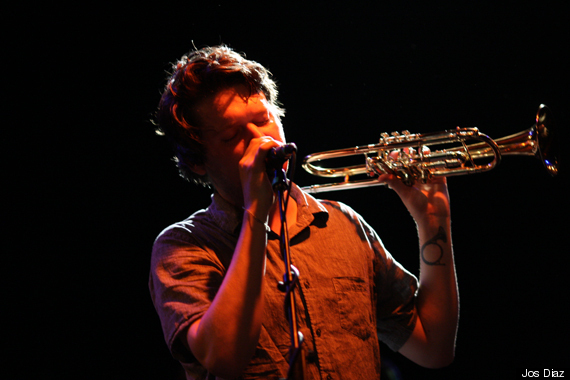 Beirut's last US tour ended months ago, and with the band stationed in Albuquerque to work on a new album, their next tour is not even in sight. So the announcement that Zach Condon and the boys would be playing two shows at the Music Hall of Williamsburg on July 5th and 6th came as a more than welcome surprise. Especially so because tickets for the first of the two nights cost only $10 and were sold only at the physical MHoW and Mercury Lounge box offices. These shows weren't to promote any new music or to raise cash for the band. Zack explained last night on stage that he simply felt indebted to his fans and actually went on to apologize for having gone so long without playing live.
The show was kicked off with the familiar ukulele strumming intro of Flying Club Cup's "The Penalty" and finished its encore with a full-brass rendition of the title track from their first album, Gulag Orkestrar. Almost everything in between came from those two full-length releases, hitting every fan favorite and single. Only a couple of songs -- "The Shrew" and" The Concubine" -- were from Beirut's latest, the Holland/March of the Zapotec double EP.  
The instrumentation was tight and efficient with a five-piece band successfully replicating the recorded material's orchestral power. Zach switched off between the ukulele and his flugelhorn, which he rested on his shoulder like a rifle while he sang. As expected, everything was slightly out-of-tune and at one point Zach stated, "If my voice cracks like a fourteen year-old boy's, it's because I am one."
 
The only significant change-ups were for the two new tracks that were performed. The first was led by a piano and sounded like a remarkably successful attempt to channel the Beirut aesthetic into a pop song. The second new song started off reminiscent of the funereal Mexican death marches of Zapotec before transforming into an enchantingly danceable samba.
With the set so seemingly geared towards songs the audience knew and could sing along to, it was difficult to gauge what direction the band might be going in with their next album. More than anything the show felt like a visit from an old friend you know you won't be seeing for another while.
"I don't know if you've noticed this," Zack observed near the end of the show, "But every first show we do in New York we do here [at the Music Hall of Williamsburg]."
It's true that Beirut could be selling out Terminal 5 at $40 a ticket, but it's a reaffirmation of the earnest, humble quality of the music that they're doing this instead. "And after our new songs come out," Zack promised, "This again will be the first place we play."
This show made that wait much more bearable.
FOLLOW HUFFPOST