TheCommunity.com and The Nobel Laureates' Peace Fund are collecting donations for a gift basket for Eliza, which Nobel Peace Prize winner and President Ramos-Horta will deliver to her in East Timor. Minimum donation is $10. Amounts are not as important as the gesture. To show your support, donate below or go to the Nobel Laureates' Peace Fund. Thank you.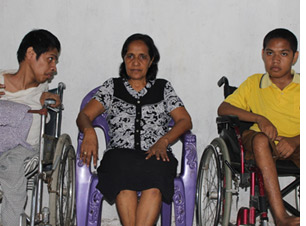 This is a story of a mother, Eliza, and a father, Frederico, who together have 10 children, five boys and five girls, an almost typical Timorese family. But there is something sad and tragic about this family. All the boys, except for a son, have developed a non-treatable degenerative muscular disease called Muscular Dystrophy. As they turn teenagers they begin to experience difficulties in walking and are gradually confined to wheelchairs or beds until the inevitable comes. The latest to lose his life was Nilton Luis who died Saturday night at age 28 at Guido Valadares National Hospital in Dili.

At around 10 PM, as I was attending an entertaining Timorese fashion show at a local hotel, the boy's mother, Elisa Martins, whom I have known since childhood, sent me a text message saying that Nilton was critically ill. Though not a doctor, I rushed to the hospital like one on an emergency call.
I found the hospital immaculately clean and quiet that Saturday evening. We have come a long way since the darkest days, weeks and months of 2006. Four years ago the hospital had become an IDP (Internally Displaced Persons) camp with about 3,000 people squatting in every available space in the hospital grounds. I lost count of the number of times I went to the hospital to persuade the IDPs to move out but did not have much luck there. They are now long gone, the hospital has been completely re-built and better equipped. Today it is pleasing to look at.
I rushed to the intensive care unit where Nilton was being treated for a severe case of pneumonia that had already infected his brain. I was briefed by the attending Cuban doctor, a rather quiet person who calmly told me that the patient was being treated with all necessary medicines and it was adequate for the patient. She however seemed very pessimistic about the boy's survival.
After visiting other patients in the same ICU, I left and promised the boy's parents that I would return early the next day to check on him. Before leaving I touched the boy's head and pleaded to God to save him.
It was close to midnight when I arrived back home. As I was unwinding in my house, I received a text message from Eliza saying " Nilton la iha ona" - Nilton ceased to be. I rushed back to the hospital to comfort the parents and saw the ambulance carrying the dead body away to their house in Akadiru Hun.
Nilton Luis, 28, joined in death his younger brother Joao Paulo who died at the age of 19, in September of 1999 of the same disease. There is still Jose Emiliano, 22, on a wheel chair looking weak, pale and contemplative. A few years ago I had arranged for wheelchairs to be donated to them. There is also Paulo Agapito, 17, in worst condition as he could no longer even sit on the wheelchair, now confined to the bed. He is the size of a very little boy, with thin arms and legs and body which have become non-functional. Only Nicolau, 27, seems to have escaped the fate of his four brothers. He is a prison guard at Becora. Thankfully, he looks healthy and fit.
Nilton Luis body was taken yesterday to the family town of Laga, in Baucau District, a 3 hours drive from Dili. I attended the funeral. It was the least I could do. It was close to midnight when I arrived back in Dili.
Eliza is the sister of one of East Timor's most revered resistance commanders. Towards the end of the Indonesian occupation, he disappeared, never to be heard or seen again. She does not have any other male brother. Eliza says, "I am alone, my brother gone, my sons dying one by one. What have I done to deserve this?"
Over the years I brought doctors to Eliza's house in Akadiru Hun or taken the boys to see specialists whenever I heard of some new doctors arriving. They have been seen by doctors from many countries including Cuba, China, Australia and the USA. Sadly, they all share the same opinion. This is a degenerative disease without a cure.
I'm sharing this hoping that someone out there might offer more hope to the grieving parents and the surviving boys.
That was my Saturday night in Dili, Timor-Leste.
To donate to Eliza's gift basket enter amount below. Minimum donation $10.