The end of September saw The GROUND Collective, an exhibit at Milk Gallery presented by The GROUND Magazine in collaboration with Samsung. Dubbed a "phenomenological exhibit," the show aimed to translate the content of the magazine's second and latest issue into an explorable, breathing space. The photographic installations explored notions of time and space -- the conceptual theme driving the issue -- and the connections that thread each contributor when not pasted together in the binding of a magazine.
The exhibit was curated by Ryan Yoon, editor-in-chief of The GROUND, and Saulo Madrid. Its opening attracted guests such as Alexander Skarsgard, Siki Im, Magnus Berger and others.
Milk Gallery is large and spartan: the nine installations are scattered throughout the austere space of the gallery. Spread throughout are monitors, tablets and handsets supplied by Samsung that invited visitors to engage with the works on display. Privy to our times, all content was digital, and quite a few were augmented with cameras to invite each viewer's direct experiences of the photos into the works themselves, creating an uncanny serendipity in unlikely places.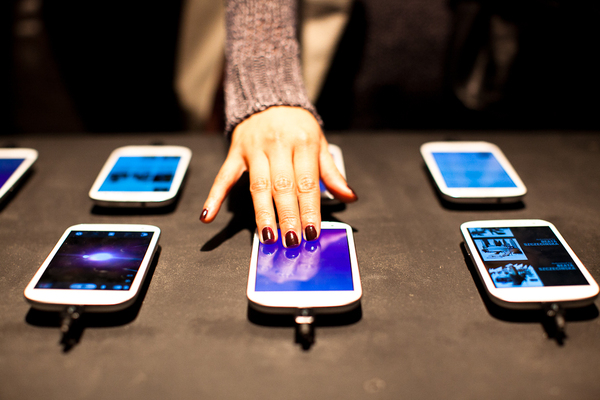 Visitors were first confronted by a wall of tablets directly opposite the entrance. This series of screens, fashioned as a grid, pulsed between alternating primary colors, meant to evoke the shifting conceptual connections between each contributor to the magazine and their work. Approaching the wall as a simple light show presented a surprise to visitors: getting close to a screen would cause, based on its color, a tone to play, producing a chance melody as one would walk by. A viewer might have also noticed his or her own mirror image displayed on a tablet, or the face of another recorded sometime in the past. The effect of this surveillance is arresting with a touch of whimsy, but itself demonstrates the spatial and temporal connections of individuals bound in patronage to the arts, evoking an alien surrounding.
Past the wall hung photographs by Robert Polidori, presented as a slide show that becomes a dizzying experience. Viewers were surrounded on three sides by Polidori's images, with a main image faced forward and a detail to each side, left and right. The viewer was immersed in a suspended photographic space that was seemingly disjointed at the seams and constantly shifting around him or her. As if in an elevator, one is whisked from one time to the next, viewing ruined spaces devoid of any human subjects -- that is, until the viewer stares straight at a photo of him or herself displayed back at them, futzing with any sense of temporality, as though emerging from a movie theater back into the sunny afternoon.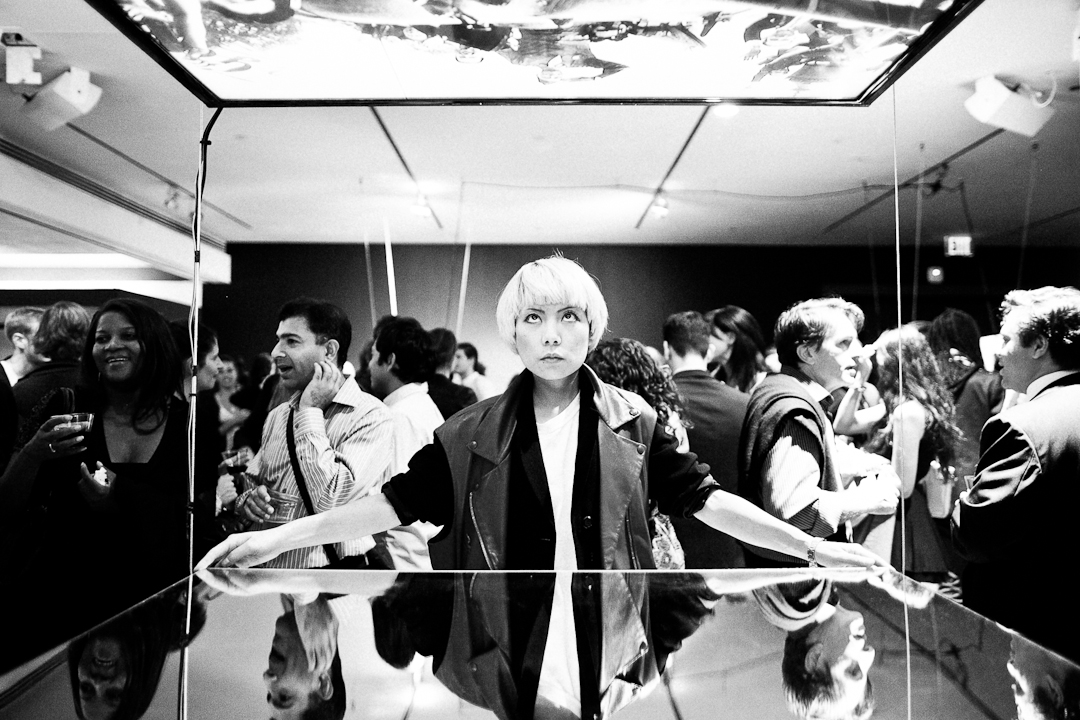 From ceiling down to floor, a series of Magnum photos seemingly tumbled through three surfaces with the help of projections and mirrors. The exhibit didactic explained the historical value towards the photography cooperative: "Since 1947, Magnum Photos has captured a palette of existence..." Here, in this instance, the reflective surfaces shared by the photos forced a viewer to confront him -- or herself as the series looped forward, meshing the two together in a cyclical history that emerged from the past to seep into the present, only to be lost again.
Also on display was a video, highlighting John Baldessari's celebrated career and refreshing artistic perspective. Baldessari, a veteran contributor to The GROUND, is an inspiring figure for the magazine. As explained by Yoon: by "burning what society created and making something new," Baldessari is a role model for establishing new and innovative thinking in a medium some might argue is going stale.
The GROUND Collective demonstrates the magazine's hopes to establish itself and create something fresh from the ashes of print media's heyday. The method of repetition and cycling to display a contemporary history of photography might encourage the idea of a phoenix rising, presented in a slick multi-media experience fitting for a publication that aims to defy definition with forward-thinking.
Images courtesy of Milk Gallery
SUBSCRIBE AND FOLLOW
Get top stories and blog posts emailed to me each day. Newsletters may offer personalized content or advertisements.
Learn more