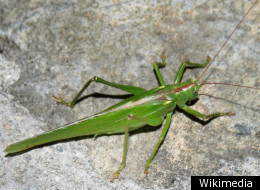 If you write a book about the future of food, you will frequently get The Question.
"So... what are the foods of the future?"
I'd been evading that one for a couple of years with various deflections ("Well, the book is really about...) and mealy-mouthed excuses ("Still researching").
The reason I'd been punting on the "Thou Will Eat" answers is because of what I'd learned about food prognostication - the Italian who portended the end of pasta, the two 40s-era idealists who predicted that plankton was the future of food. (See Warren Belasco's Meals to Come: A History of the Future of Food for more). And in my reporting, I kept running into erroneous predictions -- we were supposed to have test-tube pork, food pills and Safeway Select cobia nuggets by now.
So, it took me some time to warm to the idea of unveiling my own forecast. But after a couple of years on the food frontier, I can confidently say you'll see more of these seven foods in 2042.
Josh Schonwald is the author of The Taste of Tomorrow HarperCollins, $25.99].

If you grow up with Kung Pao chicken, you will get sick of Kung Pao chicken. You will then get excited by Pad Thai. Then you will go through a Pho phase, and after that you will get hot for Cambodian, Malaysian, Indonesian. Try a burrito, then some Oaxacan moles, and soon you'll be drinking pisco sours and searching for an authentic Feijoada (southern Brazilian). The appetite for ethnic exploration ain't slowing down. Eventually, the food-delirious world will turn its attention to the last continent for culinary exploration-- and it's not Antarctica. Get ready, circa the 2030s, for an influx of foods and flavors from sub-Saharan Africa. And if you're a doubter, take a look at Marcus Samuellson's The Soul of a New Cuisine, the book that made me a believer in Africa's culinary potential and the inevitability of Senegalese take-out.

In 30 years, fears of genetic engineering will seem quaint --as anachronistic as microwaves causing cancer. Eating GE-crops will cease to be politically incorrect for foodies. And after some much-needed legal and regulatory reform, we'll finally see the emergence of the Grant Achatzs and Ferran Adrias of the farm - culinary minds who use biotech tools to experiment with fruits and vegetables in the same way they do with flavors and foods. One example of the techie-foodie-farmer future: the lemon-basil cherry tomato. An Israeli geneticist spiked a cherry tomato with a gene from a lemon basil plant. The result: it endowed the tomato with gerianol, a rose-smelling compound. The GE tomato won a blind taste test. Expect more interspecies flavor pairings. Also: get ready for blue bananas and green oranges. It will be easy to change color in a biotech-friendly future.

Back in 1932, Winston Churchill predicted that we'd be eating lab-grown meat within 50 years. The Bulldog was way off, but he will be vindicated before long. It's pretty well established that our cow-pig-sheep addiction eats up too much land, too much water, and produces way too much global warming-inducing flatulence. Something must give. We'll have more fake meats derived from plants and mushrooms AND we'll have lab-grown, stem-cell spawned hamburgers. People invariably raise the Yuck Factor protest in any discussion of test-tube meat. But what's yucky about a greenhouse-gas reducing meat that eliminates the need for slaughterhouses and massive, stinky factory farms that pump animals with antibiotic and growth hormones? Not only will it help protect the earth, and enable vegans to barbecue, your lab-burger will prevent heart attacks-- meat-engineers will take out the saturated artery-clogger fats, and replace them healthy omega-3s. This fall, a Dutch lab will unveil a prototype stem-cell-derived burger at the staggering cost of $340,000 plus. So it's a long way from the dollar menu, but as one of the burger's creators has observed, think of this fall's burger as the mainframe computer of the in vitro meat movement.

In 2000, the average American didn't know what a tilapia was. Some thought it sounded like a venereal disease. By 2005, it was a fixture at Red Lobster and Costco. By 2010, it was the most popular farmed fish in the country. The are plenty of candidates out there vying for the next tilapia, but I'm placing my bet on Cobia, Rachycentrum canadum. It grows freakishly fast -- six times as fast as salmon. It adapts well to captivity (great for fish farmers), and it's white and firm and has a neutral white taste - like halibut. Prepare yourself for the McCobia filet and Lean Cuisine Cobia Marsala by 2030. Flickr photo by katedubya

Venezuelans eat French-fried ants. Ghanaians eat bread made out of termites. Thailand has more than 15,000 locust farmers. 70 percent of the world's population eats more than 1400 insects. Yuck, right? Insects may be one food that has a higher yuck factor than lab meat. Circa 2012, in the US and Europe, insect-eating is in Fear Factor, Bizarre Foods country. But that will change. Insects are healthful -- high in protein and vitamins, low in fat and cholesterol. And they're earth-friendly -- they require less space, less water, and contribute a fraction of the greenhouse gas emissions of animal livestock. You can now buy mealworms, buffalo worms, and locusts at the Dutch version of Costco. In the US, insects are starting to appear on daring restaurant menus -- José Andrés, last year's James Beard Chef of the Year winner, serves a popular chapulín taco that is stuffed with Oaxacan-style dried grasshoppers. A Chicago entrepreneur is planning to bring mealworms (shaped like shrimp and hamburgers) to Americans. Don't buy it? Just don't think you'll ever see insects at 7-11-- even if they're shaped like hamburgers? Well, don't forget that in the 1800s, Americans considered the almighty lobster so repulsive that some states forbade feeding it to inmates more than once a week.

Oceans cover 70 percent of the Earth's surface, yet yield two percent of our food. Two percent. That's pathetic - and it's not because we haven't done a good job catching or growing fish. It's because we're not eating our seaweed. Seaweed is nutrient rich, low in fat, and grows at turbo-speed. Kelp grows 9 to 12 feet in 3 months - without freshwater, deforestation or fertilizer. One seaweed advocate estimates that just one percent of the Earth's ocean surface --an area roughly the size of Washington State -- would be needed to grow an amount of seaweed equal to all of the food plants currently farmed on land. Seaweed has long been a staple in Asia, but it hasn't shown up on most American plates. That will change. A wave of sea veggies is beginning to trickle ashore --two Maine sea farmers are bringing a host of products -- kelp noodles, kelp energy bars, seaweed flavored tortilla chips -- to the market. Ever heard of Irish Moss and Digitalia, Lave and Bladderwrack? Get ready to learn about the stunning diversity of sea flora.

Purslane is mild (faintly peppery, subtly lemony) with paddle-shaped leaves that are crunchy and slightly mucilaginous - meaning, a little chewy, okra-quality. Purslane tastes great with sea salt and olive oil, sautéed like spinach, and it makes a wonderful pesto. Alice Water loves it, and so did Gandhi (apparently it was his favorite green). But the reason why I'm listing Portulaca oleracea here is because it's a weed. Also known as hogweed and duckweed, it's largely regarded as an enemy of farmers and lawn-tenders in America, circa 2012. Unlike most of the "weeds" attracting forager interest and popping up at farmers' markets these days, Purslane appears destined for greatness (i.e.: the shelves of Safeway and the Ruby Tuesday salad bar). Flavor and texture aren't the main reason purslane will be an industrial-scale hit. Mahatma Gandhi's favorite green has six times as much vitamin A as spinach, seven times more beta carotene than carrots and contains more omega-3s than virtually any other leafy vegetable. In short, purslane seems fated for "next superfood" treatment.