The first thing you learn in French after "bonjour" is "Ça va?" Meaning "It goes?" or "How is it going?" the simple phrase is an introduction to the joys, subtleties and exquisite intricacies of the French language. Likewise Todd English's Ça Va restaurant in New York City is an irresistible introduction to the intoxicating world of French cuisine. Conveniently located at 310 W 44th Street, adjacent to the InterContinental New York Times Square, the brasserie/lounge/marché was the perfect starting point for my Manhattan night on the town. Started in 2010, it is now a "must taste" spot for New Yorkers and visitors alike.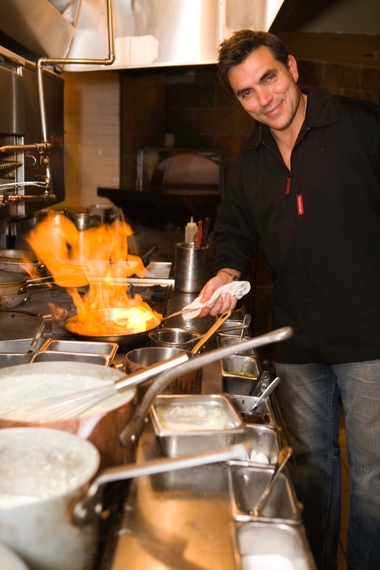 Photo Credit: Todd English
Upon entering Ça Va, you're enveloped in an inviting ambiance that beckons you to prepare yourself for a memorable evening. Architect Jeffrey Beers designed the restaurant to evoke a brasserie, but added lighting and neutral colors to create a completely comfortable environment. The private dining rooms offer plenty of natural light and gentle courtyard garden views. The Lounge, with its crackling fireplace, is a destination in itself for after-work or after-show cocktails.
I was welcomed by a gracious staff who was well versed in the menu. I could choose from a wide variety of draft beers from French American and local breweries or an extensive wine-by-the-glass selection from a well-curated wine list. Also of interest were the many innovative cocktails, initially created by internationally known mixologist, Francesco Lafranconi whose creations remain a staple of the well stocked bar.
Then I faced the challenge of what to order from the dinner menu. Chef Todd English set the standard with a la carte items such as his signature Escargot, and Steak Frite with Herb-Onion Butter. A nightly "Plats du Jour" offers quintessential French favorites such as Pot Au Feu Cuisse De Poulet. Under English's guidance, Chef de Cuisine Patrick Malone adapts the menus seasonally, allowing fresh and local ingredients to shine. Classic year-round favorites include Loup De Mer, French Onion Soup and seasonal Foie Gras preparations. English also offers his signature prix-fix menu, with a variety of Ça Va favorites, served family style.
After a great deal of deliberation I finally decided on DEMI POULET RÔTI AU MIEL (honey roasted half chicken smoked bacon-brussels sprout hash, butternut squash purée, sage brown butter) and it proved that chicken cooked with passion and inspiration should not be overlooked by even the most discerning palette.
I thought I was done with the difficult decisions until my server informed me it was time for dessert. Bring on the chocolate... This time in the form of a masterful dark chocolate torte and madelines with chocolate dipping . What to do now? Eat both of course. Ah, Ça Va, you are a joy for all my senses. Ça Va? Yes, it goes very well indeed.
SUBSCRIBE TO & FOLLOW LIFESTYLE
All the meal hacks and indulgent snacks. You're welcome. Learn more