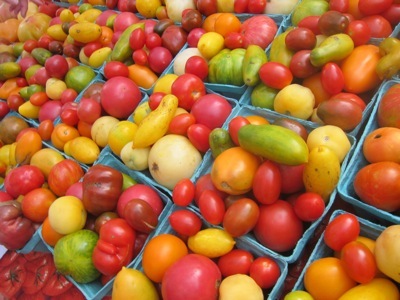 Many shoppers are drawn to the bright and shiny tables of heirloom tomatoes but flee from the exorbitant price tags. Farmers have strived to bring a premium product to the market, the price reflect their hard work, but not all great tomatoes are so pricey.
If the high prices of heirloom tomatoes are deterring you at the market. Try asking the farmer if he has any "second hand" tomatoes he's trying to unload. These might be cracked, bruised, or starting to go, but they're just as tasty as the rest at the stand. If that doesn't work, try casually showing up around closing time. At this point in the day farmers are usually happy to get rid of tomatoes that sat out all day for a discounted rate. In both instances, the shelf-life might be shortened by the nature of your thrifty purchases, but the savings more than make up for it. I was able to score a 10lb. box of tomatoes for ten bucks!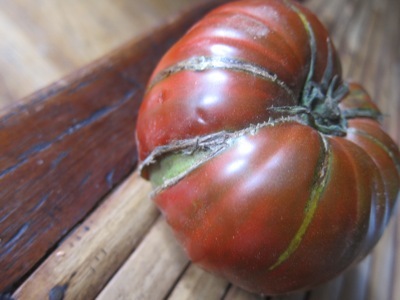 If you're able to be choosy, go for tomatoes that are hefty for their size. Avoid any obvious oozing or leaking, but know that surface blemishes are just that. The inside will be just fine.
A little green at the top is ok. Tomatoes left on the plant too long will donate some of their goodness back to the plant. To ripen them, place them in a dry place on the counter, NOT on a windowsill in direct sunlight, the heat will cook the poor things and turn them to mush.
And I never say never, but I also NEVER EVER put tomatoes in the fridge. An important flavor component in them comes undone permanently at cold temperatures.
If, like me, you tend to load up on ingredients before you have any idea of what you're going to do with them, this recipe is a great place to start. For more ideas you can check out my blog.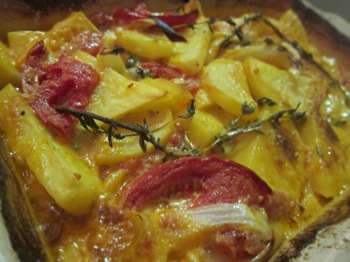 6 medium Yukon gold potatoes (1.5 lbs), cut into 1/4 inch slices
2 large tomatoes, cut into 1/4 inch slices
2 medium onions, cut into 1/4 inch slices
1 bunch of thyme
4 cloves of garlic, sliced
1 1/2 cup of cream
1. Preheat your oven to 375 degrees.
2. Place the potato, tomato, onion, thyme and garlic in a bowl. Season well with salt and pepper and toss to combine.
3. Spread out in a 9 x 13 baking dish and pour the cream over.
4. Bake for 35 minutes or until nicely browned and a knife inserted comes out easily (in other words, the potatoes are cooked).
FOLLOW HUFFPOST