It's been three weeks since I stepped off the plane and on to Middle Eastern ground. I would like to say that the decision to move to Dubai wasn't an easy one, that the thought of moving half way around the globe filled me with questions and that I lay awake at night worrying about leaving family and friends behind. The truth is I leapt at the chance to set up a new life in The United Arab Emirates, despite never having visited before.
I have spent the last three years in London and the time has come for a change. Is there any better transformation than leaving an old city famous for its history and rainy weather for somewhere which has seemingly risen from the blazing hot desert in a decade?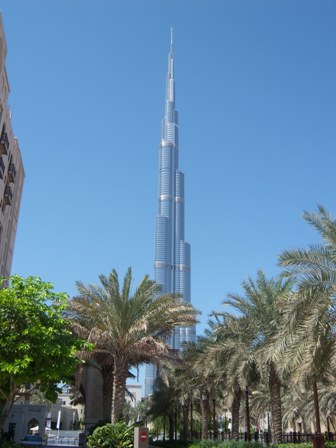 The first thing which strikes me about Dubai, other than the enormity of its most iconic landmark The Burj Khalifa, is the impressive mixture of cultures. If ever there was a place to sum up the term 'melting pot' Dubai is surely it. There's every cuisine you could ever hope to touch your lips; Lebanese, French, Japanese, Mexican, Arabic, Italian, American, Chinese... Dubai offers the world, quite literally, on a plate.
Of course, it's just not food that this diverse place has to offer - there's a real adventure up for grabs here. Dubai strives to provide its locals, expatriates and tourists everything they could wish for. Can't decide between some winter sun and a ski vacation? No problem - Dubai has both in the form of Ski Dubai, a huge artificial ski slope in the desert complete with a ski lodge with its own crackling open fire in the corner. If faux snow isn't your style then why not bypass it altogether and head for the dunes to take part in some exhilarating sand boarding.
If that's all a little too active for your tastes then why not indulge in a spot of retail therapy. This Emirate loves to shop and there are humungous malls wherever you turn. The famous Dubai Mall is the largest shopping centre in the world; it not only houses over 1,000 stores it is home to an Olympic sized ice rink, indoor theme park, aquarium and underwater zoo. How's that for getting a shopping fix?
Fancy yourself as more of a traditionalist? Then perhaps a camel ride along the shore line will capture your imagination, or maybe stargazing beneath a traditional Bedouin tent whilst a belly dancer keeps you entertained. You may have to look for it, but Dubai's culture is rich and worth exploring.
There's plenty to entertain, inspire and excite in Dubai. So, join me as I discover everything that this sun drenched location has to offer and don't be shy, let me know what you want to hear about and if you're in the know share your favourite Dubai hot spots.

FOLLOW HUFFPOST