"Sometimes you have to play a long time to be able to play like yourself" -- Miles Davis
My new jazz series, Judith Ellis Is Jazz with The Third Beginning featuring the legendary Wendell Harrison, happens at every Thursday evening at the Detroit Opera House Cadillac Cafe. Please join me, a true Detroit native, who has made music my life while traveling the world performing on every level since the age of 12. It's an evening of amazing jazz with some Stevie Wonder, Elton John and Adele, great food, and a welcoming ambience.
My history with the Michigan Opera Theatre and the Detroit Opera House reaches back to my childhood in Detroit. I had been preparing for weeks for the arrival of Karen VanderKloot DiChiera of the Michigan Opera Theater to come to Ludington Middle School to produce an operetta she had written, Look to the Land. Her then husband David DiChiera is the founder and general director, of the Michigan Opera Theater. Both had done extraordinary things for the City of Detroit for over 40 years. At that time I was only 12 and was preparing to perform "Amazing Grace." At that age I didn't know any operatic pieces, but knew what opera was. My grandmother had an extraordinary soprano and my father was a classically trained pianist and organist. At the end of the day that one performance changed my life and direction forever.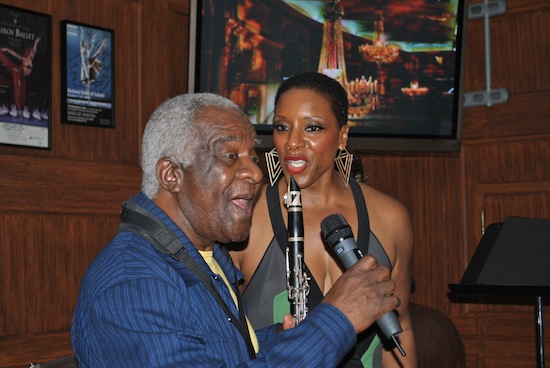 Throughout my entire life Karen VanderKloot DiChiera has supported my talent. She hired me to manage her correspondence, arrange her music scores, and sing at their Christmas parties as a young student of music. Karen was also responsible for finding me sponsors for my piano lessons, and saw to it that I always had lunch money and bus fare to get back and forth when I entered high school. My mother was raising 12 children alone.
As I was singing at the opening of my new jazz series, I looked out and saw Karen beaming with pride. Afterwards, I asked her how I did. Karen didn't answer right away, but as tears filled her eyes, she said, "You were brilliant. I love you, Judith." I gave her the biggest hug ever and then she introduced me to a young kid sitting with her. The young man was in middle school, and Karen had told him all about me. "Now, when time allows," Karen, said, "I want to tell you about him." Some things never change, and we must always return the gift.

I see my return to the Detroit Opera House as returning and expressing the gift that Karen and David DiChiera helped to develop. Please join me, along with the legendary Wendell Harrison, every Thursday night at the Cadillac Cafe at the Detroit Opera House for an evening of jazz, great food and a full bar.
SUBSCRIBE TO & FOLLOW THE MORNING EMAIL
The Morning Email helps you start your workday with everything you need to know: breaking news, entertainment and a dash of fun. Learn more