7 Tips for Getting Over Your Fear of Flying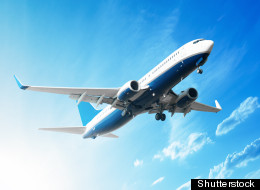 Once upon a time I was a fearless traveler. But fear of flight soon crept into my life and settled in like an unwanted houseguest. What happened? I had never had any real flying scares, nothing more than a bumpy landing here and there. My fear was irrational and deeply lodged. I wanted to be brave. I wanted to be adventurous and jet here and there, but my fear made travel a source of anxiety for days on end. Even after arriving safely in my visiting location, it didn't dissipate. Instead, I spent the days before my return trip as a jumbled ball of nerves. But when my daughter who lives in another state became pregnant with my first grandchild, I knew I needed to overcome my fear of flying.
After lengthy consideration, I came to the conclusion that my fear of flying must be a fear of something else, something larger. After all, I knew that flying was safe. I soon understood that my irrational fear stemmed from uncertainty. There are many things in life which we cannot control, but flying seemed to stand out as the perfect metaphor for all the rest. I realized that what makes us afraid is that when we fly, we are out of control. We place our life in the hands of our pilot, someone who's a complete stranger. Then there's the claustrophobia factor, at its worst on a small jet, and, of course, turbulence makes travel dreadful for most people. But I knew if I chickened out, I would lose respect for myself and miss this momentous moment in my life. And so I talked with friends and gathered the tools needed to help me to climb my mountain of fear and stand on top in triumph. Viewed this way, the trip was a dare--one I needed to be brave enough to take. Read on to learn what helped me to scale my mountain.
Julia Cameron is the author of the new book SAFE JOURNEY: Prayers and Comfort for Frightened Flyers and Other Anxious Souls.
7 Tips For Overcoming Fear of Flying
When we take steps to organize our trip, we take steps to protect ourselves from extra or needless anxiety. Planning ahead gives us a sense of calm control. There are many ways we can plan ahead so that the "day of" goes smoothly. For example: A few days before departure, make a list of everything you will pack: clothes, shoes, toiletries, medications, electronics (including chargers!), reading and writing material, passport or photo ID, gifts, etc. As things occur to you, add them to the list. Unhurried, you are less likely to forget something important.

When we are scared to fly, we can become stuck in worry and find ourselves in a debilitating loop that feels unbreakable. When we are irrationally caught in this cycle of nervous energy, we do well to distract ourselves in any way we can. By shifting our focus to something we enjoy, we relieve ourselves of our obsessive fixation on our own fears. If you are caught in worry, you can try listening to some upbeat music, watching a movie, calling a friend "just" to listen (only before and after the flight!) or read a book for pleasure. Refocusing your attention to something more pleasurable makes flying more fun than fearful.

Focus on the positive; remember why you are flying in the first place. Remembering why you have chosen to take the trip can put your feelings of fear into perspective. Listing three positive reasons for taking the trip can calm your nerves. Perhaps you are taking this trip because it is part of how you earn a living. Or maybe you will encounter someone or something new to enjoy. Or perhaps you are looking forward to seeing friends. Whatever your reasons, keep running through them throughout your journey, and let go of any negative thoughts. When we travel, we place our fate in the hands of others and repeating the positives can help restore a feeling of faith and calm.

We are not the only ones hoping to get safely to our destination. Dozens, hundreds, thousands—millions of people have the faith to fly. Look around the airport at your companions. Allow yourself to people-watch. Imagine what other people's stories are, from the person working at the gate to the many varied travelers, and act out a bit of kindness towards them. Perhaps you can help the elderly woman retrieve her suitcase, or allow the young mother to cut you in line. It may be a tiny gesture, but be generous with one of your fellow travelers and see if you don't experience a feeling of camaraderie. This sense of "we're in it together" helps you feel less anxious as well as a bit better about yourself.

You do not have to know who or what God is to pray. Imagine what you might like God to be—a friendly grandfather, a waterfall, or a wise Yodalike figure—and then pray to that. Simply think of Something that you believe is a positive, guiding force and ask for its comfort and guidance. Admit your fear. It's surprising how immediate that source is when we are willing to reach for it. It is the paradox of prayer that when we admit our own limitations we become more powerful, as we are now willing to accept help. Try saying a prayer to yourself – say it in your mind, write it out, whisper it to the window – and imagine that your prayer has already been answered.

Once you are at the airport, you are in a period of waiting. Waiting in lines, waiting at the gate, waiting to board, waiting to take off. You are at the mercy of others. What better time to treat yourself to a little frivolous luxury? It's okay to be a bit naughty in what you choose. Treat yourself to a magazine or book that you would "never otherwise buy," or a decadent snack. The idea is to spoil yourself a little, then see if you don't feel a little bit calmer as you move through your travel day. If you can associate travel with luxury, fear will eventually ebb away.

Regardless of how we feel, we can act correctly. "Act as if you have confidence," wise mentors often advise. And when you do just that, your confidence grows. Try acting "as if" in one instance on your flight. For example: Smile at your seatmate. Maybe he or she will become a new friend. Thank your pilot before the flight begins, as you are boarding, instead of only when you deplane. Allow yourself to display a positive attitude. Act as if you are completely at home on the plane. Exude confidence in one aspect of your travel and see if it adjusts how you feel.