Swede turned California resident Viktor Sjöberg is not your typical wedding DJ. First of all, he has only deejay-ed two weddings. Secondly, his repertoire is not chock-full of wedding party staples that have permeated dance floors since the 1980s.

Viktor started deejay-ing weddings last year -- initially in Chicago for a couple that hired him because the bride "liked the way he danced," and then months later in Colorado for LA-based couple Amelia and Danny. The betrothed had already hired indie pop musician Jens Lekman (on the Secretly Canadian label) to play at their reception. Because Viktor is the "DJ" in Jens' band (i.e. he creates electronic beats and samples and arranges them for live settings), they all agreed it would be fun to have Viktor deejay after the band played. It was a success, and the rest, as they say, is Swedish Wedding DJ history.

JI: What's the first word that comes to your mind when you hear the word "wedding"?
VS: Two words: Skansen Kronan. It's an old fortress in my hometown of Gothenburg, Sweden. It was originally built to keep an eye out for a possible Danish invasion. The Danes never came, but my wife Ashleah and I got married there in August of 2009.

JI: What's the third word?
VS: I guess it would be something as clichéd as "commitment".

JI: Please tell me about your musical upbringing. At what age did you start playing music?
VS: I started playing guitar when I was about nine. Around the same time me and my friend started going to this second hand record store to buy the Pet Shop Boys and Styx bargain bin vinyl. The fact that the records were so cheap made it possible for us to find our own musical paths. When I was about 13 our family got our first computer, and I immediately started making some kind of music by rubbing microphones against speakers, sampling classical music and selecting the ambulance siren sound on my Casio toy synthesizer. That's how I got my start.

JI: What brought you to America? Was it music-related?
VS: I was traveling through America by train when I met a girl that I wanted to see again. Now we're married!

JI: In which ways do you feel that you are not a traditional wedding DJ?
VS: Well, I would say that I am nontraditional in all ways but one: I am very traditional in the sense that my prime objective is to make sure that people are having a good time. I'd like to achieve that through playing music that I love, and that's really all that matters to me.

JI: Describe how you create a playlist for a wedding?
VS: I make sure that I know what music the happy couple likes and also make certain that I understand their thoughts on what the party should be. If they give me a playlist with some of their favorites I can easily flesh that out into a night of good times. If the initial communication works out well it is generally smooth sailing from then on. The basic idea is to start off with a lower tempo (but still with some intensity) and feel where the room is going. Depending on people's reactions, one might switch gears or stay on the same track. It's very intuitive.

JI: Has a song ever not worked for you? What happened?
VS: Getting a request for "The Beatles" and playing some Yoko Ono pop disco tune in response didn't go over too well, I guess.

JI: Ha. Pretend you are a DJ in a time capsule and are sent to various decades in America to deejay the wedding party. What song would you choose from the 1930s?
VS: Billie Holiday's "What a Little Moonlight Can Do".
JI: The 1950s? VS: Billie Holiday's "I've Got My Love to Keep Me Warm"
JI: The 1970s? VS: Odyssey's "Battened Ships"
JI: and the 1990s? VS: Pet Shop Boys' "Being Boring"

JI: Nice. What is your go-to dance song when you want to get people dancing?
VS: A gradual build up that reaches a natural climax with R. Kelly's "Ignition (Remix)" - always does the job. The nature of that build up might vary, but the climax is always the same.

JI: What is your go-to love song when you want to get people kissing?
VS: I like "The Best Thing That Ever Happened to Me" by Gladys Knight & The Pips, one of the most romantic songs ever written and a completely essential wedding slow dance.

JI: In your opinion, what's the biggest difference between American and Swedish weddings?
VS: The difference would be that Americans actually get married. Swedes are not that big on marriage, and if they do get married it is usually not a giant production.

JI: What is your attitude towards people who have song requests for the DJ? Any tips for the requester?

VS: I am happy to fill requests if they fall within my general taste parameters. So my advice would be to listen to what I am playing and work out a request that fits with what you're hearing. I will also work with the bride and groom to make sure that I play what they want. Getting to know the happy couple through their taste in music helps me help everyone to have a good time.

JI: How do you feel about being a real rising star in America's Swedish Wedding DJ industry?

VS: I feel great. I hereby vow to make it my life goal to be America's most famous Swedish Wedding DJ. It will be lonely at the top, but the view will be great.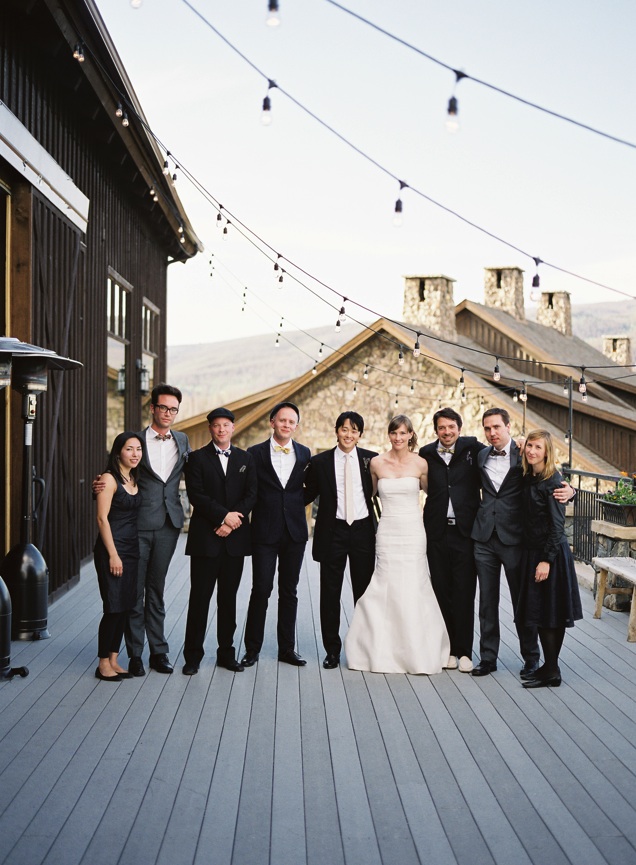 Photo: Viktor, his band mates, and wedding couple Amelia and Danny photographed at Devil's Thumb Ranch in Tabernash, Colorado. Photo by Steve Steinhardt. From left to right: Adrienne Short, Viktor Sjöberg, Jonathan Stewart, Jens Lekman, Danny Chun, Amelia Stephenson, Chuckie Hall, Ben Swanson, Julia Rydholm

Viktor Sjöberg and his wife, Ashleah reside in San Luis Obispo, California. If you would like to listen to Viktor's music please go to: http://www.structuressonores.com/ If you'd like to hire him for a wedding or other event, e-mail him at: viktorsjoberg@gmail.com