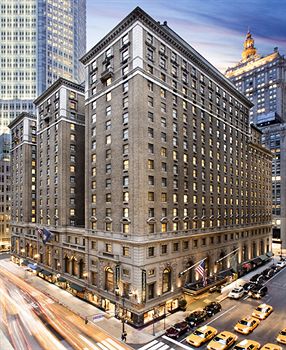 "Where are you staying?" seems to be the first question people ask when you mention you're headed for New York. My answer for my last couple trips has been "the Roosevelt."
I just really like this hotel. It's not new or all done up by a chic big-name designer. It's not funky, boutique-y, over-the-top-elegant, minimalist, in an up-and-coming neighborhood, loaning iPads to guests or serving the Michelin-starred cuisine of a celebrity chef.
It is, however, rich in history, centrally located, incredibly welcoming and reasonably priced.
My only complaint? Shabby rooms. The two rooms I stayed in last year both needed serious TLC: one had exposed carpet nails, both had carpet stains. One bathroom had virtually no counter space; the other, no shelf or niche of any sort in the shower. And the windows were really really hard to open.
So when I learned, just recently, that the Roosevelt was getting a multi-million-dollar facelift, I was delighted. "Each guestroom will feature all new furniture and fixtures, in addition to all new carpeting in guestrooms and guest floor corridors," the email said. (It went on to note that no major demolition is taking place, that the tasks at hand are relatively quiet and that the work will take place only on floors closed off to guests.)
The hotel's upgrades began last month and will proceed through early 2012.
That said, here are ten reasons I love the Roosevelt.
#1. Location. The stately hotel fills a full city block, on Madison between 45th and 46th Streets. It's a perfect midtown location one block from Grand Central Station, where you can catch trains and subways to anywhere. Plus, it's not too far east or west. You can walk to Times Square and Broadway in just a few minutes; to MOMA and Central Park in a few more. You can almost always get a cab quickly in front and if you're heading uptown, there's the Madison Avenue Bus. Within a few blocks of the hotel you'll find everything you might need: necessities (Kinko's, Duane Reade, Starbucks, restaurants) luxuries (Coach, Brooks Brothers, Saks) and everything in between.
#2. Vibe. There's absolutely nothing hip about the Roosevelt-- except maybe the rooftop bar Mad46--and that's exactly why I love it. New York has plenty of chic boutique hotels, which can be fun and sexy and all that, but here you'll find the comfortable retro opposite. (The last hip hotel I stayed in had no reading light by the bed, a remote that I couldn't figure out and no place to put my socks. Seriously: there was no dresser and no drawers.) Look at the photos of the Roosevelt's lobby, bar and rooms on their website and you'll see just what I mean. If a night at the W Hotel (or one of its clones) is like being with a new and thrilling lover...and the Hilton and Hyatt are reliable husbands...then the Roosevelt is like sleeping at Grama's. I loved sleeping at Grama's.
#3. Size. A small hotel has its charms but one with 1,015 rooms (including 54 suites) has energy and life. The Roosevelt plays host to a zillion functions per year, including weddings, Bar Mitzvahs, fundraisers, conferences and more. In the elevator you'll see black tie and ball gowns and t-shirts and tennies...and hear many languages spoken. Another benefit to a hotel this large is that if you don't like your room, you can almost always switch--they're graciously accommodating.
#4. History. Named for President Teddy Roosevelt and opened in 1924, the hotel was once linked to Grand Central by an underground passage. Lawrence Welk started his career here, Guy Lombardo performed "Auld Lang Syne" here and President Obama has held fundraisers here. The Roosevelt has appeared in several movies (Wall Street, Presumed Innocent, Malcolm X, The French Connection and Maid in Manhattan are just a few) plus scores of TV shows including Mad Men. During the famous 1948 presidential election, Governor Thomas E. Dewey listened to the returns in Suite 1527, losing to incumbent President Harry Truman in one of the greatest political upsets in American history. These walls have seen a lot of life and hopefully will for years to come. The Roosevelt is a true New York institution.
#5. Price. I'm too lazy to do an actual comparison but I think you get more room for your dollar at the Roosevelt. The details of each room category (there are four) are posted clearly on the website. Rates depend on demand, of course, but if you follow the hotel on Facebook and Twitter you can grab an occasional deal. Right now, rooms start around $200. Plus, the Roosevelt doesn't gouge their guests the way some other hotels do. For example: Phone calls are $1 (very fair by New York standards) and there's no service charge for room service. For what you'd spend on three or four nights in a fancy five-star hotel, you can have a week here.
#6. Reliable Tech. With very few exceptions, the WiFi seems to always boot right up. It's $14.95 per day, but that's on par. The signal is strong and fast. There's also the business center, with four computer stations and reasonable rates (although it should be open on weekends). I'm told there's also 24-hour pay-as-you-go computer/printer in the lobby. And my cell phone works fine throughout the whole hotel.
#7. The Lobby. To me, this is what a hotel lobby should be. Meticulously restored, it has soaring ceilings and marble columns, plenty of places to sit, good light for reading, pretty flowers, a big chandelier and great people watching. If you need a bite, the Madison Club Lounge, attached to the lobby, serves food.
#8. Staff. Whether the Roosevelt hires well, trains well, pays well--or all three--I don't know. (Actually, a maid told me that the hotel pays very well and provides great benefits.) But whatever the reason, the staff (currently 600 strong) is unusually, atypically, unfailingly nice. Every staffer I've come across has been warm, willing to help and attitude free.
#9. Mad46. This seasonal indoor/outdoor rooftop lounge offers big drinks, small plates (Kobe beef sliders, duck confit quesadillas, etc.), a lovely mellow atmosphere and beautiful views. When the weather cools, they'll lend you blankets and pashminas. It opens for the season March 30th.
#10. Amenities. I can't tell you whether the sheets are Frette or Filene's Basement; I can't tell you that the shampoo is anything more than a little tube of nice-smelling goo that does what it's meant to do. What I can tell you is that the beds are really comfy and the linens are too (new-looking fluffy white comforters, puffy down pillows). The (wall-mounted) hair dryers are plenty powerful and the (high-def flat-screen) TV gets more than enough channels for me. Rooms also have MP3-equipped clock radios, dual phone lines with voicemail, an iron and ironing board and a small safe. If you ask for a coffee maker, they'll bring you one. The hotel has restaurants, bars, ballrooms, meeting space, a 24-hour gym, a concierge desk and a small gift shop/newsstand. What else do you need?
The Roosevelt Hotel
45 E. 45th St. at Madison
New York, NY 10017
Reservations 888-TEDDY-NY
212-661-9600
TheRooseveltHotel.com

SUBSCRIBE TO & FOLLOW LIFESTYLE
HuffPost Lifestyle is a daily newsletter that will make you happier and healthier — one email at a time. Learn more