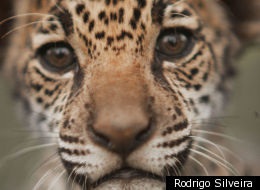 Almost everyone has heard of the iconic Dr. Jane Goodall--a scientist who moved to Africa to study chimpanzees and went on to become a world-renowned primatologist, author and spokesperson for species conservation. Fewer people, however, know of Diane McTurk, who teaches endangered orphan giant river otters in Guyana to swim, or Deborah Tabart, who has mapped all remaining habitat for disappearing koalas, or Dr. Claudio Sillero, who has vaccinated rare wolves against deadly disease in the highlands of Ethiopia. 
These people and the animals they work to save are intriguing, inspiring and worthy of accolades and attention as much as any sports star or Hollywood celebrity. That's why we decided to write a book about them--to introduce the world to these amazing people and creatures. 
It was a challenging task: finding the right combination of animals and heroes, setting up interviews with conservationists who by the very nature of their job sometimes spend half the year in the jungle or at sea with no internet or phone, and then collecting hundreds of images of animals so rare, that for some barely any photos exist. 
Below are just 7 of the 40 animals and their champions featured in Wildlife Heroes [Running Press, $20.00]. We hope you'll find them as inspiring as we do, and want to find out how you can help these incredible creatures and the heroes who are dedicated to saving them.
As a class of animals, big cats are amongst the most imperiled, with eighty percent of wild cat species thought to be in decline. Jaguars, the biggest cat in the Americas and the third largest of all cats, can still be found in nineteen countries. However they have lost over forty percent of their historic range, suffer from disappearing prey, and are frequently killed by ranchers who see them as a threat to livestock. And while jaguars do sometimes kill livestock, studies have shown that more often they are blamed for livestock deaths when they are caught scavenging an animal already dead from another cause.

Dr. Leandro Silveira and his wife Dr. Anah Jacomo have lived and worked in the wilds of Brazil for decades where they founded the Jaguar Conservation Fund. Their enthusiasm and dedication not only to saving jaguars, but to protecting giant anteaters, peccaries, maned wolves, and all the creatures of Brazil, is well-known throughout the country. Because they live just outside of a national park, Leandro and Anah are sometimes asked to raise young animals orphaned by poachers or fires. In recent years this has included three infant jaguar cubs and a baby tapir. Their work includes not only scientific ecological studies in multiple biomes of Brazil where this big cat lives, but also community outreach efforts aimed at building a peaceful coexistence between local people and jaguars.

While certainly imposing in appearance and stature, gorillas are plant-eaters, and unless defending family members, are not aggressive. When interacting, males will usually pound their chests, vocalize and throw vegetation to assert dominance without actually fighting. There are less than 800 mountain gorillas left in the world, found only in the remaining habitat of the Virunga Volcanoes mountain chain of Rwanda, Uganda and the Democratic Republic of the Congo. Many of the remaining gorilla family groups have been habituated to people for tourism - one reason they are both protected from --and vulnerable to-- poaching.

EUGENE SITTING IN JUNGLE WITH GORILLAS (Credit: IGCP) Eugene Rutargarama heads up the International Gorilla Conservation Program, coordinating efforts to save the endangered mountain gorilla across its range. Forced to leave his native Rwanda during the 1994 genocide, Eugene returned to help protect the mountain gorillas and help his homeland heal - both of which proved related. Eugene convinced the government to conserve remaining available habitat, set up monitoring of the gorillas and anti-poaching patrols as well as implementing community development and education projects. Mountain gorilla numbers have actually increased in the past 20 years thanks to the work of Eugene and his fellow conservationists.

Raptors are meat-eating birds that use their claws to capture food instead of their beaks. They are known for their keen eye-sight, typically large size for a bird, and their propensity to hunt their prey while in flight. Also sometimes called "birds of prey", they are threatened by habitat loss, pollution and over-exploitation. Raptors include easily recognized species such as owls, hawks, falcons, osprey and vultures. They are particularly vulnerable to problems in their ecosystem as they are perched at the top of the food-chain and impacted by issues that effect any and all levels. With proper care however, birds like the long-eared owl in this photo, can be rehabilitated after being taken from the wild or injured, and released again later.

Working for the International Fund for Animal Welfare, Grace Ge Gabriel established the first and only government certified raptor rehabilitation center in all of China. Raptors in China are protected by law, but still end up in the illegal wildlife trade to be sold for food or as exotic pets. Grace had witnessed that when these birds were confiscated by government officials, there was nowhere to send them for proper care and rehabilitation. Determined to do something, she set up a rescue and rehabilitation center at the Beijing Normal University. Since opening, the center has treated more than 3,000 raptors, and successfully released over 60% of its patients back into the wild. Grace also designs education campaigns to address the root problem of wildlife being bought and sold in markets through demand reduction in her homeland of China.

Whale sharks are capable of reaching lengths of over 45 feet - yet scientists know relatively little about them. Some basic facts are known though: They are filter feeders, consuming large quantities of krill, fish eggs and plankton rather than hunting like the better known great white or tiger shark. Like many sharks though, they are thought to grow slowly, mature late in life, and have long gestation periods, all traits which make them at risk of extinction when targeted for their fins and meat in commercial trade. Hunting whale sharks has been banned in many countries, yet enforcement is difficult, adding to their vulnerability.

Brent Stewart became interested in whale sharks 30 years ago when he first began working as a scientist for the Hubbs-SeaWorld Research Institute and virtually nothing was known of these huge fish. Years later, they are still a mystery but Stewart is working to change that even though it means Stewart travels often, up to eight months of the year, in his efforts to understand the movements, behavior and life history of whale sharks, as well as elephant seals and other marine life. Armed with a dart gun, data gathering tags and a pair of swim trunks, Stewart is helping save the largest fish on the planet.

Lions are often the number one animal people want to see when they visit Africa - symbolizing strength, virility and dominance throughout human history. Until recently African lions were thought to be doing perfectly well in the wild. However scientists now know that they are in serious decline - with a population drop of over 50% in the past 3 decades. Habitat and prey loss, unsustainable trophy hunting, and retaliatory killings for livestock losses are the causes for this dramatic reduction in both numbers and range.

Shivani Bhalla took a fledgling PhD project and created an organization, the Ewaso Lion Project, devoted to finding new ways for lions and local people to coexist in Northern Kenya. Using education, research and practical solutions to resolve conflict, she is helping to create a future for lions and community members. Given the species' dire situation, locally-tailored community-based conservation initiatives like those developed by Shivani demonstrating the value of lions, could be the best hope that lions have for a future in Africa.

Looking like a cross between an anteater and an artichoke, this small mammal is defenseless against humans. It is hunted for its scales which are believed to have powerful medicinal qualities, as well as for its meat. Unfortunately, the demand for pangolins continues to grow despite legal protections and continuing decline in numbers. Pangolins play an important role in pest control where they live as they eat up to 5,000 ants and termites at each feeding.

Nguyen Van Thai started Vietnam's first pangolin rescue and rehabilitation in conjunction with the Carnivore and Pangolin Conservation Program, located in Cuc Phoung National Park where Thai grew up as a boy. There was little known about the animals as recently as 2006 when he began the program, and Thai had to learn much from the animals themselves as he worked to save them. Thai is educating local law enforcement and forest protection officers on how to handle and help animals they confiscate. Perhaps even more importantly, Thai is also working to change the attitude of his fellow Vietnamese and convince them to look at pangolins not just as food and medicine, but as amazing indigenous wildlife with value in-and-of themselves.

All flamingos attain their beautiful coloration from the food they eat: crustaceans and algae containing the pigment beta carotene - the same substance that turns carrots orange. Flamingos live in conditions you'd never expect for a seemingly fragile looking bird. Flamingos can stand in and drink water that would burn the skin off a human and the South American species live at least part of the year high up in the Andes Mountains where temperatures can reach 20 degrees below zero. For all their amazing adaptations for survival, four of the six species are facing population declines due to habitat loss, disturbance of colonies, egg collection and hunting.

Felicity Arengo, associate director of the Center for Biodiversity and Conservation at the American Museum of Natural History and her colleagues spend some of the coldest weeks of the year in the Altiplano, or high altitude lakes, observing, counting and satellite tagging flamingos. What they have found is that flamingos travel further and more widely than previously thought, and both high altitude and lowland wetlands and rivers are now known to be critical habitat for these distinctive birds. Development, mining, cattle grazing and agriculture have decreased available area, but Felicity and local groups are gaining protections for the wetlands the flamingos need to live and raise their young.