My friend Peter Frank called up last night and said: "Hey, you want go see this new show up on Venice Blvd.? It's near Centinela I think. The c.nichols project."
Being a Venice local, my first thought was: "Okay... Mar Vista -- block after block of stucco apartment buildings, Mexican, Brazilian, Thai and Indian restaurants, liquor stores, surf shops and strip malls, my friend's old studio on Wade Street -- and now a gallery has moved in. Cool."
The show is called Peter Schroff/Tony Mackenzie: Schroff Surfboards.
Just inside the front door is a shaping room, with an unfinished blank sitting on the stand to the right, waiting to become a surfboard.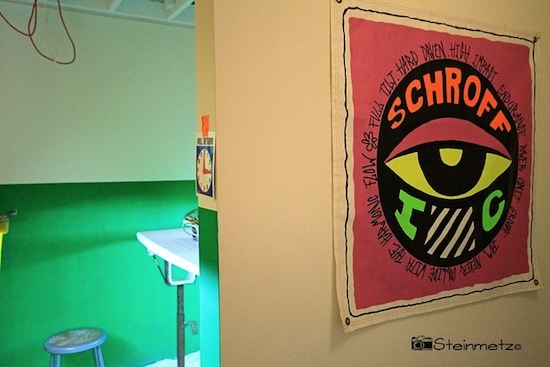 Photo courtesy Kurt Steinmetz
A film flickers low on the left side wall of the gallery. People lounge on the floor watching a tri-part video projection by Drew Heitzler, brought over from Blum & Poe, who represents him.
"Spiral Jetty/Crystal Voyager/Region Centrale (Bootlegged, Re-ordered, Combined)," 2011.
Photo courtesy Blum & Poe
Drew is an artist and curator, and sometimes uses appropriated imagery related to his favorite hobby -- surfing -- which he tries to do "everyday, unless it's windy." The video work from 2011 is called "Spiral Jetty/Crystal Voyager/Region Centrale (Bootlegged, Re-ordered, Combined)," which places Michael Snow's, "La Region Centrale" (1971) alongside film of Robert Smithson's "Spiral Jetty," both (from left) next to George Greenough's "Crystal Voyager" (1973), a groundbreaking surf film from the 70s. Each of these elements of Drew's compilation are masterpieces in themselves.
I was really familiar with all the films. Most of the work I do is filmmaking. I just like that people from three very different fields came up with the same idea, all in the early 70's. Because I'm a surfer, it sort of pops up in my work, but I try to avoid being pigeon-holed into that. I do a lot of historical research. My work is more about discovering submerged histories, such as underground comics and other subcultures, and how that informs the larger culture.

-- Drew Heitzler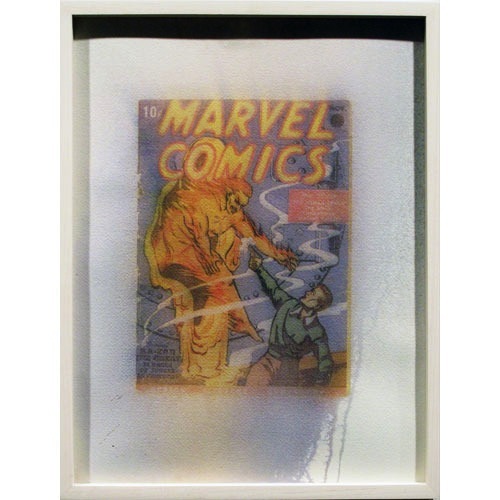 Water Damage (Marvel Comics #1) 2012. Ink on Watercolor Paper (16 1/8 by 12 1/4 in.)
Photo courtesy Marlborough Chelsea Gallery
Standing in the shaping room, the floor covered in foam shavings, smelling surf blank foam, I watch the film through the plexiglass that separates the shaping room from the rest of the gallery. It feels like being in the water, surfing. People watching the film from the gallery floor can't take their eyes off of it.
As I look back, it wasn't just the footage from the last part of "Crystal Voyager" (considered the best part) which gave worldwide audiences the first glimpse of what it is like to be inside the barrel of a wave. Or MIchael Snow's spiral infused film created with an elaborate mechanical device that allowed the camera to move in any direction. Nor the video of Robert Smithson's salt-encrusted masterpiece at the bottom of the Great Salt Lake.
In curating the show the way she did, Christine Nichols created a visceral environment with the show that provided an experiential context for Drew Heitzler's expertly appropriated film. It felt fun, natural, engaging, real.
Peter Schroff has been shaping surfboards in the gallery during the show -- a performance piece as an extension of his work from the 80s and 90s, and his experience from a stint at Cal Arts.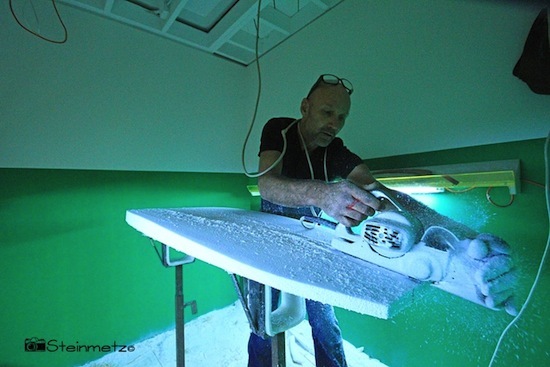 Photo courtesy Kurt Steinmetz
After works on paper on Wilshire, and then working in a gallery on La Cienega, going to art festivals all over the world, the art market had become huge, commercial. I decided, I'm just gonna go surf.

-- Christine Nichols
After surfing all over the globe, she came back home refreshed, having re-learned how to let go and let things happen. She says her connection to surfing has always been important to her. For this show, she decided to try to help "put the fun back into surfing" in her own way.
She had her eye a few spaces along Venice Blvd., looking for something that would allow her to show what she wanted, how she wanted, without the burden of covering a huge nut every month, as she was accustomed to doing up on Wilshire. Last summer, she found a perfectly sized space, she moved in, renovated and has put up three shows since August.
She contacted Peter Schroff, an old friend, and began to put the show together. She had seen Drew Heitzler's video at the Surfing Art Science and Issues Conference at Scripps in San Diego, put on by the Groundswell Society, and after deciding to do a show focusing on Peter Schroff and Todd Mackenzie's work, she asked Drew to screen it on the last of her Thursday night film screenings. Christine also offered up a West Coast screening of "Daughter" (2013), directed by Tin Ojeda, and "Surf Nazis Must Die" (1987) directed by Peter George, in addition to a series of shorts by Alexis Chavez introducing the new Team Schroff riders.
One day during prep, Peter brought over "The Pink Whale."
"The Pink Whale," commissioned by the surf wear company Gotcha in 1987, has been to Tokyo and back, by way of the Laguna Art Museum and the Yerba Buena Center for the Arts in San Francisco. A surfboard on it's side forms the body. An old school TV grins at you, while a barbershop-esque ad spins in a glass enclosure. Fins from a old car become wings. Fortunately enough, the sculpture has a tap built right in. You grab a cup from a holder below the yellow sun-like globe, pull the spigot to it's right, and voila -- you have a beer. Perfect for openings. It's at once an underwater mammal and a boat, a motorcycle you want to jump onto and go.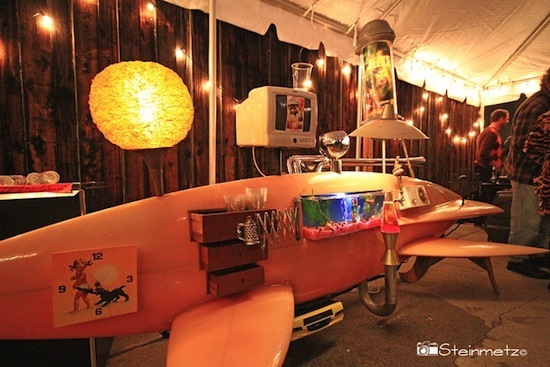 "The Pink Whale," 1987. Photo courtesy Kurt Steinmetz
I thought, whoa, this is really something. Peter wanted to put it in the gallery. We tried, but it just wouldn't fit! We put it in the back yard in my parking space. I was wondering if all the elements would work, but sure enough, they all did. I constructed a sort of outside living room around it. I think I'm gonna miss her when she's gone.

-- Christine Nichols
Surfing is like art in that there are no rules, no regulations. There is no right way to do it, and no wrong way. It's a free game, an open game. And it's better than sex.

-- Peter Schroff.
I love not having to fill up wall space. I can deal directly with my customers. It's always been my fantasy to have a surf shop... Peter's surfboards are way outside of the usual boarding color sense -- very much his own thing... It has been a lot of fun. I love the intimacy of my 686 square feet...

-- Christine Nichols
When Peter Frank dropped me off, he said, "I thought you might like that." I sure did. If you can make it over there before Christmas Eve, you will too.
_____
Peter Schroff/Tony Mackenzie: Schroff Surfboards, Black Friday tip' White Xmas is on view until December 24, with a possible closing party in January. Contact Christine Nichols for more information at 310-915-1930.