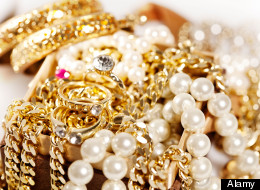 Over the past 10 years, Lulu's at the Belle Kay has earned the reputation for being one of the country's top vintage stores, carrying an unparalleled selection of jewelry from the 1920s through the 1980s, gowns, furs, and hats. Owner and curator, Laurie Davis, opened a second store last week: Lulu's on the Avenue, located at 900 N. Michigan Avenue, 3rd floor.
Laurie's new store focuses on spectacular vintage jewelry as well as a handpicked grouping of contemporary jewelry designers: Iradj Moini, Larry Vrba, and Roni Blanshay who was in attendance for the celebration. The co-founders of Laudi Vidni, a company featuring customizable leather handbags, were also on hand to show their latest pieces.
Laurie debuted a line of her own design called "Signature Lulu's" -- statement necklaces using vintage jewelry centerpieces, which she has been collecting for over 30 years, hanging from vintage cabochon chains. Laurie credits her success and expansion to women understanding the value of vintage. "Incomparable workmanship, one-of-a-kind pieces and favorable price points are strong reasons to buy vintage. If a dress calls for a statement necklace, not many women have access to five strands of diamonds, but they can get the look with a beautiful and affordable piece of vintage jewelry," says Laurie.
Armed with a lifetime of collecting and her thorough knowledge of fashion, Laurie is looking forward to her next venture on Chicago's prestigious Michigan Avenue.
Check out photos of fashionable guests and my favorite pieces gracing Lulu's shelves in the gallery below!
For more photos on Chicago culture and events visit: www.ChicagoHooked.com and www.JustinBarbin.com.
Lulus Grand Opening on Michigan Avenue
Laurie Davis, owner of Lulu's, with jewelry designer Roni Blanshay

Co-founders of Laudi Vidni, Grace Tsao-Wu and Laura Kofoid

Laura Kofoid flips through leather swatches for her customizable handbag colletion

My favorite from the Laudi Vidni collection -- a customizable leather envelope clutch

Dusty Stemer wearing jewelry from Lulu's

Rochelle Trotter

Roni Blanshay with pieces from her jewelry line

Patient husbands wait outside of Lulu's for their wives to finish shopping.

Welcome to Michigan Avenue, Lulu's!
Follow Justin Barbin on Twitter: www.twitter.com/jjbarbin