I've been on my relaxed healthy hair care journey for over a year now (!!): but the naturalista movement? Been going on for years, and most mainstream companies have finally jumped into the ethnic hair care business.
Perusing the aisles at Target, CVS, and Ricky's NYC, I see oodles of products promising weightless, frizz free curls with bounce, movement and volume. Sounds fantastic for my natural girls, but I see very few companies directing their messages to women with relaxed hair. This means we have to do twice the amount of research: blogs, YouTube videos, Amazon reviews, you name it. However, after being coaxed by quite a few of my curlfriends, I've been encouraged to try products geared towards natural textures. Here's what I look for in products for shampooing, conditioning, styling and maintenance for my relaxed tresses.
Washing: At some point during my hair wash routine, I attempt to detangle my knotty hair, preventing breakage and restoring strength. Even though I only shampoo my scalp, the Miss Jessie's Super Slip Sudsy Shampoo helps to create a nice slick texture to my hair -- from my roots to my ends -- , making it easier to condition and style. Usually at around 10 weeks post relaxer, my roots have a mind of their own; that's when the Miss Jessie's Leave-In Conditioner comes into play. Formally mentioned in the products my brother steals from me article, I put this leave-in conditioner directly in my roots, nowhere else. This helps my new growth become more malleable and easier to straighten. For the relaxed portion of my hair, I use the Carol's Daughter Monoi Repairing Anti-Breakage Spray (try and remember that title by heart). Also the Red by Kiss handle-less dryer is an absolute Godsend!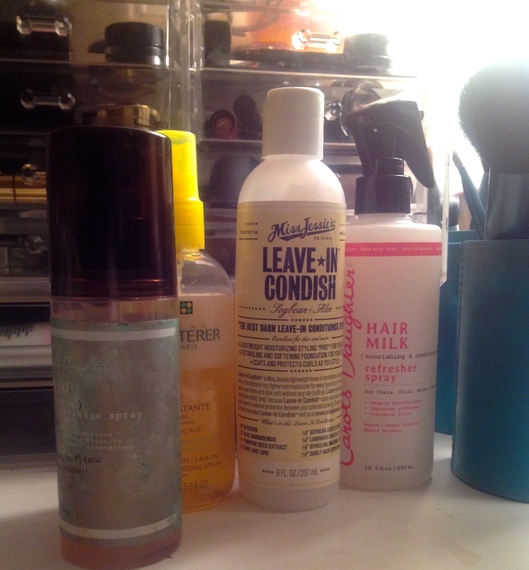 Everyday Haircare/Styling: The first two days of washing my hair, it's voluminous, bouncy, and shiny; wig-worthy, dare I say. Using the Carol's Daughter Macadamia Heat-Setting Foam while air dry my hair gives it the bounce and movement my fine, yet thick strands need. CD now stocks a Hair Milk Mousse-marketed towards curly girls, I might add-which I can't wait to try. The Hair Milk Nourishing and Conditioning Refresher Spray was love at first description -- beauty obsessed girls, you know what I'm talking about: when a product describes your exact everyday beauty woes and promises to fix them instantly -- a spritz of this after a nap, run or just a long day at work and my hair is back to it's first day wash bounciness.
My Haircare Wishlist:
What's on your haircare wishlist for the fall?