One of my favorite past times when I visit Stockholm is to watch "my" soccer team Hammarby play. The club is absolutely legendary in Sweden, and has its roots firmly placed in the historically poor southern parts of the Swedish capital. A working class club by tradition, and even if gentrification has turned the south into one of the most chic and expensive areas in Stockholm, the DNA of Hammarby as working class is still as alive as it ever was. Hammarby was, is and will always be the people's team. Always fighting an uphill struggle (make that very uphill), but never giving up. Other teams might be successful and loved by Kings or business leaders, but Hammarby is loved by the people. And to me, born in the heart of Hammarby country, it is more than a favorite team. It is a part of me that I carry with me regardless of where in the world I live or travel...
Now naturally, every time I visit my native city I try to watch my team play, and next time you go to Stockholm - so should you. And when you do, if you want to experience the very welcoming and special atmosphere surrounding the club, there is one thing that brings the Hammarby myth to life more than anything else. And that's visiting one of the classic beer halls on the island of Södermalm on match day. There are a few of these old fashioned pubs that are well worth a visit from a historical perspective, but there is one that stands out of the crowd. One place that personifies the club more than anything else. Kvarnen.
Kvarnen - meaning The Mill in English - is a more than 100 years old beer hall, and it has been the most beloved meeting point for Hammarby fans for the past 50 years.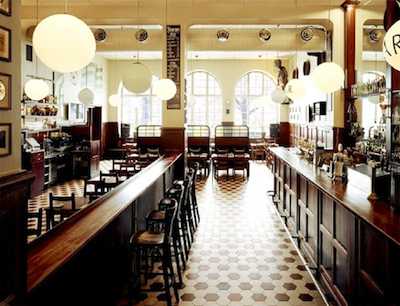 Placed proudly in the center of Södermalm, it is still as popular as ever. With its striking ascetic beauty and huge windows, it has the traits of a church, and the passion with which the fans relate to Kvarnen is as religious as their passion for the team.
Go through the old doorway, and the grand hall reveals itself to you. Dark wood, white stone and wooden benches along the walls. Paintings of legendary players and sculptures of local artists on the walls. Old school waiters that take their jobs utterly seriously, even if the audience might not be a hundred percent appreciative at all times. Young and old people mixed together, and a warm and hearty atmosphere that you won't find in many other pubs or restaurants.
So have a seat at one of the tables. Order a Pytt i Panna (Swedish hash) and a cold beer, and just absorb the scenery. And welcome to Hammarby.
Now, if you can't make it to Stockholm - here's a suggestion on how to make your own Pytt i Panna. This great dish is normally considered "leftover food". Use whatever you have lying around from yesterdays dinner, chop it up and fry it. But in my opinion, treating Pytt i Panna (literally meaning small pieces in a pan) as leftovers is a shame. It is actually more than good enough to deserve the ingredients to be bought for the occasion. The great thing though, is that you don't have to be all strict about the ingredients. Just use your preferred meat, together with some of the seasons best root vegetables and top with a fried egg and some beetroots - a rustic dish, but still quite elegant!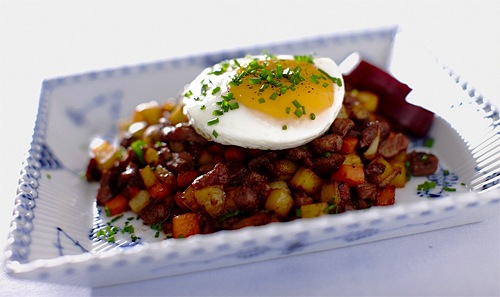 HOW TO
Serves 4
6 Diced potatoes
2 Diced onions
2 Diced carrots
2 Diced parsnips
2 Tablespoons of organic butter
1 1/2 Ib good beef
4 Free range eggs
1/3 Cup chicken stock
Pickled beetroots
Strong mustard
Salt
Pepper
1. Cut the beef into dices of about 1/2 inch squared.
2. Gently fry the onions in a little butter until golden. Set aside.
3. Fry the diced potatoes carrots and parsnips in butter for 8-10 minutes over medium heat. Add the chicken stock. When the stock has boiled in/evaporated completely, turn the heat up for 2-3 minutes or until the vegetables are golden and crispy on the outside.
4. In a separate - very hot skillet - fry the beef quickly until browned but not well-done.
5. Add the vegetables and onion to the beef (for an extra decadent version, also add 1/4 cup of cream) and cook together for about a minute. Season with salt and a good amount of freshly ground black pepper.
6. Serve with fried eggs, beetroot and some good mustard. Garnish with chopped chives.
Food Photography By Mads Damgaard
Kvarnen Photography By Kvarnen
SUBSCRIBE TO & FOLLOW THE MORNING EMAIL
The Morning Email helps you start your workday with everything you need to know: breaking news, entertainment and a dash of fun. Learn more