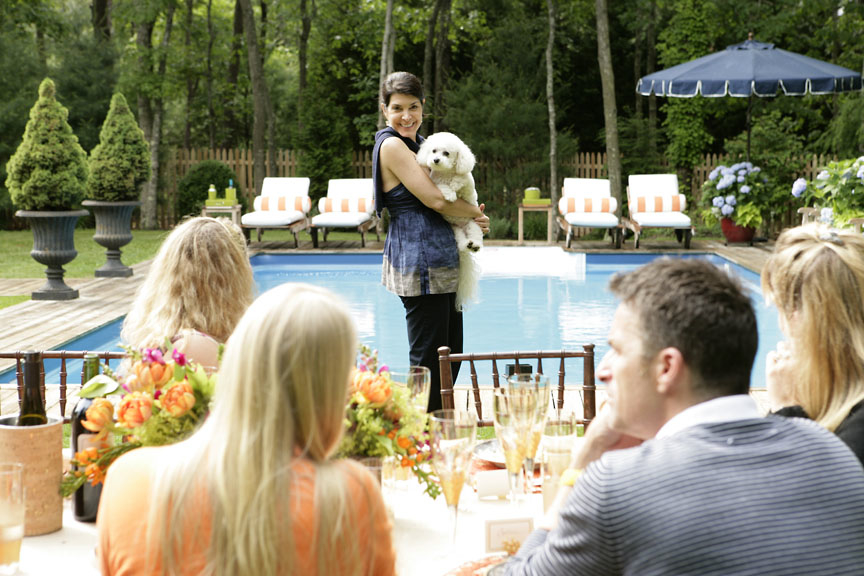 What makes a house a home? Just ask Kim Seybert, designer of lifestyle accessories. Actually, let's call her an artist. New York-based, Kim has made a name for herself with the incredible accessories for the home and table. Kim puts her creative twist on everything from placemats and napkin rings to glassware and bath accessories.
Kim inspires me for many reasons; her level of fearlessness stands out the most. She was very successful in the fashion industry but chose to enter the rarely explored territory of house and home. By taking on the rather traditional medium with an "outside the box" mentality, Kim was able to combine extensive experience with flawless taste. One of the most difficult challenges a designer can face is appealing to the masses while not losing the personal touches that becomes ones signature, in Kim's case, this signature is both texture and color. At first, decorating a home always seems like an overwhelming task. The slightest degree of enhancements can improve your home greatly and this all comes down to strategy. I know that when I walk into any home, the first things I notice are the decorative decisions. The size of one's living space does not matter when it comes to house wares. This is your chance to express yourself though creativity! I have always loved this area of design and continue to be inspired by it. Kim's pieces make it all the more easy to appreciate!
You can find Kim's amazing creations in luxury retailers all over including Barneys, Bloomingdales, Neiman Marcus, Saks as well as international markets. Kim is also a great friend and travel buddy. We had the amazing pleasure of traveling to India last year and we have a trip to Paris planned for fall.
It was my great pleasure to have the chance to speak with Kim this week.
1. Whom do you credit for inspiring you to be the person you are today?
I came from a large, crazy family with lots of kids and animals, so I learned
to adapt to just about anything!

2. What is your favorite get-away-from-it-all destination?
Close to home, I love Wainscott. Otherwise, I love to discover new places in India when I travel there for work.

3. How do you define your personal style?
I like clean, simple lines with some kind of statement piece like a beautiful piece of jewelry, embellished shoes or an over the top jacket. I am rather girly and have way too many shoes in my closet with Bows on them!
SUBSCRIBE AND FOLLOW
Get top stories and blog posts emailed to me each day. Newsletters may offer personalized content or advertisements.
Learn more