In this week's Q10 interview, we're visiting with Dr. Mehmet Oz, surgeon, author & host of 'The Dr. Oz Show.'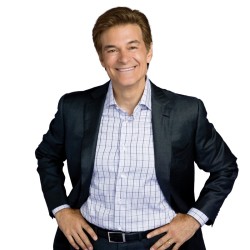 1. Whom do you credit for inspiring you to be the person you are today?
Like most people, it's a composite of several influential characters in my life - my wife, my father and my father in law have had the largest and most immediate impact on my growth as an adult. Professionally, Ms. Winfrey both taught me the process of television as well as launched me into the broadcasting world. Children teach you responsibility and humility, and I draw inspiration from my patients and audience. The single largest present influence in my life remains my wife Lisa.

2. What is your favorite get-away-from-it-all destination?
Other than simply being home where my favorite get-away is the quiet of my own mind, I love being in Maine or Florida with the family. We travel there frequently and both places feel like second homes.

3. How do you define your personal style?
I have made a conscious effort to move from a surgeon that strives for control over the circumstances he faces in the operating room to a compassionate listener who sees people for who they are. This was a deliberate move and did not come naturally. I am still developing that style.
For the full Q10, please visit the Kara Ross Facebook page.
SUBSCRIBE TO & FOLLOW LIFESTYLE
We're basically your best friend… with better taste. Learn more