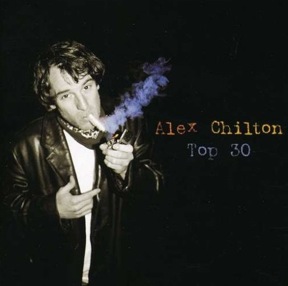 Alex Chilton died today of an apparent heart attack, a great loss to the New Orleans music scene. He was witty and shy - probably more comfortable on stage than off, like any former teen rock star. Chilton and The Boxtops scored a Number One hit with "The Letter" in 1967 when he was a 16 year old in Memphis. Boxtop hits that followed were "Cry Like a Baby" and "Soul Deep."
His subsequent band Big Star had indie hits including "September Gurls," and That '70s Show theme "In the Street," earning the band and Chilton a dedicated following. He inspired "The Replacements" song "Alex Chilton" for their 1987 album, and an entire MySpace group is dedicated to celebrating Alex Chilton's birthday every year.
Big Star was to perform tomorrow at South by Southwest indie music festival in Austin, Texas Jody Stephens, Chilton's longtime bandmate, told "The Commercial Appeal" of Memphis. He is survived by his wife, Laura, and child. He was 59.
Chilton influenced R.E.M., Wilco and the dB's, a band my husband was in for a time. Jeff describes the time Chilton's band opened for the dB's in France. Already a cult hero there, he performed "Little GTO" and the crowd went wild. At the time Jeff kidded him that the gig may as well be over because he was too hard of an act to follow.
Alex Chilton will always be a hard act to follow.
Update: The House of Representatives honored Alex Chilton with this proclamation by Congressman Steve Cohen (D) Tennessee:
"Today I come before you with a heavy heart for a friend of mine and a great friend of music in the world and particularly from my hometown of Memphis, Tennessee passed away last night. Alex Chilton who was a rock and roller, who was an indie music alternative producer, songwriter, guitarist passed away. Alex Chilton at age 16 had a number one hit with a group called The Boxtops with the song called The Letter. "Got to get a ticket for an airplane ain't got time to catch a fast train. Lonely days are gone, I'm going home my baby just wrote me a letter." That was number one when he was 16.
He went on with The Boxtops to do other songs then he had a group called Big Star. Big star wasn't well known, they did three albums but Rolling Stone put all three albums in the top 500 albums ever produced in America and two of his singles were among the top 500 singles ever done in America. Alex Chilton was like so much in Memphis, he grew up in a time when Elvis Presley was our emissary to the world. He wanted to play music and he did it, and he did it his own way. Independent, iconoclastic, innovative. He never cared for the critics he didn't have that much acclaim at the box office or at record sales, but he did with others. R.E.M. was a group he influenced greatly and The Replacements did a song called Alex Chilton. He was supposed to play at South by Southwest this week in Austin, they're mourning him. He was supposed to play in Memphis on May 15 with a reunion of Big Star at the Overland Park Shell. He won't do that, but his music will live on forever. He is an embodiment of Memphis music. Hard, different, independent, brilliant, beautiful. We're lucky he came our way. He leaves a wife and a daughter. Thank you Madame Speaker for giving me this opportunity."
Rep. Cohen has posted the tribute on YouTube HERE.
SUBSCRIBE TO & FOLLOW ENTERTAINMENT
HuffPost Entertainment is your one-stop shop for celebrity news, hilarious late-night bits, industry and awards coverage and more — sent right to your inbox six days a week. Learn more