Most Nick at Night episodes are still new to me. As a kid I was allowed to go to my dad's office once a week and watch 1/2 hour of Disney. Later they eased up and we could also watch Hogan's Heroes and Speed Racer. Why a concentration camp and a racecar driver with a stowaway monkey were selected is a mystery, but I'm pretty sure I could both stow away and escape if captured by adverse forces.
With all those new/old episodes to choose from, the Writers Guild of America Strike isn't as hard as it would be for someone who watched TV in the '70s, but as the strike lingers a major sore point for New Orleans is K-ville. Production on the Fox show was shut down shortly after the strike started. Not only does that affect local businesses, it was the only network series that regularly showcased rebuilding, warts and all. I forgave the rambling subplots about pralines or hot sauce because it was like getting a postcard from home every week.
The magnitude of that loss must have come across to the Writers Guild of America because according to MSNBC, WGA members picketed downtown on Canal Street on Thursday while explaining their grievances to residents. (Or they'll be here Thursday -- the story is confusing and Alec Baldwin is welcome to clear it up along with my HFP invitation). Either way, I hope they make it to the 9th Ward and Lakeview as well as shopping in the French Quarter and taking in a jazz show for a little eco-tourism. In the event K-Ville is picked up when the strike is over, material from this week would include: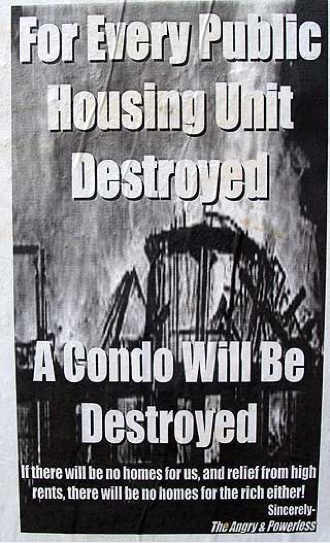 Handbills posted around town threatening that for every unit of public housing torn down a condo will be destroyed in retaliation; and protesters chaining themselves to public housing to delay demolition.
It worked. The Housing Authority of New Orleans, run by HUD, approved the demolition, but in the face of protests City Council approval will now be required to approve demolishing the units. Yesterday Nancy Pelosi and Harry Reid wrote a letter asking George Bush to halt the demolition for 60 days considering the lack of affordable housing for returnees.
Comments on the Times Picayune's nola.com site run 90 percent against saving the structures. I would add [sic] where it's called for, but that would be smug:
"This is ridicules! How much rope are you going to give these activists?
"Great. A bunch of hippie wanna bee's from outside our area are here protesting what we are doing."
"If these empy projects that ya'll are protesting at were still full of these characters, would you even step foot in them!? Hell no!"
"Clare beemed brightly for the 9:OO news cameras a few moments ago, blabbing her tired 1960s propoganda about homeless people."
"TEAR DOWN THE PROJECTS, and bus the poor to John Edward's house!"
The perpetual balls to the wall drama in New Orleans worked wonders for the work of Tennessee Williams, Truman Capote, William Faulkner and it's still all there waiting for Writers Guild of America members.
So WGA, this is an open invitation to escape LA for the holidays. Come back to Canal Street, *gut a home, chain yourself to a housing complex, and hit the Quarter. Burlesque is bigger than ever and that's handy because we need the distraction. Voodoo Vixens are some of the nicest people you'll ever meet, and you could come home with a new tattoo, spouse or novel.
The first drink is on me.
* Emergency Communities, Common Ground, Acorn, Habitat for Humanity and others are still accepting volunteer labor.