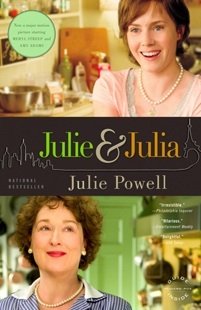 Blogger Julie Powell's warm relationship with her readers dovetails with Meryl Streep's relentlessly luminous Julia Child in Julie & Julia. Both writers were pioneers in their respective fields -- Child searched for years to find a publisher for "Mastering the Art of French Cooking," as few publishers at the time saw the need to improve on pigs in a blanket. And Powell developed her year-long cooking project into a book when blogging was still in Beta. The book Julie & Julia brings Powell's commenters into the mix as what they often become friends.
Here are a few examples of comments that have stayed with me in four years of blogging the post-Katrina journey. In Making their Stand: The Gulf Coast Food Fight," I wrote about officials trying to keep taco stands from operating. "Early on you could see them lined up outside Western Union on payday wiring their salaries somewhere else. They lined up in the Rock 'n Bowl parking lot getting fast food and most probably made a mental note to start taco stands. Many were housed in a tent village at City Park."
A reader then commented: "If tacos are outlawed, only outlaws will have tacos."
During the cultural diaspora after Hurricane Katrina, I wrote "I'm Still Not There" about the perpetual whisper of "Whenyacoming back," SCMagnolia answered:
"Whenya get back is whenya should. New Orleans will always be inya! Though not Louisiana born, nor bred, I fell in love with your city at first, "volunteer gut" so I can only imagine how you feel. I'll keep you and your mominem in my prayers."
Turning a print journalism background into blogging was a way to describe the rough road home for many musicians, including the senseless killing of band leader Dinerral Shavers in "Every Single Life".
His sister commented, "Dinerral was my baby brother. He was a great young man with bright future. My family had Thanksgiving dinner at my Aunt Candy's house and all of my mother's children and grandchildren were there. After dinner, Dinerral played his demo CD for me and I really enjoyed listening to a song he wrote with my sister Marjorica singing background vocals. The lyrics sent a powerful message about the pain and struggles families are still enduring after Hurricane Katrina."
And our readers don't just comment, they interact. Julie Powell's fans sent in ingredients and PayPal donations to fund her cooking. I'm astonished by the generosity of readers -- this week 60 band uniforms are on their way to the New Orleans Musicians Relief Fund from New Jersey so a school can have its first marching band as part of the ReDefine 8/29 project.
The dizzying journey from the interwebs to action is in every element of Julie & Julia. Powell blogs about Julia Child, the New York Times writes about Julie's blog, the blog becomes a book, book becomes a Nora Ephron movie and a trending topic on Twitter. It's still an unlikely journey for most writers. Transitioning from a blog to a book is a dicey pitch with agents asking, "Why would readers buy a compilation that's already been published?" The same could have been said for books compiled from columns by Royko, Thurber, Bombeck, and Ivins, but publishing is still in Beta.
No matter what twists we see in Publishing 2.0, a love story running through Julie & Julia is that sometimes, after the solitary act of writing, the world writes you back.
SUBSCRIBE TO & FOLLOW ENTERTAINMENT
THE spot for your favorite fan theories and the best movie recs. Learn more