From BP Oil Spill coverage on the banks of the Mississippi River where oil did not spill, to the 5 year anniversary of the post Hurricane Katrina levee failure, I've often heard from commenters tired of seeing New Orleans in the news.
Aside from the Saints winning the Superbowl, trust me this is not how we wanted to be in the news. The city is in the news again this week for better and worse. There's a tourism resurgence with Travel and Leisure naming the city the top New Year's Eve destination in the country. And there's heartbreak with 8 young people dying this week in a building that caught fire as they were trying to stay warm. Four have been identified, the rest of the names will be unreleased until their families are found.
Throwing my hat into the ring for the ubiquitous list article, it's not hard to find 10 stories I covered from New Orleans that stuck with me in 2010 either because they went viral or because they're simply still wedged into my head. Many of them have followups if you care to dig in the vault.
I wouldn't call them top 10, I'd just call them my 10 because everyone has his or her own list. And yes, I'm linking to my own articles; there's a recession on and this also counts as a resume. Lately the stories reporter friends and myself are banking are for the one year BP Oil Spill anniversary, another disaster anniversary milestone for when people are ready to read about it again.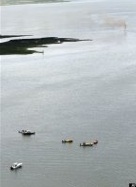 EXCLUSIVE: BP Gulf of Mexico Oil Spill Response Plans, What They Knew and When They Knew It
FOLLOW HUFFPOST