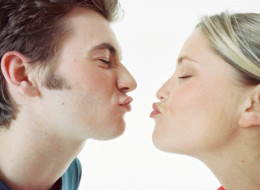 'Love Is Love' by Jeff Beninato, a benefit track for Dan Savage's It Gets Better project fighting against bullying of LGBT youth, was inspired by the sea of humanity passing under the balcony on Mardi Gras Day. It was like a Where's Waldo of loved ones, and the next day Jeff started writing this song.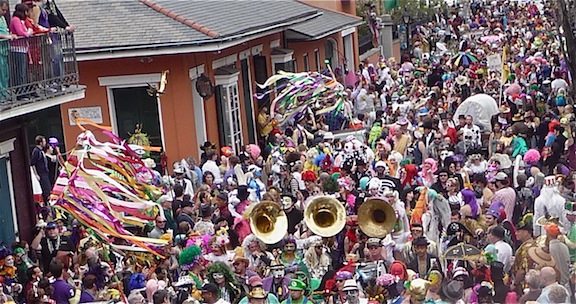 The "Love Is Love" video featuring costumed revelers kissing was created by director Simon Blake on Halloween, and it's perfect to post this on International Kissing Day. (It's International Kissing Day as per Twitter, and UK International Kissing Day is July 6th so if you prefer the latter you have five months to practice.) Last night we passed Nadine Blake's design shop on Royal Street on the way to the first parade of the season, and the video was streaming in their front window. On the way home, we spotted more than one couple kissing -- New Orleans doesn't wait around for Valentine's Day.
Credits Lead vocals, Jimmy McGinity; vocals, guitar, Jeff Beninato; lead guitar, Tom Stern; drums, Matt Coons; Producer, Jeff Beninato; Engineer, Tom Stern of Blue Velvet Studio. In a meta twist, Jeff met Matt on the set of Treme when they were both playing musicians walking to a gig on Frenchman Street. Jeff previously produced Twangorama and Little Queenie, and played with the dB's, Barry Cowsill, Bryan Lee and Jimmy (Bean) Ballero but now I'm just proud-wife-name-dropping.
"Love Is Love" features artwork by the incredible L. Steve Williams, Jr. of 504WhatStyle.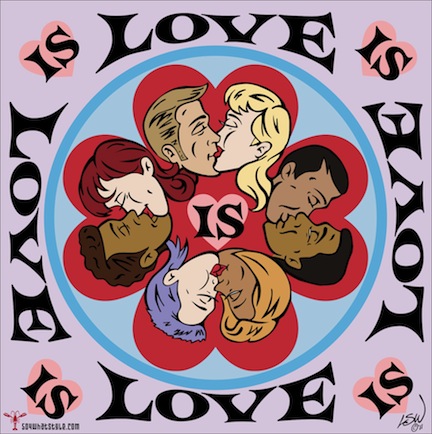 Here are the lyrics, in case you're planning a wedding, Valentine's Day or International Kissing Day celebration and want to sing along:
"Love Is Love"
Verse:
girl kisses boy
boy kisses girl
oh what a wonderful world
boy kisses boy
girl kisses girl
oh what a beautiful world
Chorus:
love is love
love is love
love is love
Verse:
black kisses white
day kisses night
oh what a wonderful world
I kiss you
you kiss me too
oh what a beautiful world
Chorus
because love is love
love is love
love is love
Verse
girl kisses boy
boy kisses girl
oh what a wonderful world
boy kisses boy
girl kisses girl
oh what a beautiful world
Chorus
because love is love
love is love
love is love
love
love
love
love
love
love

Follow Karen Dalton-Beninato on Twitter: www.twitter.com/kbeninato