This is what I would have liveblogged one Mardi Gras if I hadn't been riding a bike. We're going to try to liveblog this year's Global Green / New Orleans Musicians Relief Fund / Saving NOLA Now Backstage at Mardi Gras Benefit which will be held safely indoors.
One Mardi Gras Morning:
8:20 am Riding with the Krewe of Bikus - this is a great idea, why haven't we ridden with a bicycle group every year? Easy to get around, and our yellow slickers are holding off the rain. Mine is covered in flowers and my husband's has yellow ducks all over.
9:00 am Susan Cowsill and Russ Broussard are crowned this year's king and queen by Paul and Shelley Sanchez. Two years ago it was Mr. and Mrs. M.C. Gainey. What's better than having the Naked Husband from Sideways and award-winning singer / songwriters as royalty? We're going to do this every year.
11:20 a.m. Cajun Robbie took a spill from his bike and won't stop singing Aqualung.
"Blood running down my face! Dum Dum Daa Dum!"
I never knew that song was so appropriate for a bike crash. It's kind of hard to get around in the throng. Next year our bikes need drink holders.
12:45 The Zulu Parade is rolling past Lee Circle, but I already picked up a coconut off St. Charles Avenue this morning. Someone said it was bad luck to pick one up off the ground, but how bad can it be?
1:15 p.m. I've been speared in the head. It took a minute to figure out what had happened since the Zulu spear dropped off a tall balcony, but then blood started running down my face. Great. Now I'm humming Aqualung. Jeff has found a firetruck and they're just staring at my bloody flowered crown.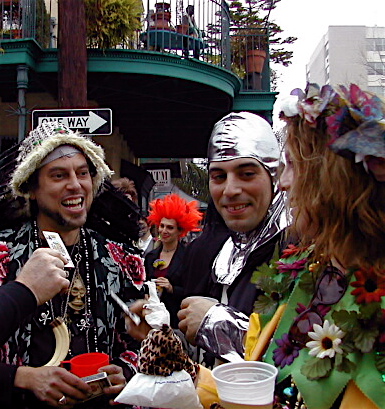 1:17 p.m. One of our riders, Dr. Slick, is patching up my head. She's an ER doctor who had the foresight to bring a full medical kit and nurse along on Mardi Gras Day. She's dressed like a crash test dummy and has already patched up Robbie. He's sitting next to me talking about the importance of caution at Mardi Gras. I kind of want to push him off the fender.
1:20 p.m. The gash in my head has been been cleaned, and Dr. Slick is suturing it shut by tying my hair into a bizarre little mohawk with medical glue on top. She says to cut it off when it grows out. Her nurse is observing and commenting on the procedure like we're in an episode of House.
1:25 Jeff has convinced me that my Dalton Gang ancestors wouldn't let a spear stop them. The Krewe of Bikus applauds, and we get back on our bikes and ride. MC's wife gives me her leopard gloves to hold an icepack on my head. The flowered crown is keeping it balanced if I don't turn to look at anything.
1:32 What if I'm one of those people who forgets the names of all vegetables after blunt force head trauma and has to ask people to pass the hottentots when I really mean potatoes?
2:45 We stop at another bar and I ask Jeff, "Do you think they'll make me Queen next year?"
3:15 p.m. Now we're headed to Frenchman Street and it's raining again. This is the last time I ever want to ride a bike at Mardi Gras, but if you don't get speared in the head it's probably great.
Postscript: I ask my hairdresser if it's the worst Mardi Gras hair incident she has ever seen and she says, "No." When we pack to move north after 8/29, I find my mohawk topknot and think, 'awww. Mardi Gras.' I can still remember the names of vegetables, but am sure there's something I'm forgetting.