September 2005: My father, God rest his soul, was watching Pat Robertson describe why New Orleans deserved its devastation as we rode out the immediate aftermath of Hurricane Katrina's broken levees at my family home in Illinois. I had to get out of there.
Soon after, I heard from my best friend in Milwaukee whose friend Stephanie was going to Europe for a month and offered us her home. We couldn't go back to New Orleans because it was still closed to everyone but first responders. I had never met Stephanie, but we arrived at her house to balloons, a welcome note, bottle of wine and some very sprightly cats. What is often left out of post-Katrina coverage is the outpouring of kindness.
Stephanie had a copy of Rolling Stone lying on the coffee table, and we read Matt Taibbi's coverage of going back into the city for a rescue with Sean Penn. It was a bracing description, verified by calls from home. There was also a constant series of updates as friends began telling each other where they had ended up.
It was still anyone's guess where my husband Jeff and I would end up. At one point I called someone I found while browsing a DHS housing web site, and she was offering to rent a 1950's Winnebago. Her grandfather had rented it to his now deceased tenant for 60 years at $100 a month. "And if you don't like vegetables just ignore them, because grandpa will leave them on your doorstep no matter what. The cows will probably poke their heads in the windows, but they're just curious. They're probably more afraid of you than you are of them." I sometimes wonder about what life would have been like in Maine.
Jeff was invited to play a Boston benefit for displaced friends whose sons both have muscular dystrophy weeks after the flood. One has gone into comedy (this is Jonah's excellent new video). With everyone living somewhere you weren't used to seeing them, it was a bizarro road trip. While Jeff was in rehearsals, I called Martha's Vineyard because it didn't seem far from Boston, about two inches on a GoogleMaps search. As long as was we were getting the New Orleans Musicians Relief Fund off the ground, it seemed like a good place to start.
If you do this kind of thing all the time you probably run the risk of becoming a voluntary hobo, but I called the Mansion House Inn and asked if they had a refugee rate. Someone called back, and apparently they do have such a thing. We were invited to stay for the weekend, and by then I had booked an appearance on Plum TV. The new schedule took a lot of explaining once Jeff got home from band rehearsal.
Our charity was growing, and we were still without roots, so Jeff and I started appearing on news shows talking about displaced New Orleans musicians. The database was set up and the checks were going out. I sang an acoustic version of "It's Raining," that I would not want Irma Thomas to hear, ever, but I did my best. We downloaded some of the thousands of digital photos from home as background -- there were no photos of the wreckage in our computer yet. Being displaced made for strange interviews -- whenever a morning show host asked when we were going home, we would turn to each other and begin to discuss it.
At the end of the Mansion House Inn Stay, Island Cohousing invited us for a longer visit. Deep in the woods they have relocated smaller homes across the Island to a circle in the pines to save them from being torn down as larger mansions spring up. Their common building, where we stayed in an upstairs apartment, was wall-to-wall glass looking out into the pine forest. The acoustics were so good we wrote half a song while rehearsing for Plum TV. All our songs at the time were about New Orleans -- two are about friends who died after Hurricane Katrina. By the bridge it's always too sad to finish.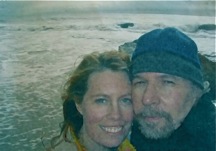 With tragedy at home, we were living by a beach with rainbow colored clay cliffs while deciding where to go and what to do. My Huffington Post avatar is from that week -- it's this picture cropped in half. When we talked about leaving Island Cohousing, one resident said, "But we thought you lived here now." It was tempting. I had to get out of there.
VIDEO: Ian Hunter - How's Your House Video for NOMRF By Grewvia. Download at ReDefine 8/29.
SUBSCRIBE TO & FOLLOW LIFESTYLE
HuffPost Lifestyle is a daily newsletter that will make you happier and healthier — one email at a time. Learn more