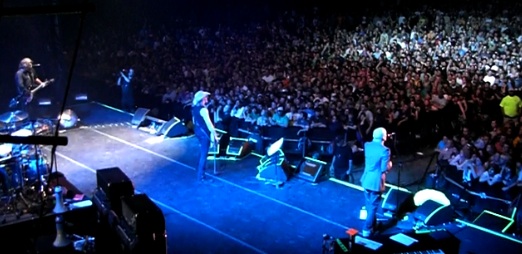 A random reveler at the Voodoo Music Experience handed me a voodoo doll with a lock of hair and said, "be careful." I cautiously put it in my purse where it has been ever since, all part of the voodoo vortex as R.E.M. rocked New Orleans this weekend. R.E.M.'s band manager Bertis Downs said that, "the band played one of the best shows of the tour -- appropriate in your great musical city."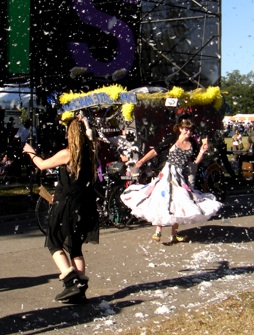 Mike Mills came to support the New Orleans Musicians Relief Fund at our ReDefine 8/29 Commemoration, Dr. John benefit, Mardi Gras Open House and last year's Voodoo fest. He told Keith Spera of nola.com, "I saw Dr. John and Wilco, and another band I don't know, some Brazilian troupe that was on before Dr. John on the same stage. Voodoo has always been a cool thing from what I've heard. Having seen it, I found that it is actually very cool." Cool indeed, on the first day of Voodoo feathers dropped out of the sky as an Opposite Machine rolled by handing out tickets that said 'Troubles."
Passers by are invited to reach into the machine and exchange their troubles for the opposite in the Opposite Machine. I traded mine in and was handed a piece of fabric that says, "Love wins." It's easy to introduce friends to the city's festival scene, you just aim them at the fun. Hanging out with Mills in New Orleans is already as fun as getting a box of kittens in the mail.
He's a former touring buddy of my husband who played bass in the dB's, and Jeff says when he signed on with the band as they headed out to tour with R.E.M., he was a fan of "Murmur" but seeing the first live set explained what all the buzz was about. R.E.M. brought that gift to New Orleans Sunday night. Michael Stipe is still the perfect combination of dervish and dancer, and Mills delivered on "Don't Go Back to Rockville" in a town where many are still deciding whether to come home or move on. The needs of those just now coming home to New Orleans are still great.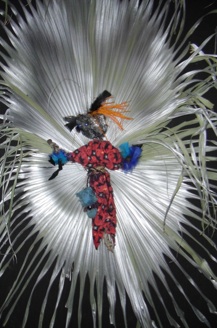 This summer the New Orleans Musicians Relief Fund was able to distribute rooms full of furniture through Mandi Thompson's ReDefine 8/29 Warehouse, baby grand pianos, guitars, trumpets, saxophones, a concertina, bass drum and evacuation car for a brass band member. We get offers every week from guitar strings to cool gig clothes. The economy may be tanking but music lovers still clean out their garages for a good cause.
R.E.M. and Sony Playstation's new game Little Big Planet are helping with those efforts. PS3's much-awaited Little Big Planet will donate part of the proceeds from download levels created by artists including Lionel Milton, designer of the Voodoo Music Experience logo; Dan Dyer and New Orleans' own Trombone Shorty. Sony's after-party Saturday night kicked off the game in style. Von Dutch customized and donated three pinstriped guitars for auction, and R.E.M. has donated signed lyrics to "Everybody Hurts."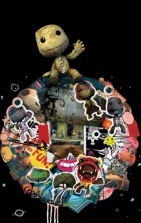 It's gratifying how many music lovers have helped pave the road back home. So when Little Big Planet's Sack Boy is running through Lionel Milton's customized maze, and R.E.M. or Dr. John are jamming on your ipod from our ReDefine 8/29 Download, spare a thought for New Orleans. That's what I'm thinking of while headed into the bayou on assignment with a voodoo doll sticking out of my purse. By Tuesday we'll both be in Chicago to cover the election results.
And who couldn't use a little extra Gris Gris these days?
SUBSCRIBE TO & FOLLOW ENTERTAINMENT
Get top stories and blog posts emailed to me each day. Newsletters may offer personalized content or advertisements. Learn more