[* Update - there was no Mardi Gras liveblog. The satellite internet connection didn't work, which was probably for the best.]
If you made it to New Orleans for the Muses Parade, one of the Rolling Elvi probably looked familiar. Think "Don't Go Back to Rockville." Rock and Roll Hall of Famer Mike Mills was in town to support the efforts of the New Orleans Musicians Relief Fund, Global Green, Habitat for Humanity, Make it Right and Saving NOLA Now. Mike was one of the Rolling Elvi at the Muses Parade and a guest on Fat Tuesday along with rockers Papa Mali, Kirk Joseph (Kirk Joseph's Backyard Groove), Viki Peterson (The Bangles), Rev. Goat Carson, Bill Davis (Dash Riprock), Don Williams (The Revealers), Susan Cowsill, Russ Broussard, Abby Travis (The Bangles), Dave Clements and as many as we could fit on the balcony.
To keep the help rolling, you'll soon be able to bid on items including an autographed Dream Girls poster by Jamie Foxx, cast-signed script to Criminal Minds; a 40th anniversary strat signed by Little Steven; and signed, numbered museum quality prints by legendary rock photographers William Coupon and Curtis Knapp including the Marsalis family, and an original book print of REM.
In the everything but the kitchen sink category, we'll also be auctioning Rock Tree posters signed by branches on the tree including Little Steven (E-street Band), Mike Mills, Dr. John, Susan Cowsill, John Sinclair (MC5, now with Radio Free Amsterdam) and Jeff Beninato (the dB's). William Coupon's museum quality Dr. John print (below) is now up for auction at nomrf.org.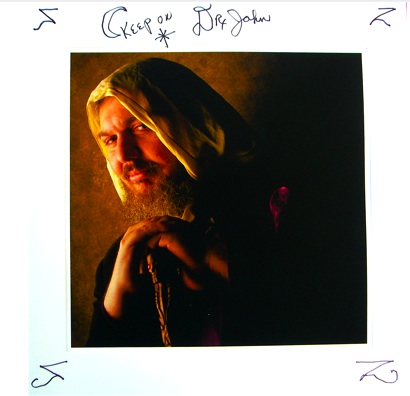 For a break in Super Tuesday coverage, watch for our Fat Tuesday live blog [As mentioned above, that didn't happen].
REM has supported New Orleans musicians since the levees broke, including releasing an Entertainment Weekly video at the Katrina anniversary, donating a live South Central Rain track from Dublin to ReDefine 8/29, signing the lyrics to Everybody Hurts for auction, and Mike playing at a New Orleans Musicians Relief Fund Dr. John benefit for Wardell Quezergue.
We've been blessed with some of the best friends New Orleans musicians could have, and they still need all the friends they can get.