I may be a bad subprime risk (who isn't is these days?), but I miss advertisements for white, sandy beaches. Former and current New Orleans residents are no longer being marketed to by the Emerald Cost. In a way, that's thoughtful. Why rub it in? But it was such a big part of office life -- shifting vacation dates around for the best possible weather.
Summer of 2005, we drove through some tropical storm that started with A. When it seemed like the weather settled down, my husband pointed out I was looking up through the eye of the tiny hurricane. We moved our vacation from Labor Day because after Ivan, I wanted to go on vacation while the beach was still there.
Little did I know New Orleans was about to take the elbow of the hit that Ivan had spared us. (Not the direct hit. Our levees are crap and wetlands shredded by big oil. Everyone knows that after the Time magazine piece.)
Hurricane Ivan was the one Dan Rather came to town for, talking about the Storrmm of the Centurrry. "Batten down the Hatches, Harriett. Finish that Hurricane Harold. This Could Be the Big One."
He stood on the levee, his hair and little wind jacket whipping around. It's so easy to make fun of one bad prediction, like those people that get all tidied up for the rapture, but if you get it right you're the world's best journalist to whoever's still around to notice.
That early summer storm washed up two beach chairs and an umbrella from the ocean. We hid them in the dunes, walked a mile every day to our secret spot and sat there like sultans. It's been known ever since as the year everything went too well.
The Perfect Christmas -- first snow in decades. The perfect Jazzfest -- Elvis Costello sang right at us. The Perfect MidSummer Mardi Gras (we do the whole thing again, kind of like New Orleans' Christmas in July.)
I recently ran across a post speculating that the Huffington Post bloggers, myself in particular, aren't real. It was in the summary, but the post has been deleted. Way to add to my existential crisis, mystery blogger. So here are photos.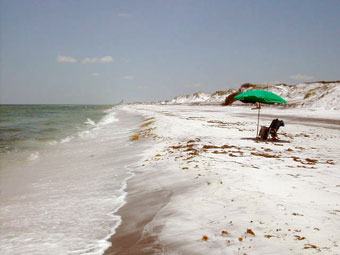 The beach chairs from nowhere.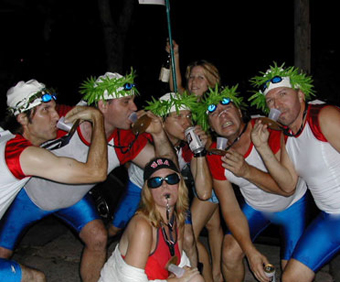 The Midsummer Mardi Gras Olympic Drinking Team.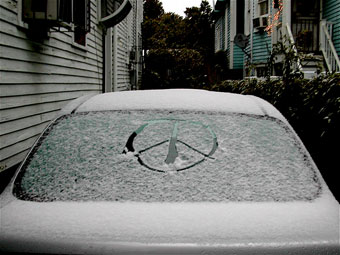 The holiday snow.
I'll be home in four days. Midsummer Mardi Gras is Saturday. That's real.