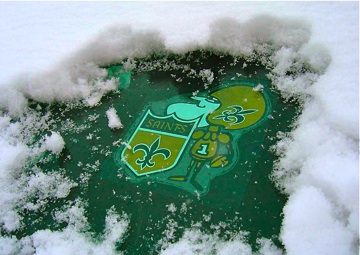 Am I moving back because the New Orleans Saints won the playoffs? No. That would be ridiculous. I'm moving back because the Saints have won the Superbowl.
If you've followed my Exiled on Main Street, Huffington Post or New Orleans.com columns you already know that as a post-Katrina expatriate, New Orleans is never not in my heart. After the federal levees failed, we washed up in Illinois and spent my father's last years with him as his memory failed. My mother then started showing the same symptoms. Today she sang, 'When the Saints Go Marching On. Oh when the Saints Go Marching On. Oh Lord I want to be Outnumbered..." It's almost more entertaining that way. When I told her we were moving down to a little house in New Orleans and she said, "Like that lady who wrote the book." I couldn't tell you who the lady was, maybe it's going to be me. Because the Saints have won the Superbowl and I'm moving home.
For the last year, we have not been completely displaced. We come and go between a town where Abraham Lincoln was talked into running for President and a home we shared with a touring musician, so it worked out well. Our New Orleans house was full of skulls and candles, but now the roommate, his skulls and his candles are gone and he has found a place of his own. Because the Saints have won the Superbowl and we're moving home.
Since Katrina, we learned how kind a new town can be. We share our stories from New Orleans and my mother shows off for the nurses shouting, "Sing something Cajun!" to my husband. Which of course he can't, being from the 9th Ward. We moved to Illinois in 10 degree weather from a town with no electricity and the smell of death in the streets. The move north was so difficult, emotionally and physically, that moving again became inconceivable. It was one of those things we silently agreed not to discuss. Everyone in my husband's family lost everything. Everything. They are among the pioneers who came back as soon as the city was open, and rebuilt it into what it is today. Even my mother-in-law is about to move back, thanks to Rep. Neil Abramson looking into why her Road Home Grant was not processed in four years. And now the Saints have won the Superbowl and she's moving home.
Post-Katrina, our New Orleans Musicians Relief Fund raised and distributed almost half a million dollars worth of grants and instruments. This week, the all-female Krewe of Muses is giving the charity a grant at their ball presented by the B 52's and I'm going to give the Queen Quinn Cummings' (The Hello Girl) decorated shoe. All roads lead to New Orleans right now. David Simon's Treme series on HBO is going to bring the Mardi Gras Indian culture to the world. The city has a new administration. I have a paying job in journalism after leaving newspapers a decade ago. But in the midst of all this there are cold hard facts like saving up for a truck and packing what we've accumulated since Katrina. And saying goodbye to new friends and family. Lately my mother has been taken with music. The other day she asked me, "Who was that boy? That little boy who had such a hard time, and then someone gave him a trumpet?" I've gotten good at this guessing game so I asked, "Louis Armstrong?" "Yes," she said, her face lighting up. "Then EVERYBODY loved him!!!" I'll visit often, and miss her every day.
But the Saints have won the Superbowl and I'm moving home.
Karen Dalton Beninato is a writer and producer at New Orleans.com, the music, sports, food and culture site of New Orleans. Photo by Jimmy Descant.
FOLLOW HUFFPOST