A reprieve from the story to focus on something au current.
Fasion's Night Out!
On September 10th, Anna Wintour, fashion's high priestess, and Mayor Bloomberg are sponsoring an all night event to bring retail and the spirit of shopping back. Every store in NYC (LA) is hosting some kind of soiree from 6-11p.m.
Purple Lab will be serving it up at Scoop Street -- 875 Washington Street on the corner of 14th Street.
We're doing a chic promo -- buy two colors of Huge Lips Skinny Hips, get No Panty Lines (clear) free.
In store for the night: a delicious Lychee martini bar, thanks to U'Luvka vodka (Colin, our favorite mixologist -- suave, British, flirty, will hold court at the bar); the best cupcakes from Cupcake Republic (the brainchild of Charu, bloggess behind Butterflydiary.com); DJ Lips whipping up the Purple Lab playlist; and the lovely performer Veronica Varlow blowing kisses and flirting in the windows. If you're lucky, she'll pass you a love note.
Here's a sneak peak!
Ford Fiesta, the coolest mini, Euro-ish car -- in magenta! -- will be our Purple Lab mobile for the night, complete with "agents" driving key bloggers, influencers and style makers to our Scoop Street blow out.
And we'll be kamakazi-ing other parties to bring revelers from Soho and Chelsea and Madison Avenue to the Purple party in the Meatpacking. Follow us on Twitter for the night, too. Live Twitcam from Scoop, as well!
@PurpleLabNYC
@FordFiesta
The car totally matches our branding!
How cute is it?
Pre-event, you may spot five cute Purple Labbies.
Dressed in Purple Lab little tees, Democracy of Nevermind zipper-detailed jeans, and chic Matt Bernson flats, a fleet of girls will be sashaying the streets (purple cigarette trays strapped to their bodies) passing out invitations and showing off Huge Lips Skinny Hips.
Our invite, tres adorab.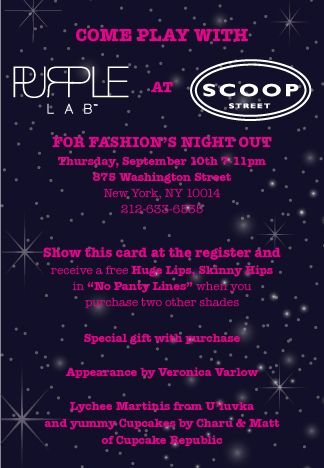 The back of it: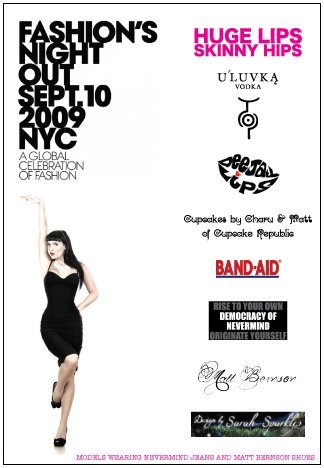 Come! Share! Shop! And pucker up!
Mwah!
Karen
Purple Lab Creatrix
SUBSCRIBE TO & FOLLOW LIFESTYLE
We're basically your best friend… with better taste. Learn more