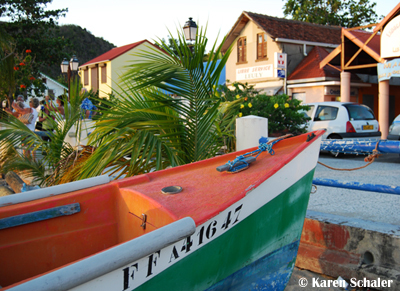 It's almost guaranteed Martinique will surprise you in an intoxicating way that leaves you wondering what took you so long to visit this true Caribbean gem.
Since I travel for a living, hosting ABC's new travel show and working as a lifestyle correspondent for various outlets, I research places extensively before I visit so I usually have a pretty good idea of what to expect. Yet, in Martinique I love how I was constantly discovering new and exciting ways to appreciate this unique and authentic French Caribbean island.
From the history, scenery, culture and cuisine Martinique delivers a priceless vacation experience that goes far beyond just sipping an umbrella drink and getting a suntan.
Nestled between the islands of Dominica and St. Lucia, Martinique is a lush and mountainous island that's a treasure trove of diversity and natural beauty. One of the first surprises, almost two thirds of the island is protected parkland and there are more than 80 miles of hiking trails.
Only about fifty miles long and twenty miles wide in Martinique you have everything from a majestic volcano and tropical rain forest in the north, to quaint fishing villages and beautiful beaches in the south.
The childhood home of Empress Josephine, wife of Napoleon Bonaparte, Martinique is French down to its mouth-watering chocolate croissants. Everyone on the island speaks French, uses the Euro and dishes up a delicious French Creole cuisine that's pure pleasure on a plate!
The first thing you'll want to do when you arrive is to get a rental car for around $50 dollars a day because it's the best way to see the island.
The city of Francois is a great place to start. It's just outside the bustling capitol of Fort de France, in the center of the island, and is home to two of Martinique's top hotels. On this island you won't find huge hotel chains stacked up next to each other on the beach. Instead, Martinique specializes in laid-back boutique properties where luxury comes in the form of award-winning dining and peaceful settings, giving you a chance to truly relax and unwind.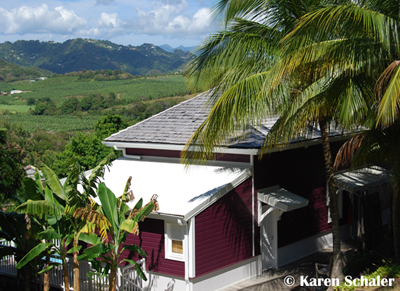 A favorite place to stay is Plein Soleil, with eleven Asian inspired rooms and five villas, perched high on a hillside, surrounded by banana plantations overlooking the Bay of Francois. I stayed in the striking Jardin Suite, a honeymoon favorite because you have complete privacy to enjoy your own pool and large sprawling deck.
Owner Jean-Christophe Yoyo grew up in Martinique and moved to Paris to work in advertising before the island beckoned him back. He says he created Plein Soleil so his guests would feel at home and to decorate this "home" he has collected treasures from his travels around the world that include striking paintings, exotic furniture and eclectic knickknacks.
Plein Soleil also has one of the top restaurants in Martinique that at night turns into a magical fairytale with twinkling white lights strung in the trees and tables set around a pond and soothing bubbling fountain. You're in for a real treat here because Chef Nathanael Ducteil, trained with famed French chef Alain Ducasse. Don't miss dishes including the creamy rich lobster and mussels bisque and the succulent lobster flambéed in local rum.
Another superstar is the island's only five-star property, Relais & Chateaux Cap Est Lagoon Resort and Spa. More than half of the suites at this fifty-suite hotel have their own private plunge pools and outdoor showers and every single suite has a water view.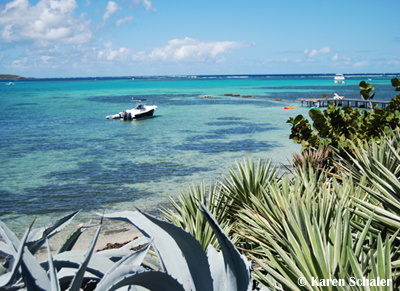 Throughout the property, the architecture and décor have a distinctive Thai flair where gleaming dark rich woods compliment a deep jeweled tone color palate radiating a feeling of richness and comfort.
Highlights at Cap Est include a pretty little beach, a sensational swimming pool, windsurfing, sea kayaks and a petite exclusive Guerlain spa where you have the entire spa to yourself when you book an appointment, including your own steam room and Jacuzzi.
You'll also find two top restaurants at Cap Est, La Campeche and Le Belem and a chic bar serving up vintage rums and unique wines from their own wine cellar.
La Campeche is down by the beach and the more casual of the two where the Tuna Tartar is as pretty to look at as it is delicious. For a special dining experience head to Le Belem, top rated on the island for its brilliant gourmet cuisine and impeccable service. Some favorites include the fresh lobster from their own lobster tank, Beef Tartar and the Spicy Rack of Lamb. The creamy Banana Tart with a flaky homemade crust is phenomenal and perfect for sharing.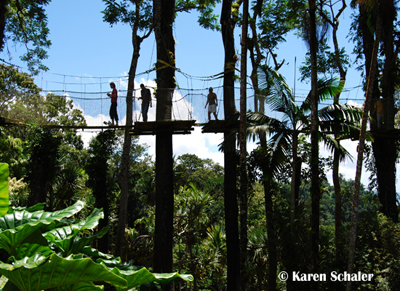 When it comes to planning your sightseeing, it's smart to break the island up in sections. Highlights in the north include the rain forest, Balta Botantical Gardens, and hiking up Mount Pelee, a 4,500 foot high active volcano that in 1902 erupted killing 30,000 people in the town of St. Pierre. Today, you can walk the cobbled stoned streets of St. Pierre and still see some of the ruins mixed in with new development.
Close to St. Pierre you have one of the last family owned rum distilleries in Martinique, the award-winning Neisson Distillery where they're happy to give you a tour showing you the rum making process. If you want to learn more about the history of rum making be sure to also stop by the 18th century Clement Distillery and Plantation Home. The grounds are gorgeous and the rum award-winning.
Also nearby St. Pierre is the quaint fishing village of Carbet and one of the coolest restaurants in Martinique, Le Petibonum. This little gem was one of my favorite surprises and experiences in Martinique. I'd heard this was a casual beach hangout where people wear their bathing suits and alternate eating and drinking with swimming in the sea, so I figured it was all about the setting, not so much the food. I couldn't have been more wrong and nothing could have prepared me for meeting the owner, Chef Guy Ferdinand, nicknamed Chef Hot Pants.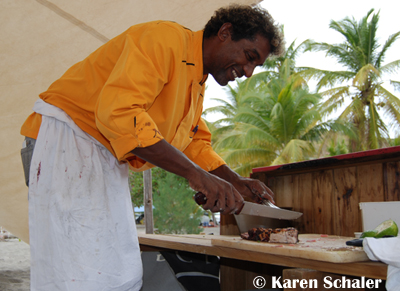 Chef Guy's personality is almost as big as his passion for cooking. Wearing his trademark tight shorts, colorful tee-shirt and chef apron he hustled me over to a mini outdoor kitchen on the beach and told me we were going to cook together. "Cook what?" I asked and then got my answer as Chef Guy pointed to a fisherman strolling down the beach toward us carrying this huge tuna he had just caught. When my jaw dropped open Chef Guy grinned at me and said, "You're welcome".
While the fisherman sliced up the tuna Chef Guy brought out some local rum and made me one of the island's traditional drinks Ti'Punch. Sensationally simple this cocktail is just a slice of fresh lime, a healthy pour of rum and a dash of simple syrup. We toasted our new friendship and started preparing everything from the freshest and best Tuna Tartar I've ever tasted to a sensational ceviche served in a cone made out of freshly picked Sea Grape leaves and finished by boiling live crayfish that we made into a spicy seafood stew.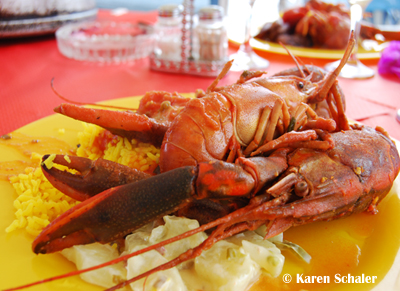 I'm not sure if it was the beautiful beach, the sunset, the divine fresh seafood or Chef Guy's infectious personality or a combo of it all but my lunch at Le Petibonum is one of the favorite dining experience I've ever had in the Caribbean. Completely enchanted I also tried Chef Guy's newest restaurant in Fort de France called Parallel 123 set in a sexy, two story wine bar atmosphere, where the cuisine is also fantastic featuring duck, beef and different seafood options.
After you've explored the northern part of Martinique you'll want to head to the center of the island and check out the capitol of Fort de France where highlights include seeing the ornate Schoelcher Library, St. Louis Cathedral, Cour Perinnon shopping mall and the colorful covered market featuring exotic spices, fresh fruits and vegetables.
Also nearby, don't miss stopping in at Lauzea Chocolatier for decadent island inspired homemade chocolates that look almost too good to eat...almost. I met the Lauzea brothers, Thierry and Jimmy who run the operation and tasted my way through a tour of the chocolate making process. Some of my favorites are the chocolates made with rum, ginger, peppers and guava.
After several days of exploring by land, you'll want to get out on the water because there are so many special places to visit in Martinique you can only reach by boat. You can sign up for a catamaran tour or for a true island experience hire a fisherman out of Francois to take you out on his boat.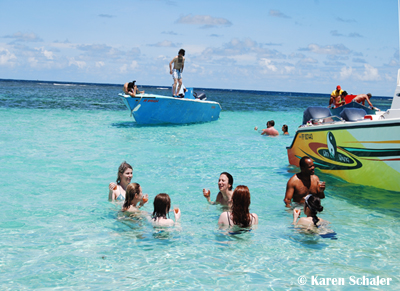 Things to see include Josephine's Bath Tub in the Bay of Le Francois, just a ten minute trip from the shore. Here you'll find a sandbank protected by coral reefs where the water is only about three feet deep and the legend has it that this is where Josephine came to bathe. Now it's a party atmosphere where people come from all over to stand in the water toasting Josephine and Martinique with a rum punch.
Close by is another can't miss, Islet Oscar, a twenty acre tiny island where there are five simple rooms to rent in a 19th century antique filled home. Call ahead and talk to manager Wilhelm and you can stop by for a lunch of fresh grilled crayfish and lobster and try their signature Planters Punch made with white rum, guava juice, pineapple juice, cinnamon and nutmeg.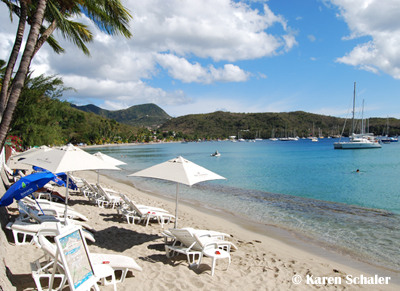 When you're ready to check out Martinique's beach scene you'll want to head to the southern tip of the island where you'll find some of the best beaches at the fishing village of Anses d'Arlets. Here the restaurant to try is Ti-Sable where you can sit in these cool Balinese inspired private huts and wiggle your toes in the sand while feasting on fresh seafood favorites like octopus in a coconut milk. Save room for dessert because there are more than a dozen different ice-cream specialties to choose from.
Another fun stop in the south is to hit Hotel Bambou for dinner where on Monday nights you have a buffet of local favorites and are entertained by traditional dancers with the Ballet Pomme Cannelle.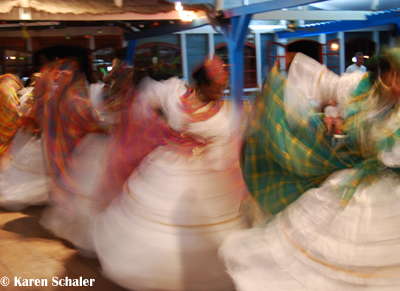 There's so much to do, see and experience in Martinique even after visiting for a week you feel like you've only scratched the surface of what this island has to offer. So think of your first visit as just a tantalizing taste and pace yourself. Then start planning your next trip back because Martinique will be waiting for you with open arms.
SUBSCRIBE TO & FOLLOW LIFESTYLE
HuffPost Lifestyle is a daily newsletter that will make you happier and healthier — one email at a time. Learn more