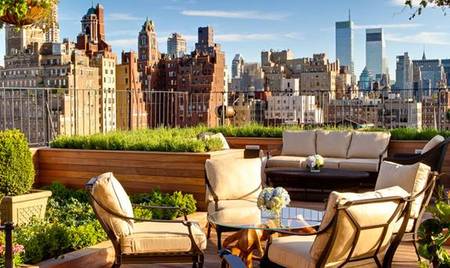 Having experienced many spas for the TRAVEL THERAPY syndicated video series I'm always searching for something unique and special to share when it comes to healthy living and relaxing at a spa, and special is exactly what I found at the new Cornelia Spa at The Surrey in New York City.
I've always really liked The Surrey, with its luxury boutique vibe, so when I heard the property was unveiling a new spa I was excited to try the Reparative Caviar and Oxygen Quench facial.
It sounded like an ideal fit since I'd just gotten off a plane from a long international flight and I was right. This two-part facial took all the redness and tightness out of my skin, leaving it silky smooth and hydrated. I felt and looked like a new person, no more jetlag! I also love how you finish this treatment with a caviar amuse bouche and a flute of prosecco.
I always say it's the little things that make a spa experience truly memorable and that's why I enjoyed the Cornelia Spa so much. From the moment you enter this intimate petite spa your pampering begins when you're given a warm ginger and neroli infused hand cloth to refresh and a heated herbal neck pillow to help make you cozy and relaxed while you wait.
If you want a little snack the Mini Botanical Tasting Bar has delicious treats and Cornelia teas. Don't miss trying the lavender glazed cookies and the almonds sprinkled with sea salts.
Once you're taken into your treatment room every guest takes part in Cornelia's Signature Honey Ritual where it's explained that honey is an ancient healing remedy and you're given a small spoonful of gourmet, organic honey to help ease your mind and senses.
I also love how when you're ready to begin instead of hanging your robe on a hook there's an armoire for your things -- so you really feel at home and in my spa suite. I also had my own bathroom and shower area.
Insider tip: Try and book your treatment around five o'clock because that's when they do a complimentary champagne pour -- an ideal way to toast your blissful experience.
When you're done you're also given a small spa themed gift as a "thank you" and you can continue up to the Surrey's fantastic private roof garden, reserved exclusively for hotel and spa guests. Be sure to try one of the signature cocktails. One of my favorites is a fun twist on a mojito called a Thaijito with rum, thai chili, lime juice, fresh lemongrass and mint.
So cheers to The Surrey's new Cornelia Spa, where all the thoughtful little touches makes this spa experience one of my new favorites in New York City.
SUBSCRIBE TO & FOLLOW THE MORNING EMAIL
The Morning Email helps you start your workday with everything you need to know: breaking news, entertainment and a dash of fun. Learn more