You almost need a doctor's checkup before visiting France's famed Bordeaux wine region to make sure your liver and cholesterol can handle drinking wine like water and feasting on decadent dishes dripping with duck fat.
Since this part of France is all about going culinary comatose, I set out to find the best places to blow your diet and make every calorie count. When you're not gobbling up foie gras and french fries and drowning in award-winning wine, the Aquitaine Region of France, where Bordeaux is the capitol, also offers up some unique places to stay and cool things to do.
Whether you're looking for the royal treatment and want to spend a night in a palace or go organic and stay at a vineyard, take in the scenery with a bike wine tasting tour or try some new recipes during a gourmet cooking class, the Aquitaine delivers. Here's a list of 20 fabulously French finds you don't want to miss!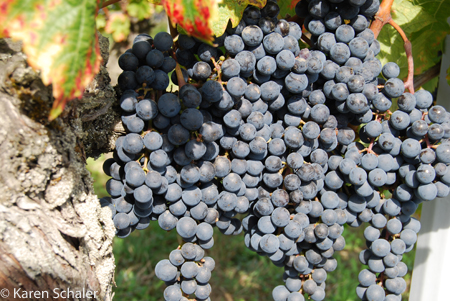 #1 Explore Bordeaux
Known for its famous wines this intoxicating city of less than 300,000 people is filled with charming 18th century architecture and is second only to Paris for having the most historical monuments and protected buildings in France. As the capitol of the Aquitaine Region, Bordeaux was classified in 2007 as a UNESCO World Heritage site. Picture taking highlights include: The Grosse Cloche, Saint Andre Cathedral, Mirror of Water and the Parliament building. www.bordeaux-tourisme.com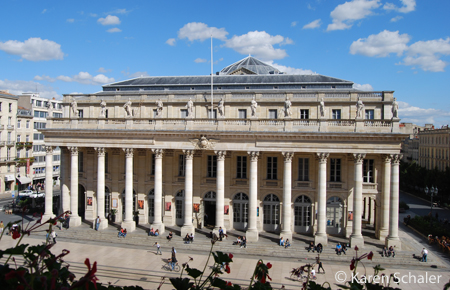 #2 Regent Grand Hotel de Bordeaux
As the only 5-star hotel in Bordeaux, the Grand Hotel originally started out as a large townhouse in 1779. Now this palatial beauty boasts 150 rooms where famous French interior decorator Jacques Garcia blends 18th and 19th century neo-classical style with chic modern amenities. Ask for a room with a view of the Opera House and don't miss dining at Le Pressoir d'Argent, the hotel's one-Michelin-star restaurant where the lobster, langoustines and caviar are specialties.
www.regenthotels.com
#3 Wine & Dine in Bordeaux
The numbers alone impress! The Bordeaux Region has more than 5,000 wine chateaus open to the public and more than 1000 restaurants. Delicacies include oysters, duck, foie gras, lamb and beef. Try Chez Greg's lunch special where about $14 gets you a juicy steak, glass of wine and coffee. For dinner, La Tupina is a top choice for a cozy French country home atmosphere and food grilled over an open fire. The corn fed Landes fowl is La Tupina's house specialty and helped earn La Tupina one of the best bistros in the world award by the International Herald Tribune. www.latupina.com.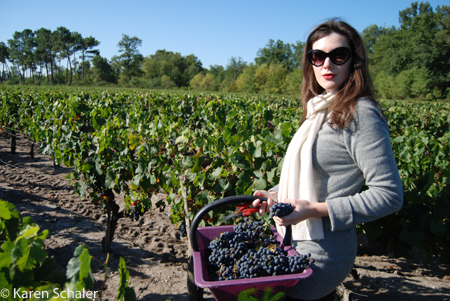 #4 Winemaker For a Day, Bordeaux
Talk about woman power! Four female winemakers in the Bordeaux region are shaking up tradition by forming a group called Les Medocaines. Each woman has her own wine chateau in the Medoc area and is opening up their vineyards to anyone wanting to learn more about the winemaking process. From harvesting the grapes to blending flavors there's a class you can take. A great souvenir, Les Medocaine's new "WIT", wine in a tube where one glass of wine comes packaged in individual glass tubes. Cheers to that! www.lesmedocaines.com
#5 Gourmet Cooking Class, Bordeaux
When you get tired of just eating and want to learn how to make some fabulous French food you can sign up for a two-hour private cooking class in the kitchen at Pressoir d'Argent, a one-Michelin-star restaurant in Bordeaux. Executive Chef Pascal Nibaudeau will teach you all kinds of tricks of the trade including how to make Bordeaux's famous traditional desert, the cannoli. The class includes a meal and glass of wine. www.pressoir-argent.com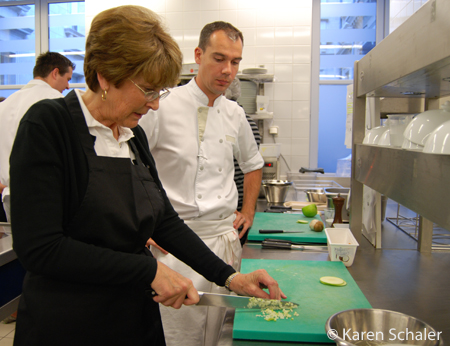 #6 Vineyard Cycling Tour, Bordeaux
Taking a guided cycling tour through Bordeaux's wine region is a fantastic way to get a true feeling for the area and visit some of the most prestigious wine chateaus like Petrus, Grand Barrial, Figeac and Canon. www.bordeaux-tourisme.com
#7 Explore Saint Emilion
If you're looking for wine history the small medieval village of Saint Emilion is the place to go. It's one of the principal red wine regions of Bordeaux and its history dates back to prehistoric times with Romans planting vineyards as early as the 2nd century. Saint Emilion's extraordinary landscape is devoted almost entirely to wine growing. Don't miss a walk through the quaint tiny cobblestoned village and visiting the monolithic church. www.saint-emilion-tourisme.com
#8 Medieval Caves, Saint Emilion
For a step back in time, stop at Chateau Villemaurine in Saint Emilion and enjoy a new unique light and sound show held in the medieval caves underneath this wine castle. During the show you'll learn about the history of winemaking in the region and about Chateau Villemaurine's modern wine making process. http://villemaurine.com
#9 Homemade Macaroons, Saint Emilion
You know what they say if you're going to splurge make it good and you'll get better than good when you bite into a homemade almond macaroon in Saint Emilion. This town takes its macaroons almost as seriously as it does its wine. The soft and sweet cookies come in small boxes and make a great take home gift, if you have the willpower not to devour them all before you leave. www.saint-emilion-tourisme.com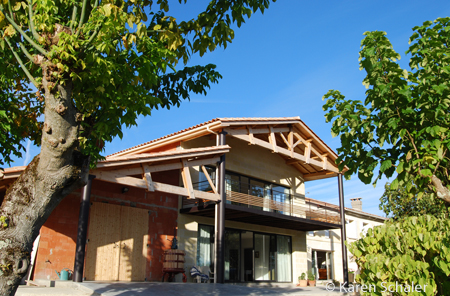 #10 Stay at a Vineyard, Saint Emilion
In Saint Emilion, it's all about having an authentic experience so try staying in one of the top rated vineyard Bed and Breakfasts in the area. Clos de la Barbane is a top choice with four modern rooms and even an indoor pool. Your hosts Annie and Laurent Gerber couldn't be more accommodating. Laurent runs the vineyard and is happy to show you around and Annie is a passionate gourmet cook. Don't miss one of Annie's amazing wine dinners. www.clos-de-la-barbanne.net

#11 Explore Biarritz
Known for its seafood and surfing Biarritz was once a little fishing village that turned glam when Empress Eugenie de Montijo, the wife of Emperor Napoleon III of France, chose it as her favorite summer residence. Now, decades later, with a population of just 28,000 people this world-renowned seaside resort continues to impress with glimpses of its spectacular past while still keeping a quaint and quiet laid-back vibe. www.biarritz.fr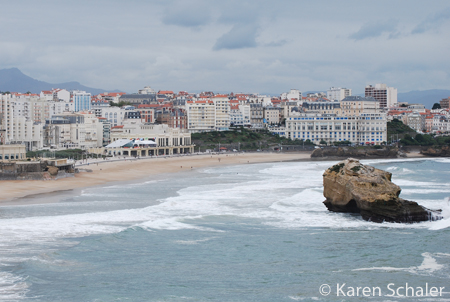 #12 Hotel du Palais, Biarritz
Emperor Napoleon III built the impressive Palais overlooking the Atlantic Ocean in the mid 1800's for his wife Eugenie who first fell in love with Biarritz as a child. In 1883, the Palais became a hotel and the toast of all of Europe. Today this five-star, 154 room luxurious hotel continues to attract some of the world's most distinguished guests with its 3 restaurants, 2 bars and heated sea-water outdoor swimming pool. www.hotel-du-palais.com
#13 Hotel Beaumanoir, Biarritz
Perched on a hill overlooking Biarritz the Hotel Beaumanoir is an 1885 manor that was once an old horse stable and is now one of the chicest places to stay in Biarritz. Every inch of this stylish hotel exudes class and notable guests have included former French president Jacques Chirac. With stones and marble from Rome, Versailles parquets, French and Italian fabrics and even its own champagne bar, staying at Hotel Beaumanoir is an experience in French hospitality at its best. www.lebeaumanoir.com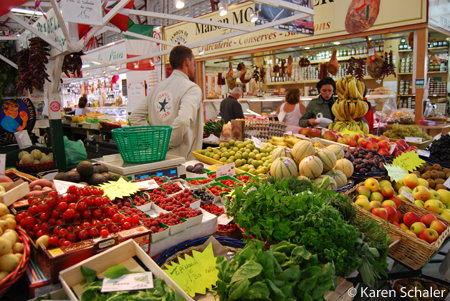 #14 Biarriz Indoor Market
Colorful, creative and a culinary delight, the indoor market, Les Halles, in Biarritz, is a place where you can spend an entire morning sampling all kinds of delicious delicacies from around the region. Specialties include fresh produce and fish, goat cheese, spices and the coveted black pork. The market is open every day from 7am-2pm. www.biarritz.fr
#15 Happy Hour Hot Spot, Biarritz
Take advantage of daily Happy Hour specials and snack on some of the best foie gras and tapas in the region at the tiny but hip and happening Comptoir Foie Gras next to the Biarritz indoor market. The set up is counter style where you stand at your table and come early because it gets crowded. The lively atmosphere is contagious especially when you're trying the house drink, the Swimming Pool, about a half bottle of champagne served on ice in a huge bowl-like glass. www.comptoir-foie-gras.com

#16 Ilbarritz Golf Club, Biarritz
Get in some golf practice at the Ilbarritz Golf Club while soaking up some breathtaking views of the Atlantic Ocean. A fun restaurant to try here is La Socket dishing up a wide variety of fresh fish and meat choices and an amazing warm chocolate cake. www.golf-ilbarritz.com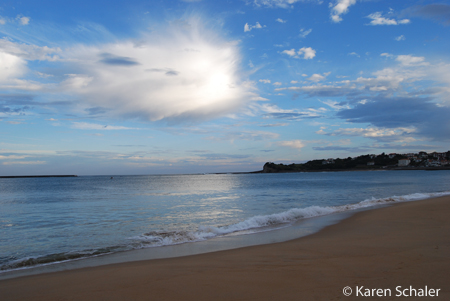 #17 Explore Saint Jean de Luz
Once a favorite pirate hangout this old fishing port in Aquitaine's Basque Country continues to charm with its tiny narrow, winding streets and picturesque harbor. The beach is a long caramel colored strip of soft sand that mesmerizes during sunrise and sunset. This is also where you'll find the Saint Jean Baptiste Church where young Louix XIV married the Spanish infanta, Maria-Theresa of Hapsburg. Culinary specialties include tuna, sardines and black cherry jam.
www.saint-jean-de-luz.com
#18 Grand Hotel, Saint Jean de Luz
Built in 1909, the Grand Hotel is a palatial property just steps from Saint Jean de Luz's sandy beach. More than half of the 52 rooms have ocean views. A highlight is the hotel's Loreamar Thalasso Spa featuring a long list of therapeutic saltwater treatments. The Rosewood restaurant specializes in seafood serving up first-class cuisine and ocean views. www.luzgrandhotel.com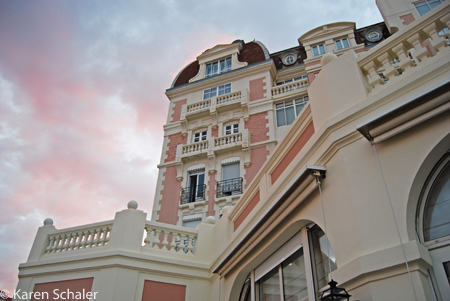 #19 Eat Forbidden White Pigeon, Sare
If you've always wanted to taste something truly forbidden head to the tiny village of Sare, in the Basque Country, near the Spanish border. Here the Restaurant Lastiry serves up the forbidden white pigeon for about $45. The French government forbids hunting the prized pigeon but locals say that doesn't stop them and every October they're out in full force hunting down the birds. Also, try the homemade cherry cider and sangria. www.hotel-lastiry.com
#20 Hotel Parc Beaumont, Pau
The modern 4-star Hotel Parc Beaumont impresses as soon as you arrive. Opened six years ago its contemporary, bold design blends seamlessly with its comfy atmosphere. 80 generously sized rooms are decorated with hardwood floors and marble from the nearby Pyrenees mountains. Ask for a room with on the park side where you'll also have a private balcony to enjoy the view. There's also a top-rated spa and two restaurants with a favorite dining choice being the award-winning Le Grand Prix. www.hotel-parc-beaumont.com
No matter what you decide to do during your stay in France's Aquitaine Region here's a list of a few good things to remember.
• Local tourist offices offer a number of different city and winery tours
• For popular bike tours, cooking classes, book ahead
• Check with wineries for their tasting, tours schedules
• Many shops and restaurants are closed on Sundays & Mondays
• Air France offers direct flights to Paris with connections to Bordeaux
Follow Karen Schaler on Twitter at www.twitter.com/traveltherapy and for more travel deals and insider travel tips go to Karen's Travel Therapy website at www.traveltherapytrips.com.
This Blogger's Books and Other Items from...
FOLLOW HUFFPOST