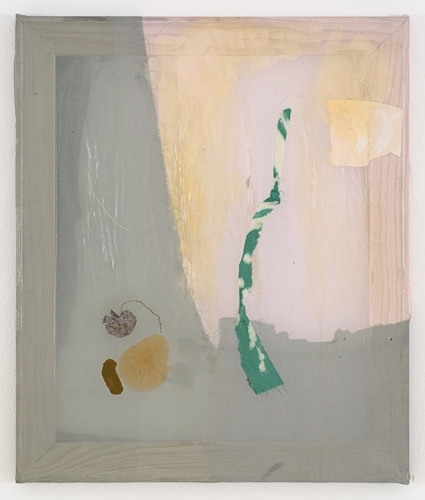 Lauren Luloff, Flower, 2012, Oil, bleached bed sheets & fabric, 19x16" / 48.3x40.6cm (Image courtesy of Horton Gallery)
Lauren Luloff's first solo New York exhibition at Horton Gallery, Recent Small Works, is well aligned with the spring equinox, evoking balance and the dreamy and seasonal soft hues of shifting prairie-grass. Luloff's process of laboriously layering oil, bleached bed sheets and vintage fabric endow the pieces with a raw yet tidy magnitude of depth. Her fastidious and ritualized use of textiles is synonymous with symbolism of the spider's web: We sense a consuming yet delicate whirlwind of creation, culminating in evenness and with an anticipation of renewal. It is no surprise that she often carefully incorporates shards of plant-life and leaves into her paintings (although not present in this body of work). Tenderly simple titles are assigned to each work, with prevailing symbolism: "Yellow Wash with Pink Triangles," "Flower," "Shore," Turquoise Place," "Golden Sky," and "Clouds and Conversation." Conjuring mood, the sprite-like works are powerful in that they behold the natural world (earth, sky and sea) and act as runes of spring, with many ingredients that intricately portray fragility and transmutation.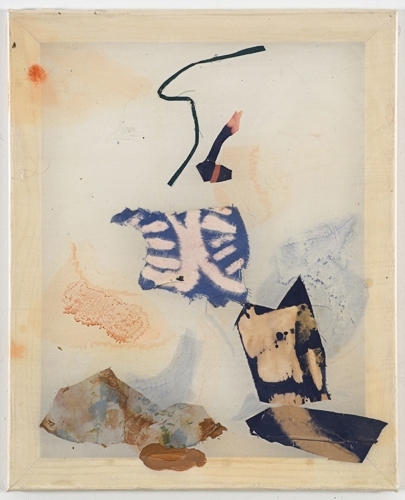 Lauren Luloff, Shore, 2011, Oil, bleached bed sheets & fabric, 22x18" (Image courtesy of Horton Gallery)
SUBSCRIBE AND FOLLOW
Get top stories and blog posts emailed to me each day. Newsletters may offer personalized content or advertisements.
Learn more