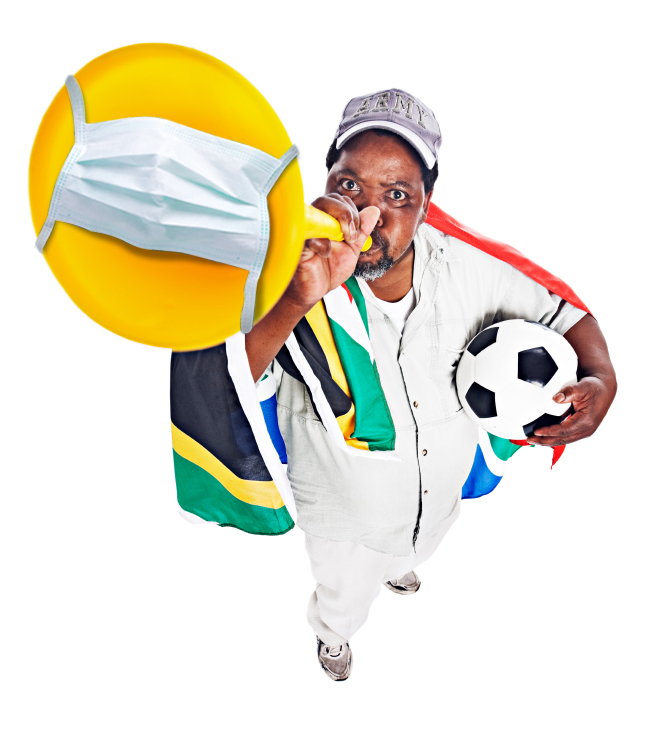 "Don't blow it-stay healthy." That was The Stars' front page headline the day I landed in Cape Town. I had come to Cape Town to moderate a panel on global health at the Fortune/TIME/CNN Global Forum. While I had no intention of writing a blog about the vuvuzela when I arrived, it wasn't long before the vuvuzela story and image emerged as a powerful symbol of South African history, its struggles and its aspiration to be one of the fastest growing emerging economies.
The vuvuzela's origins are said to come from the kudu horn which was used to summon people to gatherings. The more modern plastic form evolved from a tin horn that became popular with South African soccer fans about 15 years ago. While many people consider the vuvuzela a nuisance, the South Africans people see it as a symbol of solidarity and empowerment.
When that solidarity was challenged by FIFA, arguably one of the most powerful global organizations, the entire world saw a nation that refused to bend. Various organizations tried to ban the vuvuzela from the World Cup, but the South Africans just kept blowing. They used the power of the masses to send a message to the world that the vuvuzela was here to stay. And this persistence paid off. Today, FIFA is selling them by the thousands and it's an official symbol of the 2010 World Cup.
If the South African people can achieve this victory, why not use the vuvuzela to beat one of the greatest threats to South Africa's economic future -- the massive toll HIV/AIDS and tuberculosis (TB) is having on their youth?
Years of research by both governmental and independent organizations support the claim that the health of a nation is the critical determinant of economic growth. The World Bank's, World Development Indicators, highlight the positive correlation between infant mortality, maternal mortality, life expectancy and income per capita.
How is South Africa doing?
According to UNAIDS, more than 5.7 million people were living with HIV/AIDS in South Africa in 2009, more than any other country in the world. Although prevalence varies by province, almost one-in-three women aged 25-29, and over a quarter of men aged 30-34, are living with this disease. More than 70,000 babies are born with HIV each year, a tragedy that can be prevented by providing pregnant and nursing mothers living with HIV with critical treatment.
Just last week a study in PLoS Medicine highlighted South Africa's battle with the dual epidemics of HIV and TB. TB kills more people in South Africa than any other disease, with more than two-thirds of the cases occurring in people who are HIV positive. In one region, they are seeing about 150 new TB cases every month, as well as a significant rise in cases of multidrug-resistant (MDR) and extremely drug-resistant (XDR), resulting from incomplete TB treatments.
In 2007, an outbreak of XDR-TB in KwaZulu-Natal killed 74 of 78 patients within a matter of weeks, sparking fears that XDR-TB could be spread rapidly and easily. The mortality rate from this outbreak puts it on par with Ebola.
What does all of this have to do with the vuvuzela? Well, for one, the health authorities have already warned us about the dangers of spreading disease through the vuvuzela. That makes it a powerful symbol of the need to address preventable diseases before they become global pandemics. My suggestion is that those struggling to get access to treatment for HIV or TB go to the capital, the malls where the rich shop and popular tourist spots and play your vuvuzelas in unison.
As was done with the kudu horn long ago, summon the people and play your vuvuzela for South Africa's children and women dying from AIDS and TB. October 9th is National Khomanani Day, a day South Africa unites with partners to raise awareness for HIV/AIDS. Go to the cities and play your vuvuzela this Khomanani Day. Create a song to show solidarity with loveLife, Siyangoba Beat It!, 46664 (Nelson Mandela Foundation), and Tsha Tsha until the children have a safe place to play, learn and grow to become the next generation of South African leaders.
With more than 70 % of vuvuzela sales being sold internationally, from 20,000 a month pre World Cup to 20,000 a day, the vuvuzela is quickly becoming the world's first viral instrument. I recommend we make it the international instrument of solidarity to prevent deaths from HIV/AIDS and TB. On October 9, 2010, Khomanani Day, let's play our vuvuzelas in our capitals and join our South African brothers and sisters and remind global leaders that we stand united in our fight against these global scourges.
And over these next weeks as the excitement of the World Cup continues, I hope that like me, you come to hear the buzz of the vuvuzela not as distraction, but as the sound of persistence, determination and hope.

SUBSCRIBE TO & FOLLOW WORLD POST